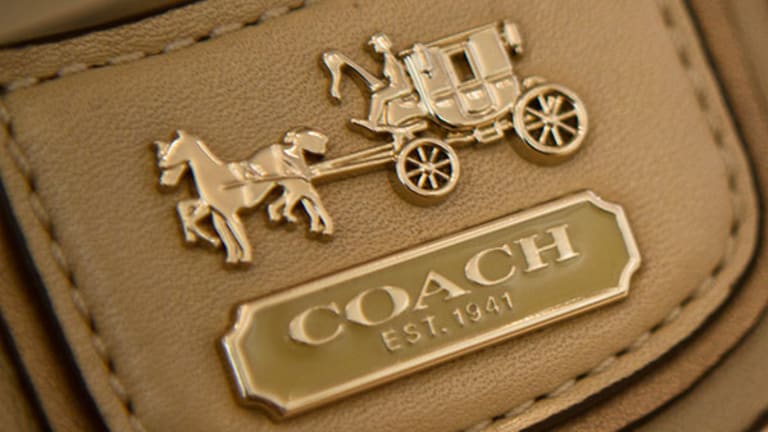 Smith & Wesson and Coach: High Hopes and Low Expectatations
Expectations matter in investments. Recently, Coach and Smith & Wesson showed how too much optimism and too much pessimism potentially creates opportunity for investors.
NEW YORK (TheStreet) -- By the time any investor has notched up a few quarterly earnings rounds they have worked out that "good" results do not necessarily mean a positive share price reaction. The same with "bad" results and a negative reaction, too. What is already expected matters.
Take the results released by the leading firearms company Smith & Wesson (SWHC) . The company's full year 2013-14 results were described as achieving the "highest sales, gross margin and profit in the company's history" but the shares closed down nearly 9% Friday at $15.52. Despite being up 15% for the year to date, hopes for 2014-15 were just too high and company guidance did not meet these lofty hopes.
Investors and individuals have a wide range of views on guns and the companies that produce and market them but any financial number cruncher was going to be impressed by Smith & Wesson's comments in its conference call about firm pricing, product innovation, continued willingness to undertake share buybacks and a view that the underlying addressable market "should expand about 8% to 10% per annum."
These are company characteristics that will positively support the share price over the next year...especially if expectations are now more under control.
This cuts the other way, too. Investors can get too pessimistic about a company's prospects by making the mistake of extrapolating a current trend into the permanent future.
Another company that disclosed a corporate update was the handbag and other fashion items retailer Coach (COH) , which said that North America revenue would decline in the low double digits during its fiscal year 2014.
Coach's North America sales had already been very poor but this disclosure appears to have investors moving closer to completely writing off the company. As I noted back in April commentators miss the growing influence of sales in Europe and Asia and a management team that are close to a major fashion re-launch which has the potential to revitalize the company.
Finally, Coach's management continues to buy back shares and the share yields now over 3%. Just as Smith & Wesson has struggled to meet lofty expectations, Coach now has rock-bottom ones -- even lower than when I first wrote about this in April. The chances of a corporate result that positively surprises investors is rising, and this makes the company a good risk-reward play, in my view.
The lesson for investors is to understand what is already anticipated and when hopes are overly high or overly low to look for opportunities to sell or buy as relevant. Precise timing is never easy but -- with a little patience -- the opportunities and payoffs can be good.
At the time of publication the author had a position in Coach.
This article represents the opinion of a contributor and not necessarily that of TheStreet or its editorial staff.
>>Smith & Wesson Sales Show Gun Buying in Decline: StockTwits.com