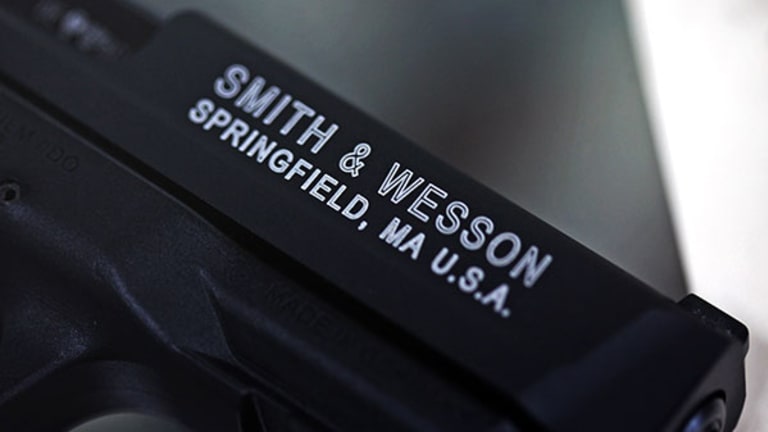 Smith & Wesson, Ruger May Still Have Room for Decline After Soft Outlook Pares Stocks
Gun merchants pulling back as background check data shows growth in applications has slowed.
Smith & Wessonundefined has lost nearly a third of its value the last two months alone, including a 5% decline Monday, compounding the 7% pounding the stock took Friday on indications of slacker gun sales.
Normally that kind of a pullback would be a green light to jump into a stock that has been a reliable growth play. The stock price has swollen nearly 900% since early 2009.
That, though, might not be the case now.
Analysts are worried that the surge in handgun sales that has fueled the stock gains of not only Smith & Wesson but its rival Sturm, Ruger & Co. (RGR) --up more than 1000% since early 2009--might have peaked. And while sales are still growing, according to some reliable proxies for gun ownership, readings are showing that gun sales growth rates are slowing. That suggests that Smith & Wesson won't reignite the phenomenal sales growth of recent years, and the stock may, in fact, have hit a ceiling, at least for now.
RGR closed down about 7%, or $4.30 per share, to $59.98 Monday. Smith & Wesson closed down about 5%, or $1.14 per share, to $21.54 a piece.
In fact, there could be a good five month period in which Smith & Wesson, as well as other gun merchants, move sideways. And even the end of that span doesn't promise a rally.
Right now, one of the best proxies for imminent gun sales--reports on the FBI's background checks on gun permit applicants--is auguring disappointing news for Smith & Wesson. The federal government said that it processed 2.1 million applications in May. That's a 2.6% improvement over the same period last year.
However, the reading is a 13% decline since April, and significantly below the figures for March and for February.
Now the background check readings aren't a perfect gauge of gun sales, to be sure. Not everyone who files an application--even if it's approved--ends up buying a firearm. Some applicants buy more than one. In short, applications aren't an apples to apples comparison for coming gun sales. But it's about as good a bellwether as the industry has.
Gun sales may have reached a ceiling of their own. Purchases spiked after the December terrorist attack in California. Without additional hair-raising incidents, the velocity of gun sales growth rates stall.
Funnily enough, the prospect of a Donald Trump presidency--and we're not making electoral predictions here, but simply pointing out one potential outcome--might further chill gun sales. Yes, the National Rifle Association has supported Trump. But that doesn't translate into new gun sales the way a Hilary Clinton presidency - and the prospect of further rhetoric about embracing gun control laws - would spark a rush to the gun shops. Back in March, Sportsman's Warehouse (SPWH) , a merchant of sporting gear including firearms, warned of weaker sales. The stock tumbled from $14 to just under $8, and continues to trend near its recent lows.
Analysts are saying that gun sales are seeing the end of the surge partially created by liberals' push for tougher gun laws. It's no coincidence that firearms merchants' share prices went on their spectacular run beginning in 2009, when President Obama assumed office. Though the prospects of watering down the Second Amendment were never especially promising, given Congressional opposition, each incidence of gun-related tragedies had the effect of chasing gun owners to gun merchants. A Trump presidency would likely calm the fears of gun control initiatives that have spurred ownership.
Meanwhile, Smith & Wesson is trading at a heady 23 times earnings. Analysts worry that the company will warn that it's not going to live up to forecasts for its 2017 fiscal year. On top of that, Smith & Wesson doesn't pay a dividend, while rival Sturm & Rugar throws off a 2.5% yield, which at least gives dividend seeking investors a reason to choose it over rival Smith & Wesson.