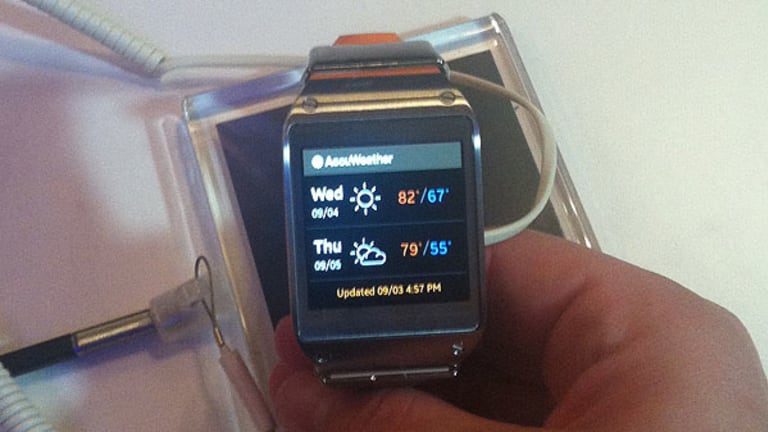 Smartwatches Underwhelm as Wearable Computers
Analysts and investors are demanding more wearable technology than ever, but is it really necessary?
NEW YORK (TheStreet) -- Maybe it's just me. Maybe I'm the sort of late-adopting loser who can't appreciate one ounce of innovation, even if it stares me in the face. Or is strapped to my wrist.
I'm referring to the smartwatch. There's plenty of hype about the Kickstarter-funded Pebblesmartwatch, as well as the offerings from behemoth Sony (SNE) - Get Sony Corp. Report.
But the category seems to have lost some of its luster in recent months following the speculation over Apple's (AAPL) - Get Apple Inc. Report potential iWatch and Samsung's reveal of the Galaxy Gear.
I've checked out the Galaxy Gear.  Honest to goodness, you could not pay me to wear one of those bulky, ugly things, let alone pay $300 for one. If you have similar feelings, fear not -- you are not alone.
I can't wrap my mind around why anyone would want one. From what I've seen, the Galaxy Gear can answer phone calls, check messages and respond to texts. I guess that's pretty cool, but when did the two seconds it takes to check our smartphone become so important that we need a smartwatch? 

Reports claim that Samsung has shipped, but not necessarily sold, 800,000 units since the Gear was released in September. While that's not exactly knocking anyone's socks off, it's more than I thought would have sold.


But wait. many of these devices were bundled with Samsung smartphones like the Galaxy S3. The number of bundled smartwatches was left vague.  In other words, the Gear seems like it could be used more to promote sales of other devices, rather than to survive on its own merits.
That's fine, and I'm not trying nitpick Samsung's particular success or failure with the product. After all, just because I couldn't care less about a smartwatch doesn't mean the rest of the world shrugs too. 

I just haven't found a reason why anyone would want to own it.
Aside from lacking physical attractiveness, its functions don't make it any more beneficial than a smartphone. Because I can't find any true reason to buy the device, I question how many of these shipments are true sales, versus promotional and bundled shipments.
Perhaps I'm being too critical and not giving credit where credit is due. Maybe I should embrace the Gear for its early innovation, and as a step toward a better product down the road. But if Samsung doesn't improve it substantially, I highly doubt the Gear's future success. 


Wearable technology definitely has its place. Particularly, Google's (GOOG) - Get Alphabet Inc. Class C Report Glass concept is really compelling. I think it becomes even more interesting if the company incorporates its concept into fashionable, hipster-like glasses, rather than something that looks like it was taken off a space station from the year 2150.
Google Glass has workplace potential, too.  It could help improve accuracy, efficiency and safety. Police officers and special forces agents could use it to have a better idea of their surroundings in intense situations. Doctors could use Glass to work through a surgery or procedure, without ever having to look up at a monitor. At other jobs, workers could keep their eyes focused on the task at hand, while having necessary information right in front of them.
By comparison, what the hell can the Galaxy Gear do? Answer a phone call? Display a text? So what. My phone can do that too, and it takes all of a few seconds to pull out, check, and put back.
If Apple's forthcoming iWatch will continue to sell beyond its initial wave of early-adopter Apple fanatics, it will have to be much different, and better, than the Gear. At least, that's my opinion. 

Wearable technology, if done correctly, is a huge market that has yet to be tapped. As it improves, it's sure to gain traction. Of course, it has to be fashionable too. If the coolest device in the world looks uncool, it'll be slapped away by the hand it was meant to grace.
-- Written by Bret Kenwell in Petoskey, Mich.
Bret Kenwell currently writes, blogs and also contributes to Robert Weinstein's Weekly Options Newsletter. Focuses on short-to-intermediate-term trading opportunities that can be exposed via options. He prefers to use debit trades on momentum setups and credit trades on support/resistance setups. He also focuses on building long-term wealth by searching for consistent, quality dividend paying companies and long-term growth companies. He considers himself the surfer, not the wave, in relation to the market and himself. He has no allegiance to either the bull side or the bear side.