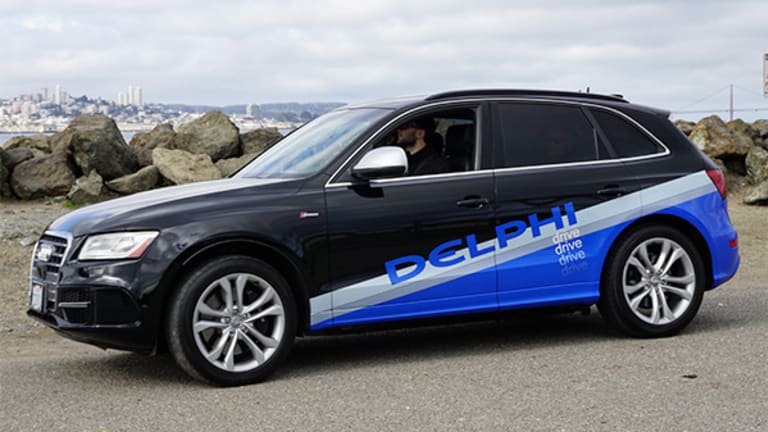 Smartphone Use Linked to Spike in U.S. Traffic Deaths
NHTSA's Mark Rosekind suspects smartphones are a major factor. Suppliers and the auto industry are rushing to mitigate dangers with technology.
U.S. traffic fatalities spiked in the first half of 2015, an increase that safety officials said could be linked to more driver distraction, some of it from smartphone use. 
Fatalities, as measured in terms of the number of miles traveled, fell slightly in 2014 to 32,675. But transportation experts said that a strengthening economy normally leads to surging use of cars and, therefore, more accidents. For the first half of 2015, deaths rose 8.1%. 
Mark Rosekind, administrator of the National Highway Traffic Safety Administration, said he suspects texting and other use of smartphones, as well as impaired and drowsy driving, contributed to the increase in 2015, as well as more teenage driving. NHTSA doesn't yet have enough data to pinpoint the causes, he said. 
"These numbers are troubling ... (they) are a wake-up call to get serious about traffic deaths," he said. The Automobile Association of America estimated nearly 47 million Americans will travel 50 miles or more during the Thanksgiving holiday, a 0.6% increase over last year and the biggest number since 2007. 
The significant number of motorists killed and injured in traffic accidents is motivating automakers to equip vehicles with more equipment designed to improve safety -- and mitigate the effects of distraction -- such as lane departure warnings and emergency braking systems. Likewise, NHTSA is mandating more safety equipment, such as backup cameras, which will be required as of 2018.
With more safety equipment, the prospects are bright for manufacturers and suppliers of such equipment, such as Delphi Automotive (DLPH) - Get Free Report , Continental AG (CTTAY) , Denso (DNZOY) and Mobileye (MBLY) . 
The rate of traffic accidents, which overwhelmingly can be traced to human error, also is a factor behind the intensified development of artificial intelligence and so-called autonomous vehicles, which can be operated with less driver attention. Nissan  (NSANY) and other automakers said they will offer versions of autonomous vehicles by 2020. 
Alphabet's Google (GOOG) - Get Free Report  is testing prototypes of cars that can be operated without any driver involvement, while Tesla (TSLA) - Get Free Report in October wirelessly transmitted a driving program to owners that the company calls an autopilot.
Rosekind's suspicion about the role of smartphones and distraction in traffic accidents appears to be well-founded, based on anecdotal reports by law enforcement and by academic study. Lawmakers have enacted limits on smartphone use while driving in some states, even as automakers have installed hands-free technology that allows speech and texting by way of verbal commands and, as exemplified in BMW's new 7 Series sedan, "gesture control" using hand signals.
Doron Levin is the host of "In the Driver Seat," broadcast on SiriusXM Insight 121, Saturday at noon, encore Sunday at 9 a.m.
This article is commentary by an independent contributor. At the time of publication, the author held no positions in the stocks mentioned.