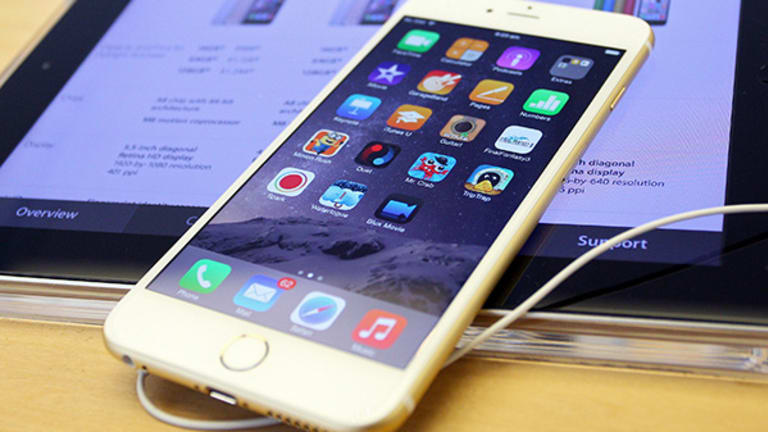 Pressure on Apple's iPhone Sales Increases as U.S. Smartphone Growth Slows Significantly
The growth rate in the number of smartphones in the U.S. slowed by almost half in 2015, according to a wireless industry organization.
Smartphones posted half the growth in 2015 compared to the year prior, while the amount of wireless data nearly tripled, a new report shows, findings that come after Apple (AAPL) sold fewer iPhones for the first time ever in the first quarter.
Industry organization CTIA - The Wireless Association came out with a report showing the number of reported smartphones in the U.S. last year grew to 228 million from 208 million in 2014, an increase of 9.6%. The 2015 growth rate is nearly half the 18.9% from the year before.
"As your denominator gets larger, your growth rate gets smaller," Robert Roche, CTIA vice president of research public affairs, said, speaking of the slower growth.
"We'll have really strong additions one year and slower additions one year, and really strong additions the next year," he continued. The reported number of smartphones stood at 50 million in 2009, according to the data, and Roche noted that despite fluctuations in the growth percentage, the trend has been upward.
In April, Apple reported its first-ever drop in iPhone sales. The company sold 51.2 million devices in the second quarter of its fiscal year, a 16.3% decline from 61.2 million from the same time last year.
Angelo Zino, an analyst covering Apple at S&P Global Market Intelligence, said Apple can increase sales domestically by improving their devices.
"Within the U.S. specifically, the focus is going to be on [Apple] making better devices," Zino said. "You have the recent fact that they released their iPhone SE in late March. That should help generate some consumer demand from more price-sensitive consumers."
Apple is a holding in Jim Cramer's Action Alerts PLUS Charitable Trust Portfolio. Want to be alerted before Cramer buys or sells AAPL? Learn more now.
News reports of Apple possibly switching its iPhone display from LCD displays to OLED screen displays could also boost sales, Zino said.
"You're talking about higher-quality displays, which should entice consumers to replace their older smartphones," Zino said. "They've probably got the highest [customer] retention rate in the smartphone category," adding that Apple "need[s] to find a way to improve the [iPhone] upgrade rate."
The findings show a similar trend to a report market research firm International Data Corporation released on April 27. That report showed global smartphone shipments of 334.9 million in the first quarter of 2016, an increase from 334.3 million for the same period last year, marking the slowest year-over-growth on record.
"The easy low-hanging fruit for potentially looking to reaccelerate the growth within the smartphone business would be growing in new emerging markets," Zino said, referring to the Cupertino, Calif-based company's global iPhone presence.
An Apple spokesman referred TheStreet to second-quarter earnings call for the company's emerging market strategy. On the call, Apple CEO Tim Cook noted there was still room to grow in emerging markets, citing India specifically, a country he visited this month.
"[W]ith only 42% smartphone penetration of the global handset market today, the iPhone is still attracting millions of first-time smartphone buyers each quarter, especially from emerging markets," Cook said. "For example, in India our iPhone sales were up 56% from a year ago."
Data released in February from the Pew Research Center showed Internet usage and smartphone ownership increased in emerging and developing markets specifically from 2013 to 2015. In 2013, a median of 45% of people from 21 emerging or developing nations reported using the Internet or owning a smartphone, a number which increased to 54% by 2015.
For comparison, 89% of adults in the U.S. used the Internet and 72% owned a smartphone.