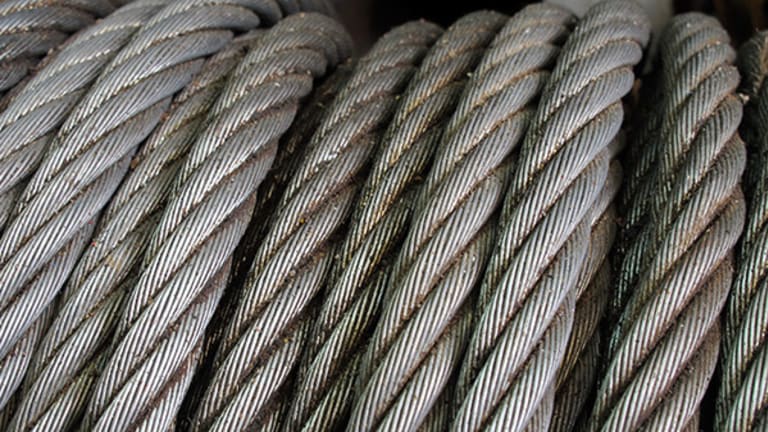 Small-Cap Manager Bets on Steel, Concrete to Lift Returns
Hodges Capital portfolio manager Eric Marshall explains why he likes a concrete maker and U.S. Steel right now.
At least one small-cap manager is going old school with his stock picks. Never mind a portfolio stacked with small but potentially game-changing tech-stocks. Instead, think steel girders, pre-mixed concrete and airlines. 
That's at least part of the story at Dallas-based Hodges Capital, according to Eric Marshall, the company's president and a portfolio manager of the Hodges Small Cap Fund (HDPSX) .
Marshall says the investment philosophy centers around buying stocks as if the fund were becoming a private owner. Then it does extensive bottoms-up analysis of industries, individual stocks and the management of the companies in which it invests. 
"We want to be looking where others aren't," he said in an interview with TheStreet. "If it's on a screen" -- referring to ideas mentioned by news services and investing platforms -- "then the chances are someone has already discovered it."
Following is an edited summary of Hodge's comments:
TheStreet: You own U.S. Steel (X) , which I always think of as Andrew Carnegie's huge company.  
It's a company we've kept tabs on for a while. Right now the market cap is $2.5 billion, which fits into how we define 'small cap,' --  smaller than the $4 billion upper end of the Russell 2000.
Times have been tough for American steel producers because of the strong dollar, which makes them less competitive. Still, we see a lot of value in the underlying assets of the business, as well as new management, which is selling off non-core businesses and cutting costs.
We think the steel industry is important to the U.S. and the country needs it to build roads and bridges. We also need it for our military and we can't rely on importing steel for that use. Eventually, we do think it's natural that the pendulum will swing back to favor the industry.
Looking out over the next 12 to 18 months, we'll own a much higher-priced stock.
TheStreet: Sticking with basic materials, why do you own U.S. Concrete (USCR) ?
This is one of the very few companies that is a pure play on the ready-mix concrete field. [Concrete is made by mixing cement with aggregates.] It's an industry with a high barrier to entry. First, there are the huge costs and time to build a plant.
There are other barriers. You have to deliver concrete within 30 minutes of mixing it and it's very hard to get a permit to build a plant within urban areas. Plus, having cement isn't enough; you need access to good sand and gravel, which U.S. Concrete has.
There are nice tailwinds from federal highway projects, and the company is already in markets which will benefit.
TheStreet: You own American Airlines (AAL) , which is a business that has typically been plagued by overcapacity. What do you see?
American Airlines is a more mature holding. We bought shares of U.S. Airways, and the stock recovered. Then, when American purchased U.S. Airways, we received American Airlines shares.
Although we've been winding the position down slowly, there is still more upside potential. We've had consolidation in the industry, with four airlines now controlling a majority of cross-country flights.
Hopefully, the industry can remain more disciplined about capacity increases than they have in the past. They are generating very good profits, but they haven't gotten the respect from Wall Street.
TheStreet: Is there anything in the investing sphere that has disappointed you?
One thing is regional bank stocks over the past couple of years, which have very attractive valuations including those in Texas. [Hodges owns LegacyTexas Financial Group (LTXB) , for instance.]
We weren't surprised to see energy stocks slide, but we were surprised to see the banks sell off in tandem because they don't seem to be hurt by the oil slide. 
There is good loan growth and very attractive return on assets, but they are seen as having exposure to oil, despite the conservative way they are now managed. 
This article is commentary by an independent contributor. At the time of publication, the author held no positions in the stocks mentioned.