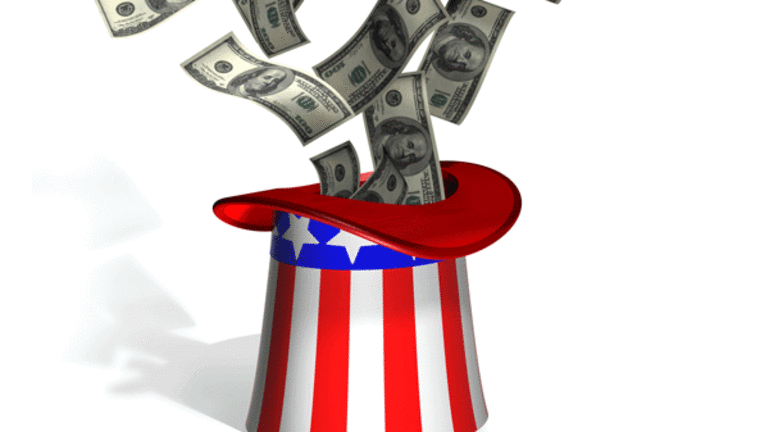 Small-Cap Dividend Growers Outperform Again
Solid results from a solid four-point strategy.
NEW YORK (TheStreet) -- I've opined several times in this column on the subject of dividend growth, and my belief that growing dividends can be an excellent indication of a company's health. While earnings can be manipulated, when it comes to dividends, what you see is what you get; dividends can't be faked. Companies attempting to artificially prop up their dividends in order to appear healthier than they are in reality can't do so for very long. Ultimately unsustainable dividends will be cut or eliminated, and the resulting punishment from the market can be severe.
For the past several years, early in the year I've run a stock screen that was built in order to identify smaller companies with strong records of dividend growth, as well as the wherewithal to continue raising their dividends in subsequent years. This is not an income strategy; in fact dividend yield is simply not a factor.
The search criteria that I employ for this strategy includes the following parameters:
Market caps between $500 million and $2 billion
Dividend increases in at least each of the past five years
Long term debt to equity ratios below 50%
Dividend payout ratios below 50% for the trailing 12 months, and last two fiscal years
Last year, 27 companies made the list, and the average return from the performance period (Jan. 16, 2013 through Jan. 2) was 36.9%, versus 33.4% for the S&P 600 Small Cap Index, and 30.4% for Russell 2000. While that is certainly not "lights-out" performance relative to the indices, it is the third consecutive year that this strategy has outperformed. The true test, in my view, will be in years when the broad markets are in flat to negative territory. That's what happened in 2011, when the 18 companies meeting the criteria were up 13% while the S&P 600 was up 4.3%, and the Russell 2000 was down 0.6%.
The best performers last year were life insurer American Equity Life ( (AEL) - Get American Equity Investment Life Holding Company Report, +93.6%), insurance and financial services company StanCorp Financial Group ( (SFG) , +75%), Bank of the Ozarks ( (OZRK) , +65.3%), and clothing retailer Men's Wearhouse ( (MW) , +61%). Overall, 25 of the 27 qualifiers were in positive territory.
data by
SFG Dividend
data by
Worst performers included property and casualty insurer National Interstate ( (NATL) , -21.7%), irrigation systems manufacturer Lindsay ( (LNN) - Get Lindsay Corporation Report, -8%), flow measurement company Badger Meter ( (BMI) - Get Badger Meter, Inc. Report, +10.6%), long-term healthcare center operator National HealthCare ( (NHC) - Get National HealthCare Corporation Report, +12%) and chemical company Stepan ( (SCL) - Get Stepan Company Report, +18%).
Next week, I'll be revealing a new list of small cap dividend growers for 2014. While the research is not yet complete, the early indications are that there will be significantly fewer qualifying companies than there have been in the past couple of years.
At the time of publication the author held no positions in any of the stocks mentioned.
This article represents the opinion of a contributor and not necessarily that of TheStreet or its editorial staff.
Jonathan Heller, CFA,CFP® is president of KEJ Financial Advisors, his fee-only financial planning company. Jon spent 17 years at Bloomberg Financial Markets in various roles, from 1989 until 2005. He ran Bloomberg's Equity Fundamental Research Department from 1994 until 1998, when he assumed responsibility for Bloomberg's Equity Data Research Department. In 2001, he joined Bloomberg's Publishing group as senior markets editor and writer for Bloomberg Personal Finance Magazine, and an associate editor and contributor for Bloomberg Markets Magazine. In 2005, he joined SEI Investments as director of investment communications within SEI's Investment Management Unit.
  Jon is also the founder of the
, a site dedicated to deep-value investing. He has an undergraduate degree from Grove City College and an MBA from Rider University, where he has also served on the adjunct faculty; he is also a CFA charter holder.