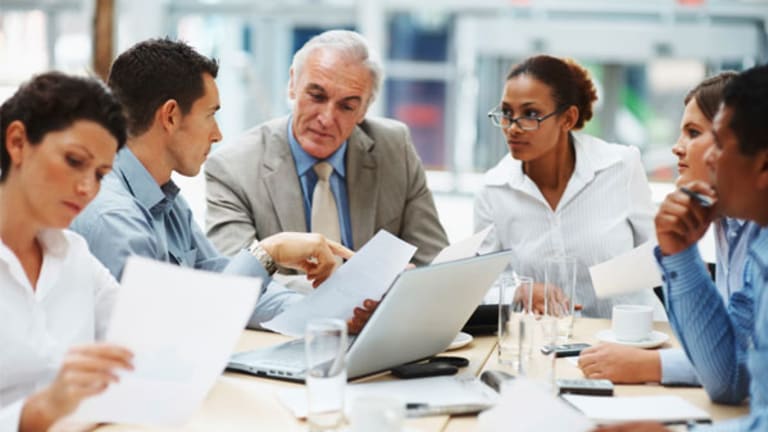 Slap an Apple Logo on Your Tablet; People Will Love It
Microsoft needs more than slick marketing and good products to challenge Apple in the consumer marketplace.
NEW YORK (TheStreet) -- When I was a kid, I watched "Saved by the Bell" religiously. Back in the day, my pillow doubled as Tiffani-Amber Thiessen more than once. So, you could understand why I was hurt when Mark-Paul Gosselaar, the actor who played Zack Morris, said that "Saved by the Bell" really was "not a great show."
Skip ahead to 2012, Tiffani-Amber and I are both in our mid- to late-thirties and over our teenage infatuation crushes. My child watches the modern-day versions of "Saved by the Bell," "iCarly" and "Victorious." I have to admit -- while "hokey" at times, for what it is, it's not bad television. Both programs do a nice job tapping into tween and teen culture.
"iCarly" created an excellent
Apple
(AAPL) - Get Apple Inc. Report
parody -- the
Pear Company
. Characters on the show, as well as "Victorious," use PearBooks (first through fourth generation), PearPods (Touch, Shuffle and Classic versions), PearPhones, PearPads (including a PearPad Mini), PearTunes, PearChat, PearCloud, PearTV and more. Freddie and Sam from "iCarly" even took jobs at the PearStore in one episode; Freddie quit, Sam got fired.
There's little doubt in my mind that this extensive line of Pear products could put a dent in Apple sales, at least among the younger set, if somebody could pull it off without interference from Apple's bullpen of paralegals and lawyers. Kids might even turn their parents into Pear fanboys and girls.
Ultimately, to give what you produce mass market appeal and enormous sales numbers, you need proper marketing. Apple has Steve Jobs to thank for that. There's this elusive process products go through to become socially desirable. Once that switch gets flipped, you cross the line from niche or something that merely sells well, to global phenomenon.
Often, it happens on a smaller scale. At the higher-end, regional phenomena take hold among the affluent. Witness
Lululemon
(LULU) - Get Lululemon Athletica Inc Report
or what we might be about to see from
Tesla Motors
. If $150 yoga pants or a $60,000 electric sedan could cross the line from aspirational excess to practical and affordable, these items might become as pervasive as iPods, iPhones and iPads.
Don't get me wrong. I do not mean to discount or dilute Steve Jobs's greatness. I leave that to AAPL permabulls who argue the company will not miss a beat under Tim Cook. Apple makes solid products. And if marketing genius was a simple thing to pull off, everybody would do it.
That said, the Apple double standard has, officially, spun out of control. In a recent article I wrote for
TheStreet
,
Microsoft, Nokia Get No Respect; Apple Gets Too Much
, a commenter who goes by "Artemis Mars" started fleshing out of the issue:
Rewind to last week and imagine if the device had an Apple logo . . . the media would likely be trumpeting Apple's innovation for the kickstand and keyboard/cover along with cheers for USB. When the meager improvements of iPad2 were announced, I felt let down; however, the media still preferred to hype it. Apple certainly seems to have a lot of journalists drinking its Kool Aid.
"Last week" refers to the
Microsoft
(MSFT) - Get Microsoft Corporation Report
event where the Surface tablet became a known entity.
In the aftermath, we hear little about Microsoft's innovation and more about the missteps that come part and parcel with any launch and any product roll-out, which, for the record, has yet to happen. Slap an Apple logo -- or even a Pear -- on the Surface tablet or new cross-platform Windows OS and, I bet the farm, cattle included, that the media, analyst and public reaction would be different.
Society tends to fall in line quite easily when properly brainwashed by marketing.
Is Facebook Better Than Sex?>>
We can ignore that those old white Macbooks got so dirty, so fast they looked like they had spent time in a dumpster after just a few days. We can blow off things like antenna-gate. We can laugh at the "Victorious" parody of waiting to buy a new PearPhone out of fear that the next-generation edition would come out shortly thereafter.
Yet, with Microsoft, we do not focus on the innovation; the enterprise traction Surface will certainly enjoy; the synergy between Windows 8, Xbox and every device in your home; or the issue of whether or not the company should make Office for iPad. Instead, we nitpick a lack of pricing and availability details, Microsoft apparently screwing hardware partners from
Nokia
to
Hewlett Packard
and the Surface tablet crashing on launch.
There's something wrong with such an uncritical and easily persuaded society. But, that's meaningless and sociological psychobabble. Or whatever Rush Limbaugh would call it. Microsoft has to work the same crowd Apple does. And, there's no question about it, it does a relatively poor job at it.
Consider one of the few things
Research in Motion
(RIMM)
has done well over the last couple of years. Here's an excellent commercial RIM ran promoting the BlackBerry Bold smartphone:
Everything about that spot makes perfect sense. Hipsters. Fixed gear bicycles. A slick post-rain scene of quintessential urbanity. Putting a group ride together via smartphone. It's all good except for that one thought that probably crept, almost immediately, into the forefront of your consciousness. That cool set of urbanites would sure as heck be using an iPhone, not a BlackBerry, to text.
RIM: Get Set for More Disappointment>>
Apple has done such an incredible job of marketing its products that we're hooked. And it's going to take a lot more than one good 30-second commercial from RIM to change that. In fact, as good as it was, all else being equal, all else is not equal in a world dominated by Apple. RIM should have never run the commercial. It only provided further embarrassment.
Marketing holds the key to Microsoft's success in the consumer marketplace with the Surface tablet, Windows 8 and Xbox SmartGlass. I expect an onslaught come fall. But it had better be an incredibly well-thought-out and well-done onslaught. Microsoft needs to produce the type of ad campaign that wins awards. We're talking better than
Jack in the Box
(JACK) - Get Jack in the Box Inc. Report
-type stuff.
It's a tall order. As bullish as I am on the stock, I am not sure Microsoft can do it. That makes me think the company's best bet might be focusing on enterprise. When you consider the early push of the Surface as a tablet you can actually do work on and the
, that might be Microsoft's plan. I can't say I blame them, as the consumer push, no matter how credible, is likely to fall short.
This article is commentary by an independent contributor, separate from TheStreet's regular news coverage.
At the time of publication, the author was long MSFT and NOK
.
At the time of publication, the author was long AAPL and NOK.