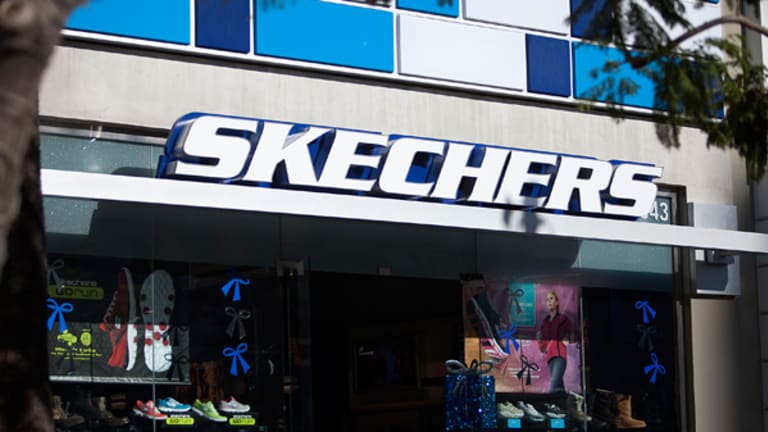 Skechers Is Having a Good Run After Hitting Some Speed Bumps
Skechers has delivered solid quarterly results and it stock is up after some bad publicity.
Skechers has delivered solid quarterly results and it stock is up after some bad publicity.
NEW YORK (TheStreet) - Skechers (SKX) - Get Report is on a roll after badly tarnishing its reputation two years ago.
No, it wasn't for having Kim Kardashian as a spokeswoman, but close -- it was for falsely advertising its "toning" shoes would help people lose weight and strengthen an assortment of muscles.
The sneaker company wound up paying millions in a class-action settlement. That was the same year, 2012, when its Super Bowl commercial had to be pulled after protesters said it promoted inhumane dog racing. The company denied that charge.
Well, time marches on and all is apparently forgiven.  An endorsement from the Boston Marathon winner can go a long way in improving the company's image.
Operationally, Skechers has been doing everything right, with double-digit revenue and triple-digit income growth in its previous quarter. The company's shares have been up 34% for the year to date, currently around $44. In terms of price to earnings ratio, Skechers is slightly more expensive than Nike (NKE) - Get Report and nearly 50% cheaper than Under Armour (UA) - Get Report.
However, Skechers is attractive considering it is gaining market share at home and expanding at double-digit rates in the international markets.
At home, Skechers has become the fifth-largest sneaker brand in the U.S, a significant improvement from seventh place a year ago. This puts the company behind Nike, Germany-based Adidas and Japan's Asics but ahead of Under Armour and Reebok.
Although Nike, with its Air Jordan brand, dominates the American sneakers market, in the walking sneakers category Skechers is the king and is gaining market share. Last year, Skechers' market share in this niche climbed to 50.5% from 34% in 2012. On the other hand, Nike's share shrank from 8% to 4% in the same period.
In its previous quarterly results, Skechers' reported 15.9% growth in sales at its retail stores to $128.9 million, including 10.7% growth at home and 48.8% in international markets.
However, Skechers gets less than a quarter of its revenue from its company-operated retail stores. More than 75% of its net sales come from its wholesale business, where growth is even better than retail.

Skechers posted 20.7% year over year growth in its domestic wholesale business to $232.5 million due to a 14.8% increase in shipments and a 5.1% increase in average price per pair. The company has credited "comfort innovations" for this growth.
The company's international wholesale business witnessed a 26.3% sales growth in the quarter to $179.1 million. The demand for its shoes has reached record levels in almost every region where it directly distributes the products.
The company's joint ventures in Southeast Asia reported 18.7% growth, including more than 50% growth in China. The company also witnessed double-digit growth in Mexico, New Zealand, U.A.E, South Korea, and Australia and triple-digit growth in Turkey, Indonesia and Taiwan.
Overall, the company's net sales and earnings increased by 21% and 363.6% year-over-year to $546.51 million and $30.97 million respectively. The significantly greater increase in earnings was partly due to effective cost management. The company's revenue growth was greater than the 18.2% increase in cost of sales and 12% increase in general and administrative expenses.
The company has forecast high-single to low-double digit growth in same store sales in its retail segment in the current quarter.
Analysts at Sterne Agee have said the introduction of memory foam feature in Skechers shoes can give a boost to its bottom line. This is because the memory foam, which comes with an additional cost of just 50 cents per pair, will allow the company to increase its selling prices by around $5 per pair.
In the international markets, where Skechers has capitalized on the strong demand, the company has forecast that it will continue growing at "double-digit" rate in 2014. Moreover, the company will complete the revamp of its European distribution center by the end of this year, which will bolster its growth in the continent in the coming years.
At the time of publication, the author held no positions in any of the stocks mentioned.
This article represents the opinion of a contributor and not necessarily that of TheStreet or its editorial staff.