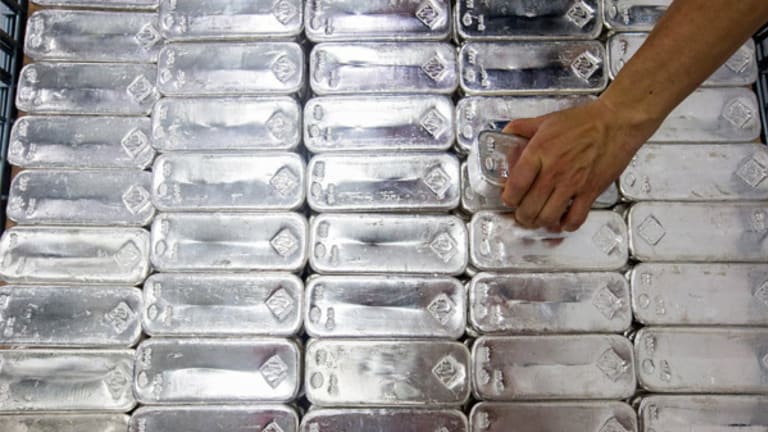 Silver Stocks Are Ready to Generate Out-of-This-World Performance
Excited about rising silver prices? Then investors should be drooling over the potential in silver shares.
Silver has been one of the best-performing commodities of the year.
Its price is up 49% year to date, which is 22 percentage points higher than gold's. And there are good reasons to think that silver prices could blow past their previous high of nearly $50 an ounce set in 2011.
Those who are excited about silver prices should be drooling over the potential in silver shares.
Historically, when silver prices fall more than 40%, then rally 25% from the trough, silver's average bull market gain is 339%.
Now, here is what has happened recently: Silver prices fell 72% from their 2011 peak to their December 2015 lows. But they have rallied 50% since then.
Based on the historical pattern, this could indicate that silver prices are set to take off.
Of course, silver prices are volatile. As mentioned, they dropped 72% from 2011 to the end of 2015.
By comparison, gold prices fell 45% from their 2011 peak to their lows reached in December 2015.
But silver has bigger gains than gold during precious metals bull markets. Gold prices jumped 550% from 2000 to 2011, while silver prices jumped more than 800%.
In fact, for the past 40 years' worth of gold and silver bull markets, silver has done better than gold in every single one.
During the last silver bull market from 2008 to 2011, silver prices rose more than 400%. But silver mining companies did even better.
Over the same time frame, First Majestic Silver (AG) - Get Report skyrocketed an unbelievable 3,500% and Great Panther Silver (GPL) - Get Report soared 2,800%. Those are exceptional returns, but overall, silver miners do better than silver prices during a bull market.
For instance, while silver prices were jumping 400% from 2008 to 2011, the Solactive Global Silver Miners Index, an index of silver mining companies, gained 595%.
The reason silver mining shares do better than silver prices during a bull market is because of mining costs. Whether silver prices are high or low, the costs of running a mine don't change.
When prices are low, mines are less profitable. When silver prices are high, mines with fixed costs become very profitable and their share prices start to climb.
We aren't about to put a price target on silver. But if history repeats itself, there are more big gains coming.
Remember that in the past, when silver climbs 25% off its lows, the average price gain is 339%. Silver is now up 50% from its most recent lows.
And silver is still 60% below its most recent high set in 2011. So, even if investors think that they have missed the rally, there is a good chance that they haven't.
And if silver goes beyond its $50 peak, some silver stocks may see quadruple digit gains. Remember: That actually happened as recently as five years ago.
So, investors should make sure that they have some silver in their portfolios, as there is a huge potential for spectacular returns.
Two ways to play the silver rally are to use the iShares Silver Trust Exchange-Traded Fund (SLV) - Get Report , which tracks silver prices. For an easy way to own a basket of silver mining shares, try the Global X Silver Miners ETF (SIL) - Get Report , which tracks the performance of the Solactive Global Silver Miners Index.
---
To see other exciting ways to profit from silver, click here.
Kim Iskyan is the founder of Truewealth Publishing, an independent investment research company based in Singapore. Click here to sign up to receive the Truewealth Asian Investment Daily in your inbox every day, for free.
This article is commentary by an independent contributor. At the time of publication, the author held no positions in the stocks mentioned.