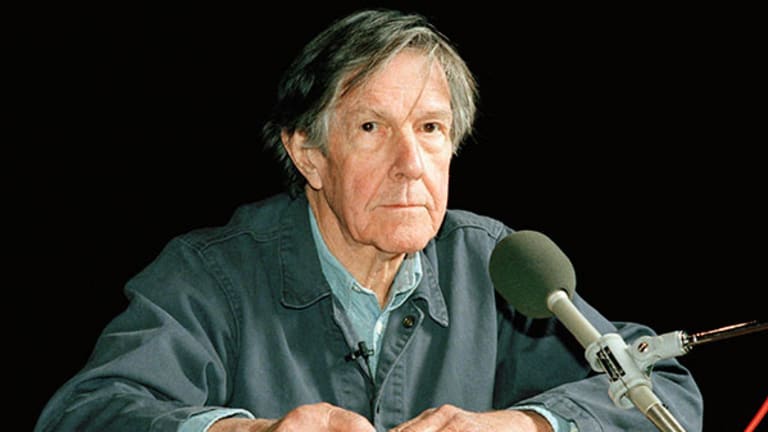 Silence? There's an App for That
We can all now join one another and the late John Cage in appreciating the magic of shared silence.
NEW YORK (TheStreet) -- Since the invention of radio and television, the world has grown increasingly smaller and more intimate. We are more aware than ever that on the other side of the globe are people and lives more or less just like ours.
As little as 60 years ago that knowledge would have been an abstract concept, gleaned second-hand through newspaper accounts and magazine images. Today one individual's experience increasingly touches another individual's experience directly across vast distances and cultural divides. That closeness, that opportunity for intimacy, is likely to increase with the marketing of products like Google Glass and the burgeoning popularity of personal messaging services like WhatsApp. Both Google (GOOG) - Get Free Report and Facebook (FB) - Get Free Report see this trend as among the most significant to the tech industry's future, as exemplified by Facebook's decision to pay $19 billion in stock and cash for the little gizmo, WhatsApp.
Among the weirder pieces of evidence of that phenomenon is an app available now from Apple's (AAPL) - Get Free Report App Store that allows users to share silence. Called 4'33'' the app takes its inspiration from the 1952 John Cage musical composition of the same name, a radical piece that challenges listeners to consider the small noises in the room as a musical composition.
For the premiere at Woodstock in 1952, renowned Cage interpreter David Tudor sat at the piano in front of a live audience and did nothing for four minutes and 33 seconds. The silence is divided into three movements. In between movements, Tudor lifted the keyboard lid of the piano, turned a page in the score and closed the lid again to start the next section of silence.
Audiences have greeted performances of the work by hostility, giggles, jeers, boos, jokes, sneers, walking out -- in short, every expression of every variety of discomfort imaginable. And yet, many -- most -- have enjoyed it. It remains Cage's most influential and well-known work.
At the crux of the work's importance is Cage's insight that no two silences are the same -- that, in fact, there is no such thing as silence.
Cage was inspired in part by painter Robert Rauschenberg's white canvases -- a series of works that had no images, but allowed for viewers to appreciate the play of light, shadow and their own imaginations. But Cage, who was as much a philosopher as a composer, was also convinced that music could be anything, any arrangement of sounds. Musical expertise and even musical instruments were completely unnecessary for a true musical experience.
In 4'33'', Cage throws down the boldest of challenges: to hear the sounds around us as music. By inviting us to listen to the ambient noises, Cage hands us an opportunity to appreciate the soundworld we live in, without restriction, without predetermined music expertly crafted to pretty it up, to mask the experience. In his role of composer, his only act is to frame the experience by dictating the length and the division into three sections. For the rest, he merely gives us permission to find it for ourselves.
In a famous quote, he described 4'33'' this way: "I have nothing to say and I am saying it. And that is poetry as I need it."
With that, he invites us to own the silence as well -- the silence that is never truly silence but is filled with innumerable small sounds or ambient noises -- and by extension, to own more fully the experience of being alive.
Shared Silence
Sitting in silence in a group of people is a powerful experience. Anyone who has attended a service of the Religious Society of Friends, also known as Quakers, can tell you that. In Quaker meetings, any one may speak if they feel moved to speak. If no one is moved, no one speaks. Sometimes hours can pass with no one saying a word.
For Quakers, the sharing of silence is an act of religious devotion. Cage merely gives the rest of us the opportunity to do the same, to appreciate shared silence as a moment to recognize our common humanity through the ability to listen to the activity, the breath and the heartbeats all around us.
Which brings us to the app. For 99 cents, you can record your own version of 4'33'', the ambient noises all around you. The recording takes actually four minutes and 43 seconds, because the app delineates the three sections with an automatic five second pause in between them. Once recorded, your performance can be accessed by anyone in the world.
Or, if you like, you can merely listen. The app has a map that shows recorded versions of the Cage compositions from Iceland, Europe, Japan, the U.S., Canada, Brazil, Uruguay, Panama, Australia, Thailand, China and other parts of the world. Users can store their favorites in the app's library. As a example, the app includes in the user library a recording from John Cage's old apartment in New York City, recorded last year, with its traffic noises, including a few honking car horns and ambulance sirens.
Yes, you can listen to the silence from TheStreet offices on 14 Wall Street in New York, recorded from my desk. (It's still surprising to me, because I started my career in a noisy daily newspaper newsroom, how quiet the digital newsroom is most of the time. The vast majority of our activity happens in the virtual realm.)
I look forward to the day when we can hear more silences, more shifting of feet, coughing, murmuring and traffic sounds, from China, Uganda, Kiev, North Korea, Syria. I look forward to the weirdness of sharing a room with some person I've never met, from a culture I probably wouldn't completely understand, for 4'33''.
The app project is the work Phil Stone for Larson Associates and published by the John Cage Trust and Henmar Press, a division of C.F. Peters.
-- Written by Carlton Wilkinson in New York City.