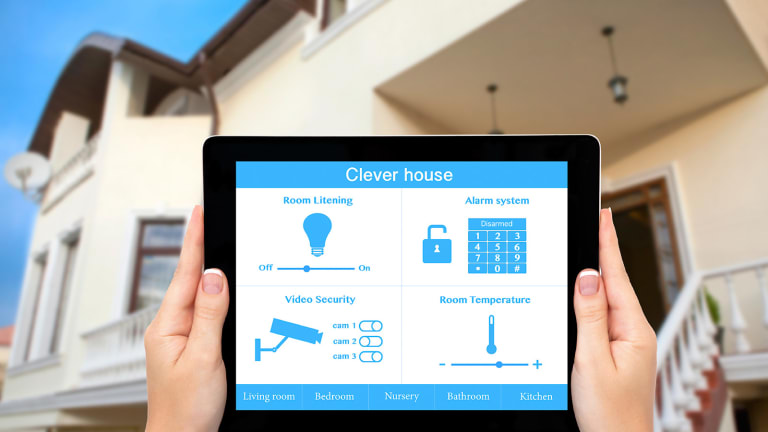 Should You Wait to Invest in Smart Home Tech? 3 Stocks to Watch
In light of Nest's recent shortcomings, should you wait to invest in smart home technology?
The smart home market bills itself as housing for the future and is expected to become a big-time industry in the coming years. The value of the industry is expected to rise to $57 billion by 2020. However, investors and homeowners might want to wait a little bit before committing to the smart home industry, as there are some serious problems that need to be worked out.
The latest issue is with the Nest Learning Thermostat. Alphabet (GOOG) - Get Alphabet Inc. Class C Report , the parent company of Google, purchased Nest Labs for $3.2 billion in 2014. The purchase seemed like a good move at the time because the company was making promising self-learning thermostats designed to save energy, advanced security cameras and other futuristic products with a lot of market potential.
data by
The problem, however, is that the Nest Learning Thermostat is reportedly plagued with battery problems that are leaving customers in the cold. The New York Times reports that some users are waking up to a freezing cold house after the thermostat turns itself off. A product that doesn't perform its essential function is a big problem.
Making matters worse is the decidedly consumer-unfriendly policy of Nest that prevents them from joining class-action lawsuits against the company. The battery problems combined with the lack of recourse is giving Nest, and by extension the rest of the smart home industry, some bad press.
The thermostat glitch will eventually be fixed, yet these kinds of issues aren't helping smart homes reach widespread adoption rates. The potential is big, however, as smart homes promise both convenience and cost savings to homeowners through a variety of both big and small features.
A thermostat that saves energy by setting the heat to the occupants' habits and schedules is especially beneficial. An automated light system is also highly desired by customers. Beyond that, alarm systems that don't cost monthly fees have lots of potential. Another security-related feature is keyless smart locks similar to those on newer cars.
Smart homes are a maturing industry that's going beyond the buggy gimmicks of decades past, and while they might be a ways off from reaching their full potential, there are some stocks worth looking at while the industry continues to grow.
Apple (AAPL) - Get Apple Inc. (AAPL) Report
Apple's strength in the mobile sector puts the company in a good position for the smart home industry. The company sells a variety of devices that sync up with their HomeKit app, such as thermostats, lighting and security systems. These devices are fairly easy to install, and managing all these features remotely from a phone is especially appealing. Apple isn't the only phone company getting in on the action, as Samsung and the previously mentioned Alphabet are also making strides. The benefit that Apple has is that its customers are extremely loyal, so iPhone users are more likely to go to Apple when they want to make their home smart.
data by
Time Warner Cable (TWC)
It's no secret that customers are cutting the cord and getting rid of cable. Time Warner Cable knows this and is broadening its offerings with its IntelligentHome system. With its massive base of subscribers, Time Warner Cable is a good gateway for people trying out smart homes for the first time. As promising as its offerings look, Time Warner Cable still has a ways to go. The company was hacked earlier this month and 320,000 passwords were taken. It's believed that the hack could also affect IntelligentHome customers.
TWC
data by
It's those types of problems -- from hacks to faulty thermostats -- that proves the smart home industry has yet to truly arrive. Right now, less than half of all homes have some sort of smart technology. Security issues and defects could slow down the rate of adoption.
You see Jim Cramer on TV. Now, see where he invests his money and why Apple stock is a core holding of his multi-million dollar portfolio. Want to be alerted before Jim Cramer buys or sells AAPL? Learn more now.
This article is commentary by an independent contributor. At the time of publication, the author held no positions in the stocks mentioned.