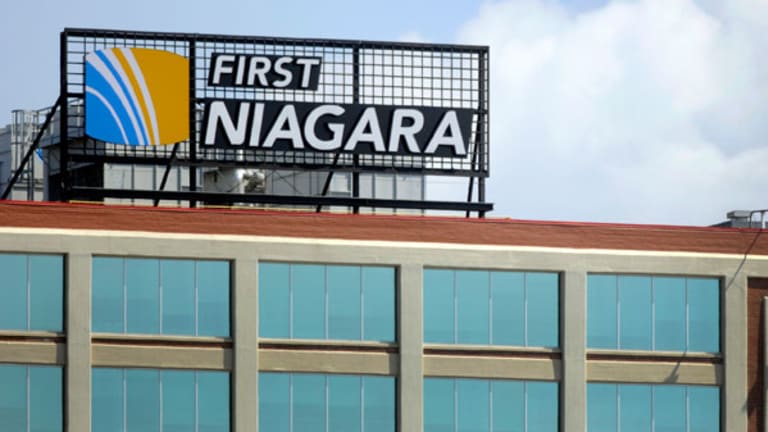 Should You Wait for First Niagara to Get Its Act Together?
The bank's costly four-year investment program is necessary, but that's a very long wait for investors. You can jump back in later.
NEW YORK (TheStreet) -- Investors sent First Niagara Financial Group's (FNFG) stock-price tumbling nearly 12% on Friday to $9.08, after CEO Gary Crosby announced a massive four-year investment program to improve the bank's technology and operating performance.
It was a strong reaction, but understandable. Shareholders in December had sent a pretty clear signal that they were unhappy with First Niagara's management. On Dec. 19, the shares sank nearly 5% after Crosby was named permanent CEO. He had been serving as interim CEO since March, following the abrupt resignation of John Koelmel, who led the bank's massive M&A-driven expansion over the previous four years.  
Koelmel's deals included the purchases of 57 National City branches in Western Pennsylvania in 2009; the 2010 acquisition of Harleysville National Corp, which included 83 branches in Eastern Pennsylvania; the acquisition of NewAlliance Bancshares in April 2011, which included 88 branches in Connecticut and Western Massachusetts; and a complicated deal in 2012, through which the company ultimately acquired 137 HSBC (HSBC) - Get HSBC Holdings Plc Report branches, mainly in upstate New York. 
The bank's expansion resulted in a dilutive common-equity raise and the cutting-in-half of its quarterly dividend on common shares to 8 cents in December 2011.
The negative reaction to Crosby's appointment as permanent CEO in December may have resulted from "the general expectation from investors that First Niagara would bring in an outside person to run the bank," KBW analyst Damon DelMonte said on Dec. 19.
During the bank's fourth-quarter earnings conference call on Friday, Crosby said, "Starting now and over the next three to four years, we will be changing course by accelerating the investments needed to enhance revenues, fee income in particular, improve operating leverage, and stay on top of growing regulatory requirements. To insure that we make these investments as effectively and as efficiently as possible, we must leverage the significant innovations that are occurring in the technologies for infrastructure, product integration, and product application development.
"We refer to the new underlying architecture that will enable us to take full advantage of these innovations as 'the common rails,'" Crosby added, according to a transcript provided by Thomson Reuters.
A Very Long Wait
The "common rails" investments will total between $200 million and $300 million over a period of three or four years and are meant to improve the company's operating performance as well as its risk management and regulatory compliance. Specifically, First Niagara's goals include improving its return on average assets (ROA)  to a range of 1.15% to 1.20%, while lowering (improving) its efficiency ratio to the mid-50s range.
During the fourth quarter, First Niagara's ROA was 0.82%, compared to 0.85% in the third quarter and 0.67% during the fourth quarter of 2012.  The company's efficiency ratio -- overhead costs as a percentage of revenue -- improved to 61.46% in the fourth quarter from 62.66% the previous quarter and 71.69% a year earlier.
Crosby's announcement of the massive spending program overshadowed plenty of good news for First Niagara, with the company's net interest margin expanding to 3.41% during the fourth quarter from 3.22% a year earlier, bucking the industry trend.
First Niagara's CFO made clear during the call on Friday that the company's goals for operating improvement are for 2018, following the completion of the "common rails" investment program, and investors made it clear they were in no mood to wait that long.
Crosby on Friday said the bank had already "squeezed out as much inefficiency out of the business as possible," before initiating the investment program. That may also have surprised investors.
"In our view, investors are still concerned with capital levels and a bit surprised that the company has wrung out all cost saves given the massive growth the company has experienced over the last five years," wrote Sterne Agee analyst Matthew Kelley in a note to clients on Sunday. "Given the significant change in strategy and near/intermediate term hits to earnings and profitability, we prefer to be more cautious despite the meaningful sell-off on Friday and modest discount valuation on our new estimates."
Kelley has a neutral rating on First Niagara.  The analyst on Sunday cut his 2014 earnings estimate for the bank to 70 cents a share from 78 cents and cut his 2015 EPS estimate to 74 cents from 86 cents.  The bank earned 75 cents a share during 2013.
Downgrades
DelMonte of KBW on Sunday lowered his rating for First Niagara to "market perform" from "Outperform," while cutting his price target for the shares to $10 from $12. "When we upgraded the shares in April 2013, our thesis was predicated on new leadership's ability drive higher
earnings through efficiencies and revenue enhancements from the recently expanded banking footprint," DelMonte wrote in a client note. "While we do not doubt Mr. Crosby's ability to lead the charge for FNFG, bringing the bank closer to reaching its full potential has now become a much longer process than originally anticipated."
DelMonte cut his 2014 EPS estimate for the bank to 73 cents from 80 cents and cut his 2015 EPS estimate to 78 cents from 92 cents.
Jefferies analyst Casey Haire on Sunday cut First Niagara to a "hold" rating from a "buy" rating, while lowering his price target for the shares quite a bit, to $9 from $12.
"Our Buy thesis rested on estimate stability via cost discipline and a long-term ROA improvement via balance sheet rotation, but both themes are no longer valid given elevated infrastructure investments ($250mm over next three years) and a slower loan growth forecast," Haire wrote in a note to clients. He cut his 2014 EPS estimate for First Niagara to 76 cents from 79 cents and his 2015 EPS estimate to 80 cents from 87 cents.
It's pretty clear that the sell-side analysts were looking for more immediate efficiency improvement.
Based on an average 2015 EPS estimate of 77 cents among the three analysts quoted above, First Niagara's shares at Friday's close traded at a forward price-to-earnings multiple of 11.8, which is not particularly cheap for a bank with mediocre earnings performance that just guaranteed another four years of relatively weak earnings.
First Niagara's shares were down another 1.3% in early trading Monday, to $8.96.
The following chart shows the underperformance of First Niagara Financial Group against the KBW Bank Index and the S&P 500  since the end of 2011:
data by YCharts
Philip W. van Doorn is a member of TheStreet's banking and finance team, commenting on industry and regulatory trends. He previously served as the senior analyst for TheStreet.com Ratings, responsible for assigning financial strength ratings to banks and savings and loan institutions. Mr. van Doorn previously served as a loan operations officer at Riverside National Bank in Fort Pierce, Fla., and as a credit analyst at the Federal Home Loan Bank of New York, where he monitored banks in New York, New Jersey and Puerto Rico. Mr. van Doorn has additional experience in the mutual fund and computer software industries. He holds a bachelor of science in business administration from Long Island University.