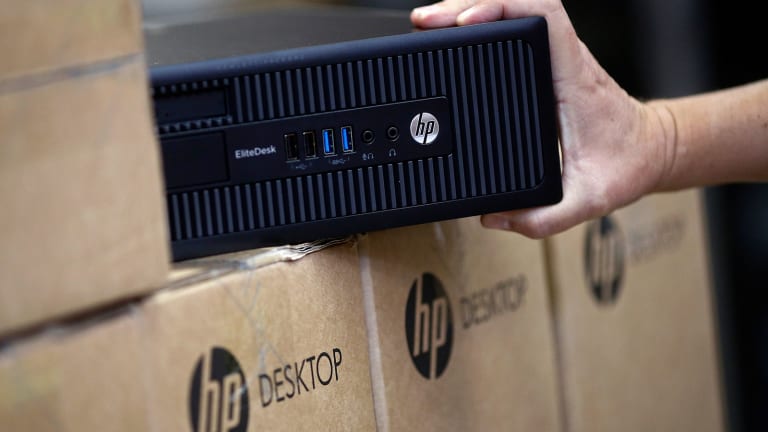 Should You Invest in Shares of HP or Hewlett Packard Enterprise?
Now that Hewlett Packard has split into two different companies, HP and Hewlett Packard Enterprise, which stock should you buy?
Opinions vary as to the wisdom of Hewlett-Packard's split into two separate publicly traded companies. Some observers view it as a smart move that will allow the companies to focus on their respective industries without all the overhead. Others say it looks like a desperate move to reverse years of declining sales.
Those on the outside looking to get in with either entity should proceed with caution, as it's too early to tell whether the newer versions of HP will make good investments. Both companies are working to forge their identities without the baggage of the past.
With the spinoff, HP turned its consumer-facing computer and printer divisions into HP (HPQ) - Get HP Inc. Report . Its business service and hardware division is now Hewlett Packard Enterprise (HPE) - Get Hewlett Packard Enterprise Co. Report . In terms of revenue, the companies are similar, with HP's consumer products generating $50 billion, and Hewlett Packard Enterprise generating $53 billion.
HP is a much leaner operation, with just 50,000 global employees, vs. Hewlett's staff of a quarter million. Although HP might be nimbler in terms of employee size, the size of its potential market is much smaller, as the addressable market is only $600 billion, vs. the $1 billion market of business solutions that Hewlett is hoping to tap.
In the two stocks' debut day on Wall Street on Monday, investors favored HP and its consumer product line over Hewlett Packard Enterprise. The former saw a 14% gain, while the latter suffered a 1.6% decline. That first day shows what investors are thinking, but it will have little to do with the long-term future of either company.
HP does show some promise after overcoming a series of near-disasters in the past 15 years.
A positive aspect of HP is that it's gaining market share in the computer market. Overall, sales are down throughout the industry -- even with Apple's Macs -- but HP is faring better than its rivals. HP is the second-largest computer manufacturer by market share, with 18.5% of third-quarter 2015 computer shipments. That's nearly triple Apple and almost a full percentage better than the previous year.
It looks good, but the industry has been in decline, with worldwide sales of personal computers declining 7.7% in the third quarter from the same quarter a year earlier, according to Gartner.     Gartner's analysts do see some signs pointing to stabilization and growth, and that's good news for HP as it deals with a drop in revenue in both its computer and printer divisions.
Now that the computer and printer division is a separate company, HP may become better at adapting to market conditions and innovating. One hopes it will avoid some of the unwise decisions of the past, such as the failed HP iPod deal to the still controversial decision to merge with Compaq.
In the combined company's final earnings results before the spinoff, the Enterprise Group division (now Hewlett Packard Enterprise) saw flat revenue. The meek results of its debut shouldn't be overly scrutinized, as it's still too early to tell.
For a company the size of Hewlett-Packard to split is almost something of a miracle, as these kinds of corporations are often bloated beyond comprehension. That the spinoff actually happened is a good thing for investors. HP could be considered undervalued due to the industrywide drop in computer sales and might make a safe investment.
The flat revenues of Hewlett Packard Enterprise aren't too worrying at the moment, and the company does have a higher upside.
At the moment, it's probably best to take a wait-and-see approach as the two new companies find their footing. Both companies announce their earnings at the end of the month, and that will provide a clearer look at where they're going.
This article is commentary by an independent contributor. At the time of publication, the author held no positions in the stocks mentioned.