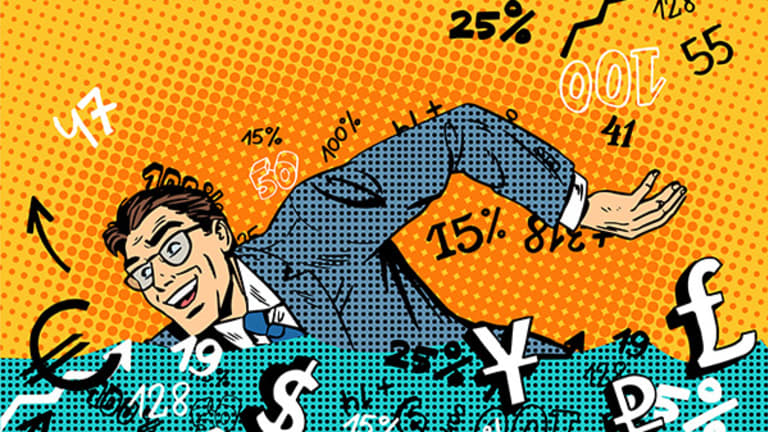 Encouraged by the recovery of the American economy, the U.S. Federal Reserve seems set to deliver on expectations for a hike in its short-term interest rate target at its policy meeting schedule for Dec. 15-16. A better-than-expected U.S. jobs report for October, which showed that nonfarm payrolls advanced by 271,000 for the month and that the unemployment rate fell to 5.0%, certainly helped strengthen the case for a rate hike.
Meanwhile, central banks of emerging and developed countries are unleashing monetary easing in an effort to combat perceived deflationary threats.
All of these developments have put the spotlight on the dollar. Since mid-2014, the U.S. currency has gained 28% in value. It has been moving somewhat sideways since March 2015, but with other central banks such as the European Central Bank and the Bank of Japan ready to ease liquidity at the word "go," there may just be more upside to the greenback. Monetary easing by these banks will likely exert downside pressure on their countries' currencies, the euro and the yen, vs. the dollar.
These dramatic currency changes have brought currency-hedged exchange-traded funds to the fore. Below, we examine how to use these funds and explore their risks. These investments are among a group of high-quality opportunities that are far too ignored by most investors. Let's take a look.
You may want to gain some exposure to international markets in order to diversify your portfolio, but doing this introduces exchange-rate risk. The value of your investment could decline because of changes in the value of the currencies of the markets you invest in vs. the dollar.
While currency derivatives such as futures, options, and swaps are the most direct way to hedge your exposure to foreign markets, they're very complicated and require expertise and time that most retail investors don't have.
That's where currency-hedged ETFs come in. The managers of these funds invest in a foreign market, but they also make use of those currency derivatives to neutralize the effect of swings in that market's currency against the dollar. There are ETFs for most of the major global markets you'd want to invest in, and they offer an easy way to simultaneously invest in a foreign market and protect that investment against currency fluctuations.
Long before currency hedging became the craze that it is today, two names already stood out: WisdomTree Japan Hedged Equity (DXJ) - Get WisdomTree Japan Hedged Equity Fund Report and WisdomTree Europe Hedged Equity (HEDJ) - Get WisdomTree Europe Hedged Equity Fund Report .
Combined, these two ETFs hold the biggest share of currency hedged ETF assets, amounting to $38 billion. However, on the back of the dollar's bull run, since the start of 2015 alone, 40 such related products have cropped up.
The WisdomTree Europe Hedged Equity boasts assets under management of $21.3 billion and invests in securities spread across sectors such as health care, consumer staples and discretionary, financials and industrials. Countries comprising the top of the holdings list include Germany, France, the Netherlands and Spain. So far this year, the fund has logged a gain of nearly 12%.
On the other hand, the WisdomTree Japan Hedged Equity concentrates on the Japanese markets. The fund primarily invests in securities from consumer discretionary and industrial sectors, followed by information technology and financials. WisdomTree Japan Hedged Equity has gained 13% so far this year.
Investors can consider other funds that cover the European markets such as iShares Currency Hedged MSCI Germany ETF (HEWG) - Get iShares Currency Hedged MSCI Germany ETF Report , Deutsche X-trackersMSCIEAFE Hedged Equity ETF (DBEF) - Get Xtrackers MSCI EAFE Hedged Equity ETF Report, and Deutsche X-trackers MSCI Europe Hedged Equity ETF (DBEU) - Get Xtrackers MSCI Europe Hedged Equity ETF Report.
Investors interested in a broad range of foreign investment can pick the iShares Currency Hedged MSCI EAFE ETF (HEFA) - Get iShares Currency Hedged MSCI EAFE ETF Report , which tracks large- and mid-cap equities in Europe, Australasia and the Far East.

However, investors must understand that while currency hedged ETFs are a sensible bet when the U.S. dollar is rising, they can turn out to be a nightmare when the currency falls.
The 18% fall in the dollar vs. the yen from 2010 to 2012 is proof of this. An investor in the hedged WisdomTree Japan Hedged Equity would have experienced a 20% decline.
Those who are sold on the currency hedging story must remember that the U.S. dollar has already plateaued from its March figures. Also, its further rise will depend on future rate decisions by the Fed, which will act only if the U.S. economic recovery doesn't lose steam.
An appetite for risk is thus a prerequisite for this kind of addition to your portfolio.
In these days of 1% CDs, it's tough to find a yield worth getting excited about. But did you know you could be investing in a publicly traded, perfectly legal investment loaded with tax breaks and delivering safe, out-of-this-world yields? I'm talking about cash cows that yield 8%, 9% and 10%. And you don't have to be a zillionaire to pull this off. You don't even have to be in a high tax bracket. Find out how you could be getting high yields, explosive growth AND tax-free income today. Click here to learn more.
This article is commentary by an independent contributor. At the time of publication, the author held no positions in the stocks mentioned.