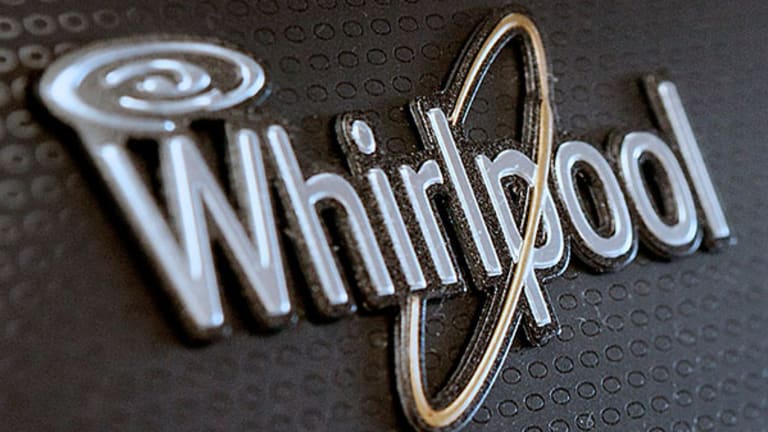 Should You Follow JPMorgan and Goldman Sachs on Whirlpool?
This seemingly staid consumer goods stalwart has suddenly become the darling of Wall Street. Should you go along, or is a trap waiting?
Editors' Pick: Originally published March 23.
When JPMorgan Chase turns bullish on appliance maker Whirlpool Corp. (WHR) - Get Whirlpool Corporation Reportafter six long years of negativity, it's should make investors sit up and pay attention. Goldman Sachs has also turned positive on this firm. Is this storied, old-line American manufacturer really among the market's best moneymaking opportunities right now?
While the going has been good for Whirlpool, its share performance hasn't really been all that great. It's still down 10.35% over the past one year timeframe, but then, that belies the improvement in earnings. The company added $1 billion in sales and improved profits in 2015 vs. 2014).
Given the numbers, what should be your analysis on Whirlpool? Jump aboard now, in hopes of market-beating growth, or play the waiting game? We give you the full story.
Let's begin with a couple of basic figures.
Whirlpool, with close to $20 billion in annual sales, 100,000 employees and 70 manufacturing and technology research centers throughout the world, is a formidable force to reckon with. It has a bevy of well-known brands: Whirlpool, KitchenAid, Consul, Maytag, Brastemp, Amana, Bauknecht, JennAir, and Indesit.
Like other in-home appliance companies, Whirlpool struggled with the global meltdown between 2007 and 2009 (margins and profits plunged). However, the company emerged stronger than ever, focusing its thrust around a sound strategy: a game-plan to cut costs, improve margins and innovate consistently.
All of these (with a few acquisitions thrown in) spelled a good recipe for success. And it worked, putting this traditional manufacturer into a group of growth stock winners that should generate big gains this year.
Six years ago, Whirlpool was an $18.3 billion sales company with a gross margin of 14% and a little above $600 million in profits. The company was positioned for the possibility of growth, but over the past few years it's risen remarkably moving from strength to strength.
Gross margins have improved by over 300 bps (17.7% in 2015). Sales have increased, too. Over the last 14 years, the company added $13 billion in sales without increasing its number of manufacturing locations. The acquisition of Hefei in China was a smart move, hugely expanding its distribution footprint.
Ditto with Indesit in Europe in terms of scale. Today, Whirlpool targets 90% of consumers across the world, irrespective of whether they are premium, mass or value, with seven $1-billion plus brands .
It's not difficult to understand why JPMorgan is impressed. At about 18.05-times trailing earnings, Whirlpool is a great value buy in a risky market. With consensus expectations of 16%-to-17% earnings-per-share (EPS) growth over the next two years, leading to a 16.70% five-year run-rate (higher than 12.04% previously), Whirlpool is a stable growth story.
Rivals like Sony Corp. trade at 28.43-times trailing earnings and AB Electrolux at 38.78-times.
Whirlpool is a good value because the company has been improving its margin profiles, offers a great yield (dividends have doubled in five years and the payout ratio is still less than 25%), generating stable free cash flows (for four years now). And it's pushing all these buttons even as profits continue to rise. Its cash conversion cycle has improved superbly (5-7 days from the 20-30 range in the past) even as peers like Sony and Electrolux are nowhere near those levels.
The best part is Whirlpool's valuation today of 18-times trailing earnings, which is close to its five-year average valuation band of 16-to-17 times.
With Whirlpool projecting full-year EPS of $20-to-$22 by 2018 (7-to-8 times forward earnings), stock prices will soon adjust upwards. JPMorgan is projecting a $205 target price (almost near 52-week highs).
There are some who are projecting even $210. An A-rating is definitely in the works, which is why we think Whirlpool is a rare opportunity for both share price appreciation and juicy dividends.
Give Me 9 Minutes a Week and I Guarantee You $67,548 a Year: 85% Accurate Trader gives his Personal Guarantee. He turned $50,000 into $5 million trading this way and for a limited time, he's guaranteeing you at least $67,548 per year in profitable trades if you follow this simple step-by-step process. Click here to see how easy it is to collect thousands of dollars in "Free Money" every month.
This article is commentary by an independent contributor. At the time of publication, the author held no positions in the stocks mentioned.