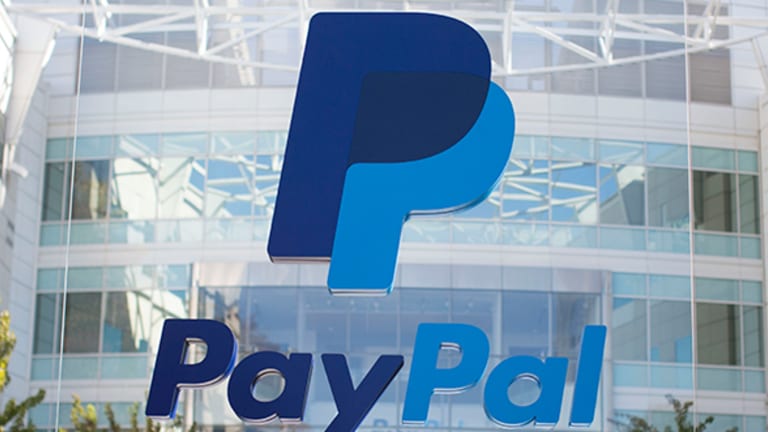 Should You Exit PayPal?
PayPal is in a highly competitive market and may not live up to expectations.
PayPal is in a highly competitive market and may not live up to expectations.
Year to date, shares of PayPal (PYPL) - Get Report , at $40.50, are up 13%. Are investors going to get paid buying this stock?
Back in May, PayPal held its first analyst meeting as a public company. With 85% of commerce still done by cash, PayPal believes it has a massive opportunity to capture those transactions on their platform.
According to the company, the total addressable market for online, mobile, offline retail, and digital money is worth a $100 trillion. PayPal stressed that it's not just an online check out service -- it's a technology platform can link bank accounts, credit and debit cards, and loans and handle peer-to-peer transactions.
In addition, PayPal has expanded its technology to accept payments in store, through ATMs, handle international payments and can even handle bill payments. PayPal aims to by anywhere a customer wants to make a financial transaction. The company wants to be a total end-to-end payment platform. Currently, the company has 170 million consumer accounts, 14 million merchant accounts in over 200 marketplaces worldwide.
On July 21, PayPal reported second-quarter fiscal 2016 earnings of $0.36 per share in-line with the company's previous guidance. Revenue rose 15.4% to $2.65 billion. Active customer accounts grew 11% to 188 million and the company processed 1.4 billion transactions, up 25%. There were an average of 29 payment transactions per active account, up 13%. The average transaction was $59.54. Total payment volume (TPV) rose 29% on a currency neutral basis.
Management issued in-line guidance. For the third quarter, the company sees earnings between 33 cents and 35 cents per share and revenue between $2.62 billion and $2.67 billion. For the year, PayPal expects revenue of $10.75 to $10.85 billion and earnings of $1.47 to $1.50. The company reports earnings Oct. 20.
Non-GAAP operating margin declined sequentially to 20% from 21%. And that's the problem with PayPal. Operating margins (and hence, earnings per share) are under tremendous pressure. Back in the second quarter of fiscal 2015, PayPal had non-GAAP operating margins of 23%. Now, it's down to 20%?
At the May analyst meeting, management said the company would have to hold down expenses to grow earnings. Say what? Second quarter non-GAAP earnings were up just 6.9% to 36 cents.
In other words, PayPal's addressable market may be huge, but it's a highly competitive market and it doesn't seem like the other players in the business are just going to rollover. While the company signed deals with Visa (V) - Get Report  and MasterCard (MA) - Get Report , those deals probably won't be as lucrative as investors think.
Besides banks, credit card companies, the Fed's automated clearing house (ACH) and the privately run bank ACH, PayPal is also up against Apple (AAPL) - Get Report  and the folks at Alphabet's (GOOGL) - Get Report Android who want to keep transactions on their platforms.
Credit card companies typically trade between 23 and 26 times forward estimates. If you assume the company will earn $1.73 in fiscal 2017 (which is 23 cents more than guidance), and use a 24 multiple, the stock is probably fairly valued between $40 and $43 per share.
You could make an argument that if PayPal is growing as fast it should get a 26 multiple. But does it really deserve a higher multiple when operating margins are under pressure? I don't think so.
In my opinion, I think it's going to be hard for investors to get paid on PayPal.
Visa, Apple and Alphabet are holdings in Jim Cramer'sAction Alerts PLUS Charitable Trust Portfolio. Want to be alerted before Cramer buys or sells V, AAPL and GOOGL? Learn more now.
This article is commentary by an independent contributor. At the time of publication, the author held no positions in the stocks mentioned.