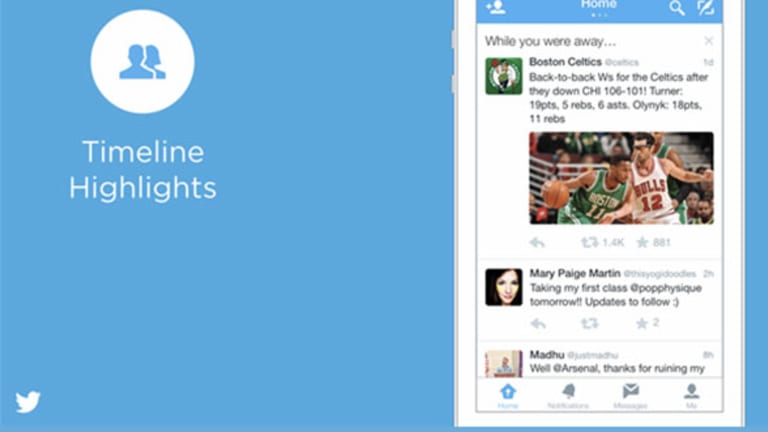 Should You Care That This Saudi Prince Now Owns 5% of Twitter?
Prince Alwaleed Bin Talal is now the second biggest investor in Twitter, right below its co-founder Evan Williams. And that's a good thing.
NEW YORK (TheStreet) -- Even with the recent CEO shakeup, one Saudi prince has placed his vote of confidence in Twitter (TWTR) - Get Twitter, Inc. Report by purchasing enough shares to give him a 5% stake in the company.
Saudi Prince Alwaleed Bin Talal has purchased almost 35 million shares of the microblogging firm, meaning that he owns 5.17% of the shares outstanding. The move makes him the second biggest investor in Twitter behind its co-founder, Evan Williams, who owns 6.9% of the shares outstanding.
Should this news affect your position on the company? Yes.
An Endorsement of Dorsey
In case you missed the news, it was recently reported that Jack Dorsey, also a Twitter co-founder, would take on the position of CEO for the company. He follows Dick Costolo, who delivered what many analysts believe to be a lackluster performance during his tenure.
Many investors aren't sure about the future of the company given its less than spectacular stock-price performance since it went public in 2013. Share prices are currently trading at less than their IPO price from two years ago.
Initially, Alwaleed was opposed to the idea of Dorsey returning to lead the company. Clearly, he's had a change of heart, and that's not insignificant.
Dorsey sought to reassure investors that he could run both Twitter and his other company, payments processor Square, at the same time with the use of executive teams to manage operations. That news was apparently good enough for the Saudi prince, who now sees value in the company.
A Repeat Performance
This isn't the first time that Alwaleed invested in Twitter, either. He initially put $300 million into the company back in 2011, before it went public. At that time, he issued a statement that read in part: "Our investment in Twitter reaffirms our ability in identifying suitable opportunities to invest in promising, high-growth businesses with a global impact."
The Saudi prince is almost literally doubling down on the company. His share purchase in 2011 amounted to just 3% of the company. Now, he owns almost twice that.
The fact that Alwaleed is willing to make such a financial commitment to the company on two separate occasions is a clear indication that he believes stock is poised to pop. He not only believes in the overall business model, but he also believes in the new leadership -- which, of course, isn't really new.
A Record
It's safe to say that Prince Alwaleed has an excellent track record when it comes to managing his money. According to Forbes, he's currently the 34th richest person in the world.
Ask yourself the following question: If Warren Buffet bought 5% of the shares of Twitter, what would you think about the future direction of the company? Given Buffet's outstanding track record of selecting stocks that have made him a billionaire, you'd probably imitate his example and purchase some shares yourself.
If your investment strategy is to mimic the actions of people who've managed their money well, then you should take a look at Dorsey's vision, the Twitter business model, and consider the investment that the Saudi prince just made as a possible impetus for your opening your own position in the company.
About Twitter
Twitter is a microblogging company that allows users to post text messages in 140 characters or less. The platform also allows people to post images and embed videos. It's one of the most popular social media sites in the world.
The company earns revenue through advertising. Businesses pay so that their tweets -- or status updates -- are seen by people who don't follow them.
Shares of Twitter closed at $30.85 during the regular trading session on Friday.
This article is commentary by an independent contributor. At the time of publication, the author held no positions in the stocks mentioned.