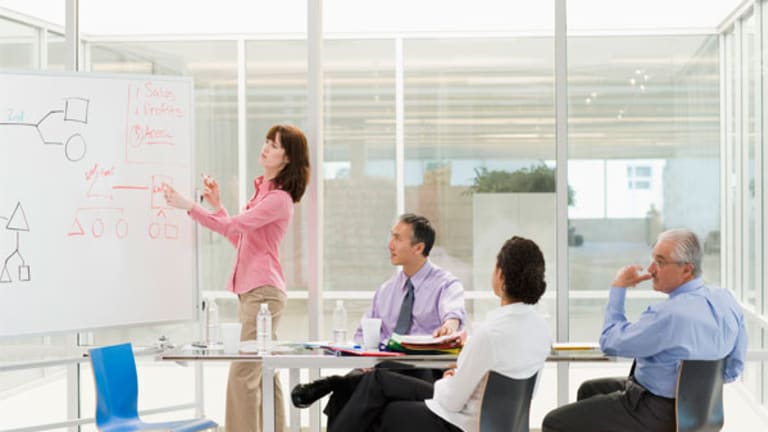 Should Wisconsin Look to Private Sector?
Boeing, Ford, GM and the airlines could teach Wisconsin Gov. Scott Walker about labor relations.
NEW YORK (
) -- Maybe Wisconsin Gov. Scott Walker should take a lesson from the private sector, where crisis negotiations with labor unions can lead to wins for all involved.
GM
(GM) - Get General Motors Company Report
just announced a
$4.7 billion profit for 2010, its biggest net income since 1999. One outcome: It awarded bonuses averaging $4,300 to 45,000 hourly workers.
Gov. Scott Walker, second from left, is greeted by protesters as he arrives at the airport in Kenosha, Wis., to hold a news conference about his budget repair bill on Feb. 25.
Ford
(F) - Get Ford Motor Company Report
reported
of $6.6 billion, the highest in 10 years. It
of $5,000.
In the airline industry,
US Airways
(LCC)
negotiated with its unions during a 2004-05 bankruptcy and just reported its second most profitable year. In 2010, it distributed $48 million in profit sharing plus operational incentives of $24 billion.
Alaska Airlines
(ALK) - Get Alaska Air Group, Inc. Report
produced a return on invested capital of 10.7% in 2010, when its shares rose 62%. Alaska's customer service is routinely rated highly by J.D. Power, and on Feb. 14 it gave out bonuses totaling $92 million, approximately a month's pay per person
And
Boeing
(BA) - Get Boeing Company Report
may constantly battle the International Association of Machinists, but it is also clear that the union played a role in the company's securing a $35 billion tanker contract on Thursday.
It may be obvious that someone starting a business today would seek to provide working conditions and wages and benefits that would incent workers not to unionize. But it does not necessarily follow that a good practice is to tear up an existing business in order to get rid of the unions that are already there.
Didn't Frank Lorenzo try that, sacrificing
Eastern Airlines
in the process? Doesn't Walker, who has already won union agreements to wage and benefit concessions, seem interested only in busting unions?
"It's pretty clear that what's going on in Wisconsin has little or nothing to do with the budget deficit," said Bill Dougan, president of the 110,000 member National Federation of Federal Employees, an IAM affiliate.
Mike Flores is president of the US Airways chapter of the Association of Flight Attendants, which is currently negotiating a new contract after making concessions during a 2004-2005 bankruptcy. Those talks have reached a
particularly contentious stage
.
Still, Flores said, "When we were in bankruptcy, the union got it. We realized the company was in dire straits and we did some things we didn't like but needed to do. We did that in a proper forum, face-to-face negotiations."
Flores noted that a USA Today/Gallup Poll found that 61% would oppose the sort of law favored by Walker that would deprive public employee unions of the right to collective bargaining. Only 33% would favor such a law.
"The Wisconsin unions should continue to do exactly what they are doing: mobilizing public opinion, focusing on worker rights and portraying the governor as being unfair, anti-union and anti-worker," said Marick Masters, director of the Douglas A. Fraser Center for Workplace Issues at Wayne State University.
"There is a solution to the problems without emasculating collective bargaining," Masters added, noting that in automaker contract negotiations, "There were difficult issues that were painful. Both parties sat down and came up with solutions that enabled the companies to survive. That's the whole purpose of collective bargaining."
Jonathan Cutler, sociology professor at Wesleyan University, said it is likely that Walker's antagonistic approach toward labor "is not ultimately going to be a force that serves the constituency that he's trying to serve in a way that would diminish the power of the labor movement."
Rather, "this kind of frontal assault has unleashed a labor movement that is more mobilized," Cutler said. "I don't think public sector workers have been this agitated and mobilized for years, not only in Wisconsin but in lots of places."
NFFE's Dougan said it's not just the private sector that provides a demonstration of how labor and management can work together. Federal employee unions don't even negotiate wages and benefits, which are set by Congress, but they are deeply involved in workplace issues.
NFFE recently completed contract negotiations on behalf of 20,000 Forest Service workers, resulting in revamping of the grievance procedure. Most labor advocates believe a major benefit of union representation is the grievance procedure, which establishes a framework to resolve workplace conflict.
"The bottom line is that labor and management share a lot of the same interest in terms of making employers more efficient in delivering their services," Dougan said. "We're all about helping federal agencies be successful and delivering on their mission, because their being successful ensures that they continue to get funding that keeps our folks employed."
-- Written by Ted Reed in Charlotte
.
Readers Also Like:
>>4 Steps in the Life of Boeing's 747
>To contact the writer of this article, click here:
Ted Reed