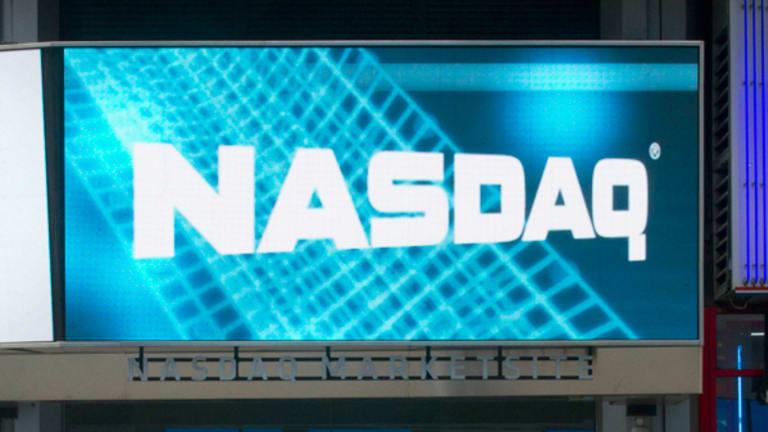 Should Warren Buffett Buy Nasdaq?
Will Warren Buffett step up as a buyer for Nasdaq?
NEW YORK (
) -- Warren Buffett's
Berkshire Hathaway
(BRK.A) - Get Berkshire Hathaway Inc. Report
was a reported bidder for
NYSE Euronext
(NYX)
ahead of the company's eventual merger with
IntercontinentalExchange
(ICE) - Get Intercontinental Exchange Inc. Report
. Maybe the "Oracle of Omaha" should now turn his eye toward
Nasdaq
undefined
, after the exchange was again crippled during a three-hour trading freeze on Thursday.
Buffett, who recently said his investing conglomerate is "the 1-800 number when there's really sort of panic in markets," may be the right buyer to restore confidence in Nasdaq after the exchange suffered through a May 2010 "Flash Crash" and was hamstrung by software glitches in
Facebook's
(FB) - Get Meta Platforms Inc. Report
initial public offering.
In the financial crisis, Buffett was able to support the banking system with multi-billion dollar preferred stock investments in firms such as
Goldman Sachs
(GS) - Get Goldman Sachs Group Inc. (The) Report
,
General Electric
(GE) - Get General Electric Company Report
and
Bank of America
(BAC) - Get Bank of America Corporation Report
. His imprimatur as the nation's pre-eminent long-term investor may now be needed after critics said exchanges such as Nasdaq, NYSE and a coterie of off-Wall Street bourses have allowed rent-seeking investors to overrun stock markets.
If Buffett was interested in acquiring NYSE Euronext until the firm's price rose too high, as
CNBC's
David Faber reported earlier in 2013, Nasdaq could be a better-sized operator for Berkshire Hathaway. The legendary value investor could look at the exchange as a "moated" brand that is a fixer-upper after glitches such as Facebook's IPO raise the prospect large tech firms will choose to list their shares with competitors.
Nasdaq, given its prominence as the exchange for Silicon Valley bellwethers, could be a way for Berkshire to bolster its investment in the technology sector without veering too far from its expertise. Given strong demand for initial public offerings as stock markets recover from the financial crisis, the exchange would also be a fit with Berkshire's heavy investment in the U.S. economy.
Most importantly, an investment in Nasdaq could be a way to influence renewed stability to the U.S. financial markets. This year, the billionaire investor and his lieutenant Charlie Munger both sharply criticized the high-frequency trading (HFT) that now dominates exchanges such as Nasdaq and is blamed for their recent bouts of instability. If Buffett is of the belief that stock markets need a cleansing, owning an exchange such as Nasdaq could be a way to do so.
In May, Munger said HFT was "basically evil." Buffett, in a separate interview with
CNBC
, said short-term traders are "not contributing anything to capitalism." Buffett did praise how cheap stock trading has become. "It's a very inexpensive market to operate in," he told
CNBC
.
Berkshire Hathaway often refuses to meddle in the affairs of its subsidiary investments.; However, Buffett has a track record as a fixer-upper in the financial services industry.
When buying insurer
General Re
, Buffett said he and Munger spent years unwinding the firm's derivative contracts, in an effort the legendary investor equated to having entered "Hell." In his 2002 annual report, Buffett said "derivatives are financial weapons of mass destruction, carrying dangers that, while now latent, are potentially lethal."
If Buffett were to consider HFT a similar instance of financial market mass destruction, owning Nasdaq could be a way to impart change.
It remains unclear what caused Nasdaq's trading freeze. Nasdaq said late on Thursday that the trading halt occurred because quotes were not being disseminated by the Securities Industry Processor (SIP), which consolidates and disseminates all prices for the industry. "NASDAQ OMX will work with other exchanges that are members of the SIP to investigate the issues of today, and we will support any necessary steps to enhance the platform," the exchange said.
Many, including former
Securities and Exchange Commission
Chair Arthur Levitt, criticized Nasdaq's slow communications regarding the trading freeze and it's still muddled explanation of the event. "I can say this for certain. Yesterday will rank right up there with the
Knight Capital
event last August," said Eric Hunsader, head of market data firm Nanex.
The
Securities and Exchange Commission
said on Thursday it is continuing to work with Nasdaq to understand the root causes of the trading glitch. New Chair Mary Jo White told
Bloomberg
on Friday she would push to adopt proposed automated-trading rules.
For now, investors and analysts expect a minimal impact of Nasdaq's trading freeze on its finances. Shares in the exchange only sold off slightly in the wake of the trading glitch.
"
This is not another Facebook-like event, in our view, as we don't see monetary damages amounting to much given the lack of trading errors/losses," Christopher Harris, a Wells Fargo analyst, wrote in a Friday client note. "With Facebook as a precedent, we'd be very surprised if this event hurt ancillary businesses like listings over the medium term. NDAQ remains the least expensive exchange stock."
-- Written by Antoine Gara in New York