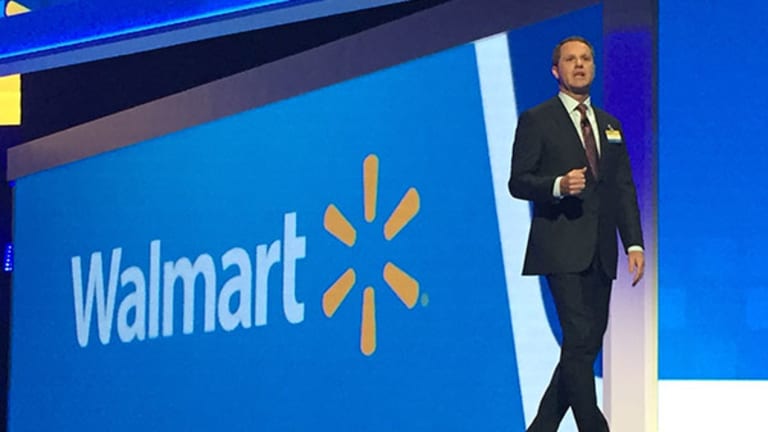 Why Walmart Will Never Be a Dollar Store
Dollar stores are gaining popularity in the U.S., but the world's largest retailer has no plans to morph into one anytime soon.
Dollar stores are gaining popularity in the U.S., but the world's largest retailer has no plans to morph into one anytime soon.
Thrifty U.S. consumers are increasingly looking to dollar stores to save pennies, but the world's largest retailer has no plans to enter the dollar store space.
"We can't do everything," said Walmart (WMT) - Get Report CEO Doug McMillon to a group of reporters when asked if the company would pursue the dollar store model.
McMillon, speaking after the conclusion of the discounter's big annual meeting Friday, said Walmart has the needs of many different consumers well met via various formats such as supercenters, Neighborhood Markets (grocery stores) and Sam's Club (a warehouse club that caters to higher income shoppers). Just because Walmart isn't keen on launching a dollar store format of its own or dedicating aisles to low quality items priced at $1, but that doesn't mean Walmart isn't working to compete on price with surging dollar stores.   
Walmart embarked in the first quarter on a new phase of price cuts on key items in certain regions. Steve Bratspies, executive vice president of general merchandise for Walmart U.S., gave additional details on the price cuts ahead of the company's annual meeting: "Our price investments will be broad-based, and will be on private label and national brands." Bratspies said that Walmart will be spending several billion dollars over the next few years to lower prices.
Meanwhile, Walmart is making a major private-label product push this year across all of its stores. Dollar stores such as Dollar Tree (DLTR) - Get Report and Dollar General (DG) - Get Report have also made aggressive forays into private-label items such as dish soap and dog food. 
Consumers often love private labels because they tend to be cheaper in price relative to well-known national brands. According to a Walmart spokesman, private-label products help the company offer lower-priced products to economically sensitive consumers.
But, given the strength at dollar stores right now, it's not far-fetched to ask why Walmart isn't in the mix.
Dollar stores continue to be on a sales hot-streak.
Dollar General,which operates more than 12,700 stores across 43 states, notched a solid 2.2% same-store-sales increase in the first quarter. Both customer traffic and the average amount spent by a shopper increased.
Sales jumped in all areas of Dollar General's businesses, led by demand for consumable goods, such as paper towels and home-cleaning products. Sales in the company's consumables segment, which represents more than 76% of its total business, rose 8% from the prior year.
Dollar General's earnings were $1.03 a share, up 23% year over year, smashing Wall Street estimates for 94 cents a share.
"In an environment where many retailers struggled, we delivered good performance," boasted Dollar General CEO Todd Vasos on a call with analysts.
Dollar General isn't solely finding good performance among penny-pinching senior citizens and those on food stamps. Vasos said, "The Millennial shopper is a segment that I was particularly excited to see emerge as a core consumer for Dollar General, as this segment is so important to the future of retail and Dollar General."
By comparison, same-store sales at Walmart U.S. rose 1% during the first quarter.
Dollar Tree was no slouch in the first quarter, either.
The company, which has about 14,000 total Family Dollar and Dollar Tree locations in the U.S., said first-quarter earnings rose 25% to 89 cents a share. Wall Street had anticipated 81 cents a share.
Same-store sales at Dollar Tree rose 2.3%, due to higher levels of customer traffic and more spending per customer, as at Dollar General. Top-performing categories for Dollar Tree included household products, candy and food, snacks and beverages and party supplies.
"Dollar Tree continues to be part of the solution for millions of consumers as they work hard to balance their household budgets, and we serve a very loyal and growing customer base," said Dollar Tree CEO Bob Sasser on a call.
Dollar Tree lifted its full-year sales guidance to a range of $20.79 billion to $21.08 billion from $20.76 billion and $21.11 billion previously. Earnings are now expected to be between $3.58 and $3.80 a share, compared to a prior outlook for $3.35 to $3.65 a share.
Both Dollar Tree and Dollar General have outpaced Walmart U.S. in terms of same-store sales growth for more than seven straight years, according to Bloomberg data.