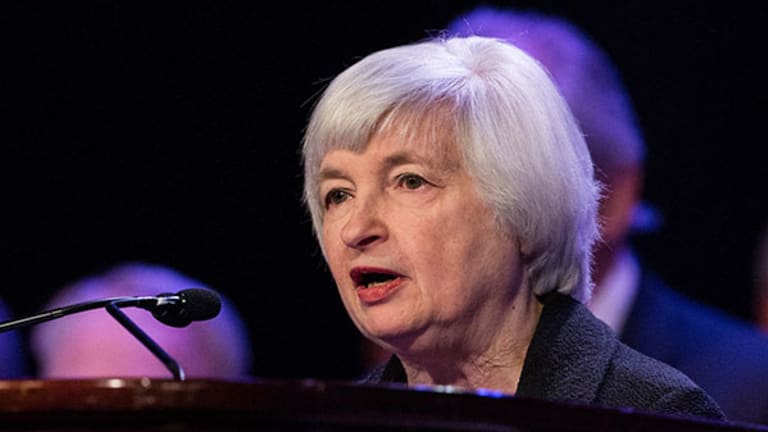 Should the Federal Reserve Raise Short-Term Rates or Not?
The next twelve months are going to be difficult ones for the Fed, but the central bank's choices will have a significant impact on the future,
The next twelve months are going to be difficult ones for the Fed, but the central bank's choices will have a significant impact on the future,
NEW YORK (TheStreet) -- The Federal Reserve has a tough year ahead and the fast-restructuring global economy is not going to help.
The big dilemma facing Fed officials is when to start raising short-term interest rates. Right now, bets are on June or September, though an increasing number of investors seem to be betting that the rise won't take place until September.
There are two reasons for this belief. The Fed has indicated that it has two things it is watching that will be important in deciding when to make its move. The first is about the labor market and how fast it continues to improve. The second is the inflation rate and how fast it begins to increase.
Right now, Federal Reserve projections seem to give little cause for concern on either of these fronts. The growth rate of real GDP is not expected, at a maximum, to rise above 2.7 percent through 2017. Unemployment, at a minimum, is expected to decline but not below 4.8 percent. And, inflation, at a maximum is not expected to rise above 2.0 percent as late as 2017.
All those numbers add up to no hurry in raising rates. 
Another factor may also seem to weigh on the side of postponing any rise in short-term interest rates: the value of the United States dollar. 
Two weeks ago, it seemed as if the rise in the value of the dollar may have peaked, but the last four days of last week turned that feeling around. One of the reasons was that investors became more hopeful that the Fed would start raising short-term rates earlier than September; that is, a June rate rise was still thought possible. 
So, what is the Fed to do? 
There are quite a few people, like Keynesian economist Alan Blinder, that believe there is no real hurry on raising short-term interest rates. With little or no pressure on inflation, there is little or no pressure on the Fed to move and by not moving monetary policy will continue to help the employment situation. He concludes, "This is a time for patience." 
Following this advice will provide very little additional help for the economy but should be good for the stock market in the near term. 
Over the longer-term, leaders in Washington, D. C. are going to have accept the fact that the world is changing and that the country cannot be run in the same way it has for the past fifty years. There are two new data points to add to this argument. 
First, a new report, "Jobless Recoveries" produced by Third Watch, provides us with a new look at the modern job market. The authors of the report, Henry Siu and Nir Jaimovich, tell us that the modern labor market is bifurcating into whether jobs are "routine" or "nonroutine" and whether jobs are cognitive or manual. 
"Many of the routine occupations that were once common-place have begun to disappear while others have become obsolete." It seems as if things are moving from routine and manual to "nonroutine" and cognitive. The culprit is, of course, the "new technologies." 
This change is a major reason, the authors argue, why economic recoveries are more "jobless" than in the past and also why there has been the substantial decline in labor force participation rates. 
The second factor is that corporations are not engaging in capital expenditures the way they once did. The current recovery, now in its sixty-seventh month, has been notable for the lack of capital investment that has taken place. Corporations have kept big piles of cash on hand and have used the cash to either pay dividends or to buy back their own stock. 
Just recently has merger activity picked up, but mergers don't usually result in a lot of new capital investment, but a re-organization and consolidation of existing organizations. And, there also seems to be a greater movement toward corporate re-focus as companies are shedding components that are not seen to be central to their future plans are disposed of. 
General Electric (GE) - Get Reportshedding most of its financial operations is the latest example. 
The world is changing as businesses are moving to become more efficient and productive within the global economy. And, with a new economic era on the horizon with national and regional challenges growing, the U.S. government is going to need to change how it operates. Supporting a strong dollar and sound fiscal discipline might be more what is needed.
This may not be so good for the stock market in the shorter-run, but it will make America stronger over time.
This article is commentary by an independent contributor. At the time of publication, the author held no positions in the stocks mentioned.