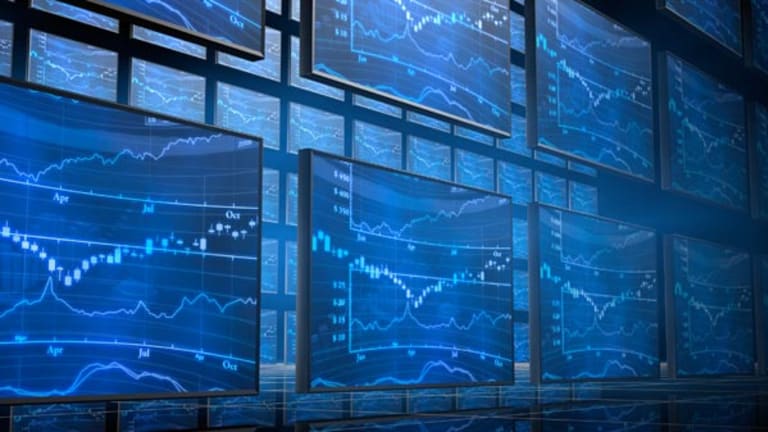 Should Marissa Mayer Tell Us She Hates Being a Mother?
Give the Yahoo! CEO a break unless you want her to tell the world the truth about parenting a newborn.
NEW YORK (TheStreet) -- Over at HuffPo, Lisa Belkin gently rips Yahoo! (YHOO) CEO Marissa Mayer for telling Fortune that her newborn son has been "easy."
Lisa. Please be quiet. You're almost as offensive as
the chauvinist pigs who questioned Yahoo!'s decision to hire a pregnant woman
in the first place.
Belkin writes:
Putting "baby" and "easy" in the same sentence turns you into one of those mothers we don't like very much. When you do, it makes us feel (more) inadequate; starts us wondering (again) what we are doing wrong.
She goes on to make the assumption that because she's rich, Mayer uses a "night nurse" to help take care of the kid. And she warns Mayer of the obvious: Babies are often "easy" during the first month or two until they turn into raging maniacs, who, for split seconds here and there, you loathe more than your worst enemy.
Author's Note
: When I first read Belkin's story it included the assumption (Belkin actually said something like "We're guessing here") that Mayer uses a "night nurse." When I reread the story that part was gone. Mysterious. Maybe it will be back by the time you read this.
End of Author's Note
.
The snark some women direct at Mayer troubles me.
Since we're guessing here, I am
guessing
Belkin is jealous. Not a very deep thinker. And 1950s traditional.
First, it's offensive for Belkin to assume that just because Mayer has money she hires help. And, if she does, that's somehow unfair or makes motherhood less demanding, relative to a parent who was not the 20th employee at
Google
(GOOG) - Get Report
.
Second, Belkin offends me as a father. Not once in her article does she mention the possibility that Mayer's husband either shares some of the parenting load or takes on the bulk of it. Maybe the kid stays home alone when Mayer visits President Obama. Or there could be some state-funded socialist daycare program at The White House she utilizes.
I think Mayer lives in San Francisco. I lived there for the first two and a half years of my daughter's life. In my neighborhood, fathers strolling their babies by day often outnumbered mothers.
I woke up with my daughter every morning, put her down for two naps, walked her everywhere, took her to the park, changed her diapers and arranged play dates with other parents. When I had to be away prior to my wife returning home from work several nights a week, our neighbor, who doubled as a postal carrier, babysat our child.
It was an awesome experience. From the moment the doctor sliced open my wife's abdomen to that enlivening second when we realized we could manage to keep the kid alive past the age of one.
I wouldn't trade it for the world.
And, oh, third -- it sucked really, really badly for both my wife and I all at the same time. However, we never told the media about it (of course, they never asked). And we didn't moan to friends and relatives about how irritating, isolating and depressing being a new parent can be.
That's not societally acceptable. You know, to say that being the parent of a newborn baby isn't the most joyous time of your life.
After we brought our 10-pound, 11-ounce bundle of skin home, my wife's C-section incision got infected. Then her mother left. My parents came and went. The holidays ended. My wife, lucky enough to get three-to-four months maternity leave (way more than the privileged Mayer) was preparing to return to work.
I remember my wife turning to me one evening when our 2 1/2-month-old was sleeping. She started sobbing.
I asked what was wrong. She said, "Christmas is over. Everybody left. Now, here we are." I started crying as well. We would do this on occasion. Commiserate with one another about much it blew to be a parent.
Here we were -- a 28-year-old and a 36-year-old -- living in one of the world's greatest cities. We were one-half block away from one of the most action-packed, hustling and bustling streets in urban America.
Before our kid, we would roll down the hill to the corner of 21st and Valencia and do whatever we damn well pleased, for as long as we wanted to, as hard as we wanted to and with as much frequency as we desired. At home, we would do all sorts of things -- watch movies, have sex in the middle of the day, randomly decide to paint a room.
When you have a 2 1/2-month-old, you're too freaking tired to even think about anything of that stuff.
I'm not complaining. We got over it around five to six months in.
I had this very conversation on Tuesday with a parent of a boy in my kid's class. He and his wife were in the exact situation as my wife and I were, right around the same time, feeling the very same way, except they lived a few blocks from the beach in Santa Monica.
It's the type of brutal honesty few people talk about, but it makes for one heck of a Louie C. K. comedy routine.
Belkin thinks it "will probably be best" if Mayer sticks to her promise to not talk about the life-work balance.
Maybe it would make Belkin feel better if Mayer
did
speak up in a few weeks. If things are no longer "easy," she can tell us what a wicked task it can be caring for this thing you cannot effectively communicate with.
I'm certain if Mayer gave us such brutal honesty, women -- maybe not Belkin, but others like her -- would line up to scold Mayer for being this cold, heartless, selfish, type-A CEO Mom. Public enemy No. 1 to inadequate women everywhere.
--Written by Rocco Pendola in Santa Monica, Calif.
Rocco Pendola is
TheStreet's
Director of Social Media. Pendola's daily contributions to
TheStreet
frequently appear on
CNBC
and at various top online properties, such as
Forbes
.