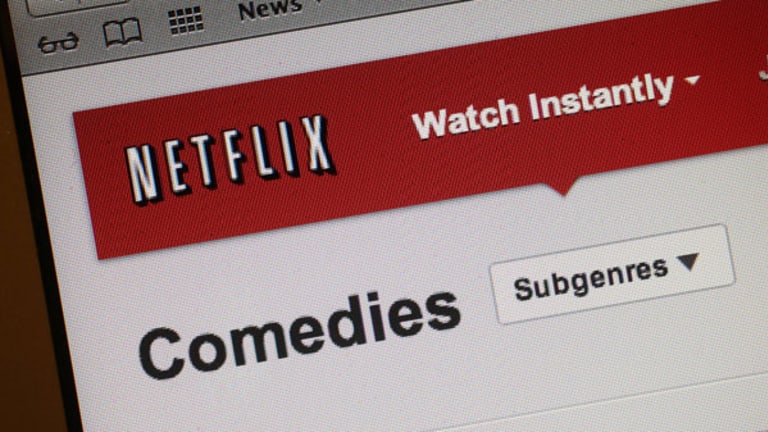 Shorting Netflix Is Portfolio Suicide
Amazon and Netflix both have sky-high valuations, but only Amazon should be shorted.
NEW YORK (
) -- I want to short
Netflix
(NFLX) - Get Report
, but I can't.
On paper, it's one of the best short candidates you will find. Netflix has almost everything a short-seller could ask for.
Netflix is a well-liked, which tends to propel some stocks higher, because of less-than-intelligent money confusing a fantastic product with a compelling investment thesis. Buying stock merely because you like a product is one of the quickest ways to lose money.
When a product is no longer loved, shares tend to fall precipitously.
Crocs
(CROX) - Get Report
and
Molycorp
(MCP)
, two companies I warned investors about, quickly come to mind.
Netflix has a market capitalization or more than $12 billion and trades more than a million shares a day. This makes it easy to enter and exit positions. All else being equal, the bigger the company, the less likely a massive short squeeze can occur. If you watched
Tesla
(TSLA) - Get Report
lately, you know "less likely" isn't close to the same as "impossible." Tesla has almost twice the relative short interest, and was so extreme with almost every other share shorted that it was a powder keg waiting to blow up.
NFLX Debt Issued Net Quarterly
data by
Also see: Big Pharma Wants Fish Oil After All >>
That's just foreplay, though; the most salient reasons why Netflix is attractive, and indeed irresistible, to many shorts are its income and balance sheets. Netflix trades at a brain-freeze trailing multiple of more than 500 -- and more than 70 based on forward earnings estimates.
Adding to the Netflix short temptation is more than $3 billion in off-balance sheet liability that continues to increase in tandem with increases in debt issues. Netflix's struggle with free cash flow creates such short-selling intensity that almost one out of every four shares is shorted.
NFLX Cost of Goods Sold Quarterly
data by
In a nutshell, Netflix has the most seductive power for short sellers since
John Malkovich in Dangerous Liaisons.
However, it's a mistake to short it and I will explain why.
Intuitively, you may assume that I will sing the praises of management and what a marvelous job they are performing adding shareholder value yada, yada, yada, but nothing could be further from the truth. Reed Hastings crushed it with DVD in the mail, but that's so 1990s. Today Netflix is a Web site with millions of subscribers offering the following top three-subscription levels:
Streaming options
:
1. $7.99 for all you can watch videos, streaming only; six devices connected, capacity to view on two devices at the same time. Or $11.99 streaming only, six devices connected, with viewing on four devices at the same time. 2. 3.
Netflix has about 30 million subscribers, recently surpassing
Time-Warner's HBO
( TMX), and yet they continue to only offer a one-size-fits-all, lowest-common-denominator model for pricing. Netflix may offer two or four devices at once, but they are both the same content offerings. No pay per view, no premium, no customization.
If Netflix didn't have the potential for greater monetization, the company would be a "grab with both hands" type of short opportunity; but it does, and you should assume that the potential will continue, which is what causes short sellers to wake up in the middle of the night with cold sweats.
Netflix shares gapped up and continued to move higher after Carl Icahn disclosed his long position, because when Icahn walks into the Los Gatos offices of Netflix, he's the smartest guy in the room.
You can bet (as many clearly have) that Team Icahn will not stand for Netflix collecting only $8 a month when subscribers are willing to hand over much more, if only asked. Netflix's capacity to increase its client-base monetization makes the stock extremely dangerous to short.
Increased per-subscriber revenue potential isn't a number listed on the balance sheet, but clearly the potential exists.
As soon as Netflix fills in the No. 2 and No. 3 blanks of its top offerings, the current valuation models will get turned upside down. That's why the smart money can look past an otherwise bleak race to the bottom under the current model of one-price fits-all.
If you want to buy, do so only on pullbacks, because of the amusement park-like volatility, but from one short-seller to you, don't even think about shorting until after Carl Icahn has left the building.
At the time of publication the author had no position in any of the stocks mentioned.
This article was written by an independent contributor, separate from TheStreet's regular news coverage.