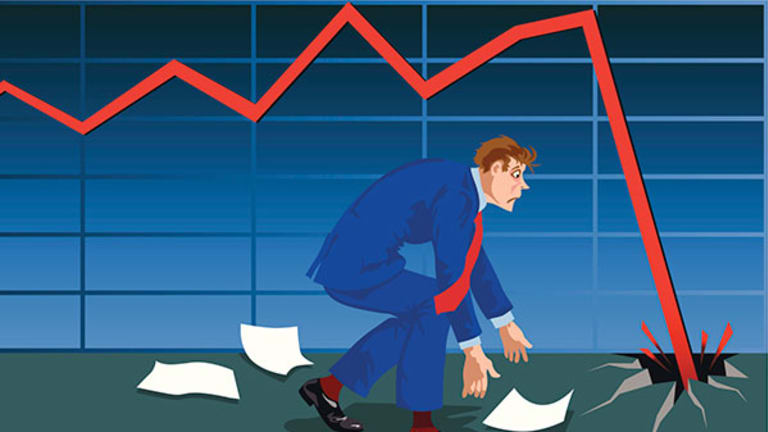 Short Sellers Should Take Profits Today as Markets Plunge
The markets are mimicking a pattern often seen. There will be a rally today and short sellers should take profits when they can.
NEW YORK (TheStreet) -- History shows that short sellers should not go home overly short today. 
The Dow has now echoed the pattern formed in January 2008. Then, stocks peaked in October 2007, before falling hard into the last week in January 2008, eventually testing the lower 4 standard deviation band. As we've written for months, this statistical extreme is impossible to surpass for more than a couple hours to a couple days, as it includes 99.9% of normality. This initial plunge sliced 18% off the Dow's all time highs, then was followed by an oversold bounce of 13% into May 2008. What followed that was the crash into the 2009 low, which sliced an additional 50% off that May high.
The only other times since the 1987 crash that the Dow reached the lower 4 standard deviation band were October 2008 (the middle of Elliott's third wave of the third wave into the crash low), and a couple times into the 2002 crash low that followed the Dotcom Bubble bursting of 2000. So, out of approximately 6,000 trading days since Black Monday, 1987, the extreme being tested today has occurred approximately six times, with only around 10 days in the vicinity of the lower 4 standard deviation band (around 0.16% of the time). We can certainly all agree that it is a rare moment.
The exact level of the lower 4 standard deviation band today is 16,735. However, the exactness of the Dow reaching it is irrelevant, as the condition it represents is the point today. That point? Our decision support engine is warning that selling actions into an oversold condition that is as extreme as today is sub-optimal. That said, this is the perfect condition for a "Hail Mary" type of plunge protection team series of buy programs that are used to stabilize dramatic selloffs. These stealthy market operations are used in conditions, like today, when there are no buyers, to create panic buying situations that cause short sellers to join the buying, covering their shorts, to get the snowball to roll back up the hill so the "towns people" (i.e., regular investors) below can get to safety.  
This most often comes around mid-day, after an initial weak opening finds a bounce point, as today's market did from the opening low near 16,790 to some point around 100-to-150 points off the lows. Then, the pattern rolls over, tests the lows (breaking it or holding it is not important, as the PPT is coming in either way), and "out of the blue" buying arrives, and the shorts run for the exits.  
The S&P 500 and Russell 2000 are only meeting their lower 2 standard deviation bands, here, which is interesting that the Dow is so much more oversold. Nevertheless, all indexes are oversold, and the setup, as described above, is so 2007-ish, that extreme caution must be used here, especially if you are a late-joining bear, or greedy bear that refuses to take profits when they're handed to you on a silver platter. 
The decision support engine strongly suggests using buying actions here to buy to cover short exposure into this 16,800 +/-100 zone. If long (and wrong) currently, use any rally in the next couple days to weeks toward 17,400 +/-100 to exit any long exposure that you currently wish you'd exited upon any of the decision support engine's warnings to do so in the past two months. If flat, buying actions could be used to play a bounce, but most investors aren't nimble enough to get in and out, then short as the first bounce runs its course. So, if flat, stand aside here to await the bounce, where decision support engine will signal that selling actions are indicated.  
For more of this kind of analysis, join our reservation list for the launch of our new real-time, live-market analysis chat room. Launching September: decision support engine analysis from bell-to-bell, addressing indexes and stocks, as well as member questions throughout the day.
This article is commentary by an independent contributor. At the time of publication, the author held no positions in the stocks mentioned.