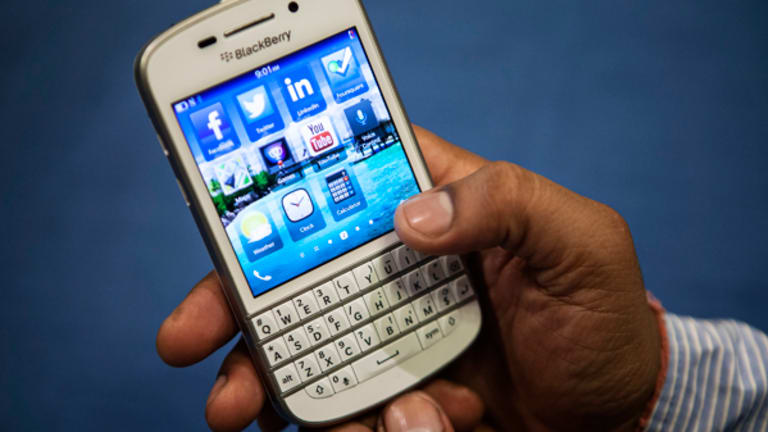 Short BlackBerry to $6, Buy Peanuts
There is no question that peanuts are now a better investment than BlackBerry.
NEW YORK (TheStreet) -- As shares of BlackBerryundefined traded at almost $14 per share on July 5, I warned investors to brace for more losses. It was clear that although the company had made some meaningful progress toward profitability, the recurring theme of one step forward followed by two bloodbaths was still at play.
Last Friday, with the company's
of fiscal second-quarter results, due Friday, Sept. 27, things were of the "bloodbath category." But unlike previous dances, I don't believe there will be any steps forward, given the worse-than-expected state of the company. Seeing no progress from its fight against
Apple
(AAPL) - Get Apple Inc. Report
and
Google
(GOOG) - Get Alphabet Inc. Class C Report
in device sales, BlackBerry essentially said "to hell with the consumer market" and will instead turn its attention to the enterprise.
Read: BlackBerry Leaves 4,500 Employees Out in the Cold
The news sent shockwaves to BlackBerry investors, many of whom have waited patiently and faithfully for the company to make good on its promise and resuscitate itself. But last week, while citing statements made by Bert Nordberg, who sits on BlackBerry's Board of Directors, it was clear that BlackBerry had no interest in prolonging the agony. In a conversation with
The Wall Street Journal
, Nordberg said:
"I think BlackBerry is able to survive as a niche company. But being a niche company means deciding to be a niche company. Historically, BlackBerry has had larger ambitions. But battling giants like Apple, Google and Samsung (SSNLF) is tough."
Looking back, it was obvious Nordberg was hinting at what was made official last Friday. We just didn't know to what extent. BlackBerry, or "the niche company," has now created the word "prosumers" to describe its target market. With no official definition of the term, we can safely assume it means "professional consumers," which is another way to describe the corporate enterprise.
Read: Trading Options to Pay for College
Now, given that BlackBerry lost roughly $1 per share in cash during the quarter by going after a market that it can't win, I can't blame management for coming to terms with its situation. Further, management justified the decision by reminding investors that it was in the enterprise that the company had originally made its name.
While, this might be true, BlackBerry doesn't appear to realize that the enterprise has changed. And they don't want anything to do with BlackBerry. Weak phone sales mean weak adoption. And CIOs, or chief information officers, who once looked for ways to diversify into other operating systems no longer have a reason to include BlackBerry. As much as they would have liked, their employees -- by virtue of their spending -- have shown no interest in the new BlackBerry 10 phones.
As a result, not only have CIOs become more flexible with security policies, but the advent of BYOD, bring your own device, has changed the entire landscape of how businesses use personal devices to the extent that BYOD has become a significant influence in IT budget reductions. Not to mention, when using an iPhone or an Android device, there hasn't been a meaningful variation from the "security niche" on which BlackBerry still claims its superiority.
BlackBerry bulls will still disagree with me on this, but I just don't see how this "niche" strategy is going to work. Said another way, if Android, which is often criticized as an "open operating system," can thrive on corporate networks, what security hole is there for BlackBerry to plug? And now that Apple has introduced the iPhone 5S, which comes equipped with a fingerprint scanner, how long do you think it will take for BlackBerry's "niche market" to shrink further than it already has?
Read: Apple Soars on 9 Million iPhone Sales
This is the same thing that happened to Palm. And it's precisely the reason why no one has stepped up to buy this company, which has been trying to sell itself for more than a year. I recently suggested that
Dell
(DELL) - Get Dell Technologies Inc Class C Report
. But after seeing how brutal BlackBerry's results are, including revenue coming in 50% below estimates, I don't believe anyone in their right mind should touch this company.
This feel-good turnaround story that investors had hope BlackBerry would become, is not going to happen. I can see the stock reaching $6 per share over the next couple of weeks. Even then, there will be doubts as to whether the valuation is too high.
With the company looking to sell itself, I once said that "BlackBerry could be had for peanuts." Well, I was at a football game this Sunday and everyone sitting in my section was eating peanuts, and there wasn't a BlackBerry phone in sight.
At the time of publication, the author was long AAPL
.
Follow @saintssense
This article was written by an independent contributor, separate from TheStreet's regular news coverage.
Richard Saintvilus is a co-founder of
where he serves as CEO and editor-in-chief. After 20 years in the IT industry, including 5 years as a high school computer teacher, Saintvilus decided his second act would be as a stock analyst - bringing logic from an investor's point of view. His goal is to remove the complicated aspect of investing and present it to readers in a way that makes sense.
His background in engineering has provided him with strong analytical skills. That, along with 15 years of trading and investing, has given him the tools needed to assess equities and appraise value. Richard is a Warren Buffett disciple who bases investment decisions on the quality of a company's management, growth aspects, return on equity, and price-to-earnings ratio.
His work has been featured on CNBC, Yahoo! Finance, MSN Money, Forbes, Motley Fool and numerous other outlets.