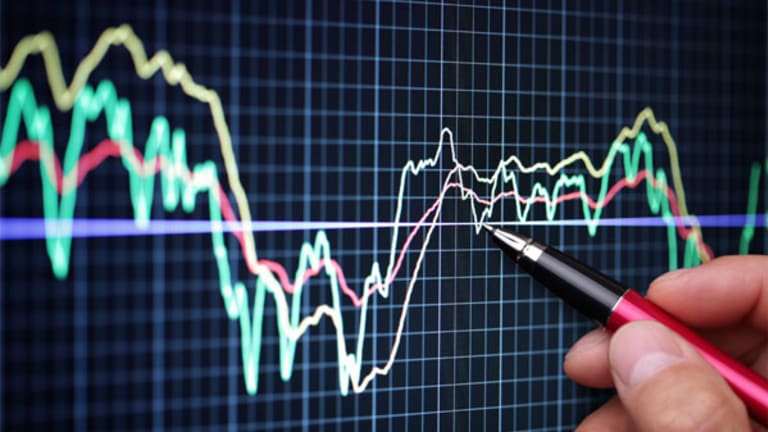 Shipping Stocks Are Back Afloat
A strong week for Star Bulk, FreeSeas, NewLead, Seanergy and Eagle Bulk could suggest a bullish outlook for shipping.
NEW YORK (TheStreet) -- Of the many industries that foundered during the Great Recession, few others sank like the shipping sector. The exchange-traded fund for the group, Guggenheim Shipping (SEA) - Get Invesco Shipping ETF Report, dipped under $14 a share in November 2011 from over $26 in August 2008. At present, the SEA has rebounded to around $21.45.
It is much the same with many of the individual stocks in the industry.
Star Bulk Carriers (SBLK) - Get Star Bulk Carriers Corp. Report, FreeSeas (FREE) , NewLead Holdings (NEWL) , Seanergy Maritime Holdings (SHIP) - Get Seanergy Maritime Holdings Corp. Report and Eagle Bulk Shipping (EGLE) - Get Eagle Bulk Shipping Inc Report all plunged as a "perfect storm" of adverse conditions swamped the group. In the global boom before the financial crisis in 2008, shippers overbuilt, which took on a great deal of debt. Then when demand dried up due to recessionary factors around the world, shipping rates sank. Stock prices fell dramatically for shipping companies due to sinking incomes and a cargo full of debt.
But the sector is recovering, as the Baltic Dry Index, a daily measure of cargo rates for goods such as coal and steel, is up more than 50% from its low in October.
That has resulted from the economic rebound of the United States and China. Recent articles here reviewed how both China and the United States are buying and selling more in trade with other countries. That requires ships to carry the goods over the waters. From that demand, the companies book more earnings which should eventually take the stock price higher.
This has certainly been the case for recent market action as, over the last week, Seanergy Maritime Holdings has risen nearly 48% to $2.10 a share; Eagle Bulk Shipping has surged more than 39% to around $4.35 a share; Star Bulk Carriers is up more than 17% for the last month to around $13.10 a share; NewLead is higher by more than 53% to about $1.80; and FreeSeas has risen over 100% to the $2.50 range.
How should investors navigate these rising prices?
The low shares prices for each show how risky the stocks are and why the recent increases were so dramatic. These shipping companies are also larded up with debt (Star Bulk has a debt-to-equity ratio of 1.66, with it being 2.08 for Eagle Bulk and 11.44 for FreeSeas). Since the stock prices are so low, investors might consider a venture capitalist approach, investing in a wide range of companies and hoping that one or two soar, compensating for the poor returns in the others.
But the current situation in the shipping sector could be ideal for buying shares of the exchange-traded fund that tracks the industry.
The Guggenheim Shipping ETF offers diversity in itself as it holds a broad array of shipping stocks. It has certainly been rewarding this year for shareholders as it is up over 36% for 2013 to almost $21.44. If China and the United States continue to increase buying and selling more with other nations, the share price of Guggenheim Shipping should rise even higher.
Jonathan Yates does not have a position in any of the securities mentioned in this article.
This article represents the opinion of a contributor and not necessarily that of TheStreet or its editorial staff.
Jonathan Yates has written for numerous publications including Newsweek and The Washington Post. He is a former general counsel for general counsel for a publicly traded corporation. Much of his career was spent working on Capitol Hill for Members of Congress in both the House and Senate. He has degrees from Harvard University, Georgetown University Law Center and The Johns Hopkins University.