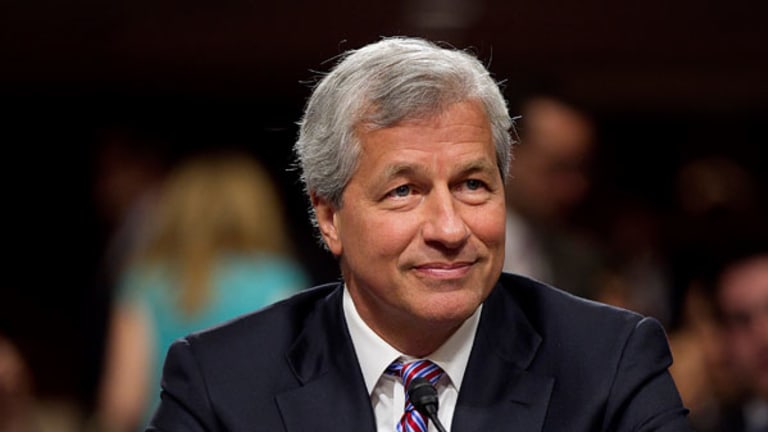 Shine on You Jamie Dimon
Is Jamie Dimon worth a baseball star's salary?
NEW YORK (TheStreet) -- Many are calling the raise given Jamie Dimon of JPMorgan Chase (JPM) - Get JPMorgan Chase & Co. Report this week "beyond shame."
It's a base salary of $20 million plus two million stock options, yet to be granted, that could be worth another $34 million. Call it a signing bonus.
By contrast, 25-year-old pitcher Masahiro Tanaka just signed a seven-year deal to pitch for the New York Yankees worth $155 million, with another $20 million going to his old baseball team, the Rakuten Golden Eagles of Sendai.
OK, maybe Tanaka had a better year last year, winning 24 games and losing none. Maybe the financing of sports stars' deals is fairly straightforward. The Yankees had its own cable network, YES, now 80% owned by 21st Century Fox (FOX) - Get Fox Corporation Class B Report with a valuation near $1.2 billion, and last year the team drew almost 3.3 million  fans to Yankee Stadium. 
On the other hand, Dimon put together a $23 billion contingency fund to pay for JPMorgan Chase's legal liability following the 2008 meltdown, along with those of subsidiaries it bought, and the bank now seems to have gotten out of its legal jams for less than that figure.
Can Tanaka do that?
J.P. Morgan, the company and the founder, have a long history of bailing out the U.S. government. The man himself directed federal bailouts in 1895 and 1907.
Dimon agreed to acquire both Bear Stearns and Washington Mutual during 2008, knowing they had bad assets and had made bad deals. The government was facing a choice on whether to nationalize the country's biggest banks, and Dimon's actions helped prevent that. Dimon even called the deals bargains, then made them into bargains. 
Can Robinson Cano do that? He's going to be getting $24 million to play baseball in Seattle this year. Peyton Manning will get $20 million from the Denver Broncos if he comes back as quarterback next year, not counting endorsements. Kobe Bryant is sitting on a contract extension worth over $24 million per year to play basketball in Los Angeles.

Maybe that's unfair. Let's compare Dimon's numbers to other CEOs, based on AFL-CIO figures.
Even if Dimon cashes in the whole $34 million in stock options, this year, plus the $20 million salary, he would still be only number eight on the 2012 pay list, $8 million behind what CBS (CBS) - Get CBS Corporation Class B Report head Leslie Moonves brought in. Dimon's 2012 salary didn't even make the AFL-CIO's top 100.
So Dimon took a salary hit, over several years, after taking some highly risky acquisitions during the financial crisis, and now he's getting back some of the money he lost because he's made money for his shareholders.
The bank earned $5.3 billion just last quarter, or $1.30 per share, on revenue of $24.1 billion, and has finally put the past behind it. It has become analysts' favorite bank stock for 2014 and it has been selling at a price above its book value for three months now. 
I think that's worth Robinson Cano money. Don't you? Dimon isn't getting a 10-year contract, either.
You may call that beyond shame if you like. But lots of salaries are beyond shame. The Yankees think Cano's deal is beyond shame. But if you want someone who can handle the pressure, who can hit big-league banking pitching, that's what you're going to pay in today's market.
That's entertainment.
At the time of publication the author had no position in any of the stocks mentioned.
This article represents the opinion of a contributor and not necessarily that of TheStreet or its editorial staff.