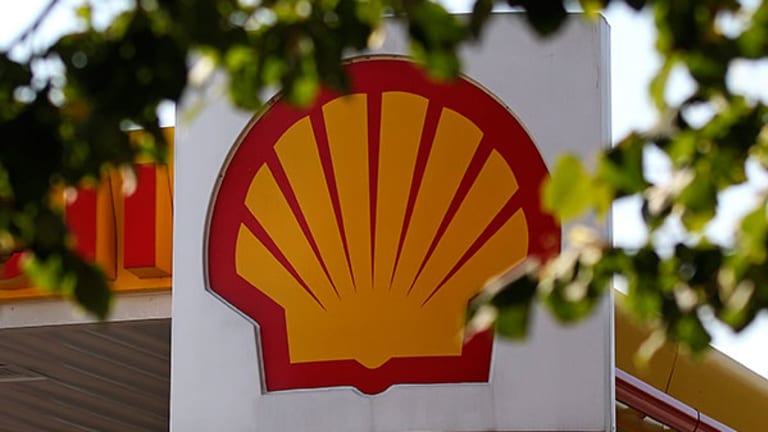 Shell's Crowdsourced Energy 'GameChanger'
With growing geopolitical tensions between Russia and the Ukraine, many Europeans are looking to the West to export natural gas supplies, but this platform may yield more favorable energy results.
NEW YORK (TheStreet) -- Innovation comes in many shapes and sizes in today's more digitally linked society and that has massive implications for the energy sector. For instance, oil and gas giant Shell  (RDS.A)  is increasingly letting the general public share and debate emerging ideas through a sponsored LinkedIn forum called "Future of Energy by Shell" and, more importantly, through an accelerator-type social investment model appropriately named "GameChanger." GameChanger is a platform which allows entrepreneurs to submit proposals for technology ideas that could help Shell influence the future of energy and help it overcome a specific challenge relevant to its businesses. 
While GameChanger was created in 1996, the growing influence of crowdsourcing on product development coupled with the global move to greatly improve energy efficiency is helping Shell build on a 10% success rate of turning outside ideas into reality. The biggest winner of this program to date was the advancement of a modular floating liquefied natural gas (FLNG) plant in Australia called Prelude that has the ability to sustain the impact of a category 5 storm. A FLNG facility can allow Shell and its partners to bring new gas resources to markets by water without the need to pipe the gas through expensive infrastructure. This idea may actually gain renewed upside momentum with Europe desperately in search of more innovative ways to lower dependence on Russian energy supplies.
Also, it's my view EU members shouldn't look to swap one dependence on Russian gas with a new dependence on U.S. shale gas. Why? Shell's Prelude on its own is expected to produce over 3.6 million tonnes per annum of LNG, a total enough to meet the annual natural gas demand for the city of Hong Kong. So innovation such as the FLNG can certainly help buoy the EU's rising energy tide. 
Consider another example of creative thinking being applied to the energy world thanks to GameChanger. A toy snake (Gro-Beast) -- yes a toy snake -- that can swell over 600% in hours when submitted in water, served as a muse for Shell's GameChanger Swellfex idea to hold back water in an oil well in order to significantly boost oil recovery. This idea helped Shell recover tens of millions of barrels of oil since its inception just a few years back. 
For those interested in how GameChanger actually works, let's look at the process from a 10,000 foot view. Once the idea is submitted electronically, it is then reviewed by a screening panel. If the idea has merit, the screening panel graduates it for an extended review process which includes an in-person demonstration. If the idea can display proof-of-concept, Shell's GameChanger team attempts to plant the idea into a more formal R&D process with the company's financial support. From there, the idea is either included into one of the Shell's existing business lines, licensed to a third party or morphed into a new venture in order to achieve commercial market status. 
This new research approach represented by GameChanger is, well, "game-changing," since it allows Shell, a company that has already invested $250 million into this research medium, unbridled access to creative new ideas and a global base of up-and-coming inventors at a time when energy efficiency is becoming the new battle cry for modern energy success. 
In short, GameChanger is the KickStarter for energy with Shell being the idea funder and supporter. Therefore this leading energy player is streamlining the R&D process and that could lower CAPEX while speeding up the time to market for new emerging energy technologies. This is something European nations should be closely monitoring due to Russia's energy supply uncertainty and since the solutions to global energy problems will increasingly be crowdsourced. Just ask Shell.
At the time of publication, the author held no positions in any of the stocks mentioned.