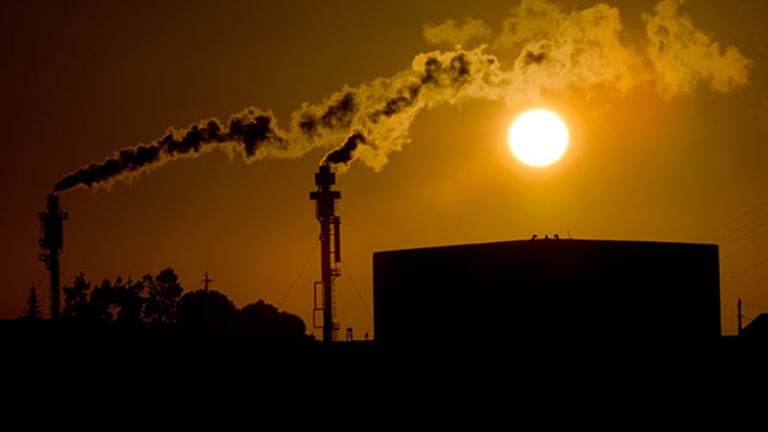 Shell Future Is Bullish Despite Disappointing Short Term Results
Buy Royal Dutch Shell for the long term.
NEW YORK (TheStreet) -- Royal Dutch Shell( RDS-B)
It has been a very difficult year for Royal Dutch Shell with problems in Nigeria and weaker global demand. It lost $347 million on its exploration and production business in the Americas, too. The company is retrenching, selling off assets around the world. "We are facing headwinds from weak industry refining margins, and the security situation in Nigeria, which continue to erode the near term outlook," noted CEO Peter Voser.
Guidance from Shell is that earnings will improve in 2014.
But there are still significant capital expenditures ahead. In the third quarter, Shell spent $9.7 billion on capital investment. For the year, $45 billion has been planned. The return on average capital employed for Royal Dutch Shell is down to 10.4% for the third quarter from 13.5% in 2012.
While Shell has underperformed the major oil sector, the share price has risen by 6.71% for 2013. By contrast, ConocoPhillips (COP)
Shell continues to move forward, seeking opportunities around the world.
Earlier this month, Shell announced that along with Petrobras (PZE)
While off more than 4% in early morning action due to the bearish results, the long term outlook for Royal Dutch Shell is bullish.
Part of the future upside results from the inferior stock performance from the past as Royal Dutch Shell has not fared as well in this year's bull market as its Big Oil peers, especially those from Europe. Total, the French oil giant, has risen more than 22%. Now around $27 a share, Repsol (PINK: REPYY), a major oil firm from Spain, is up from its year low of $18.96.
For the positive factors why Shell should do better in the future, it plans to invest $120 billion to $130 billion from 2012 to 2015. Guidance from the company projects operating cash flow of $175 billion to $200 billion over that period.That could free up $80 billion to reward shareholders and reduce debt.
Global energy demand is also expected to increase more than 55% by 2040, according to a recent report by the US Energy Information Administration. Operating around the world, Royal Dutch Shell is positioned well to benefit from that as more than 80% of the rising need for oil and natural gas is expected from emerging market nations. Overall, Shell operates in more than 90 countries around the world.
Adding to the total return for Royal Dutch Shell is a dividend yield of close to 5%. The average for a member of the Standard & Poor's 500 is around 1.9%. Over the past five years, the dividend growth rate for Shell has been 0.54%. By contrast, for the sector, the average dividend growth rate over that period has been a negative 1.07%.
Off today due to the third quarter earnings, Royal Dutch Shell should rebound for the long term due to its global presence, increased capital spending, and rising dividend payout.
Jonathan Yates is a financial writer who has had thousands of articles appear in periodicals and Web sites such as TheStreet, Newsweek, The Washington Post and many others. He has degrees from Harvard University, Georgetown University Law Center and The Johns Hopkins University.