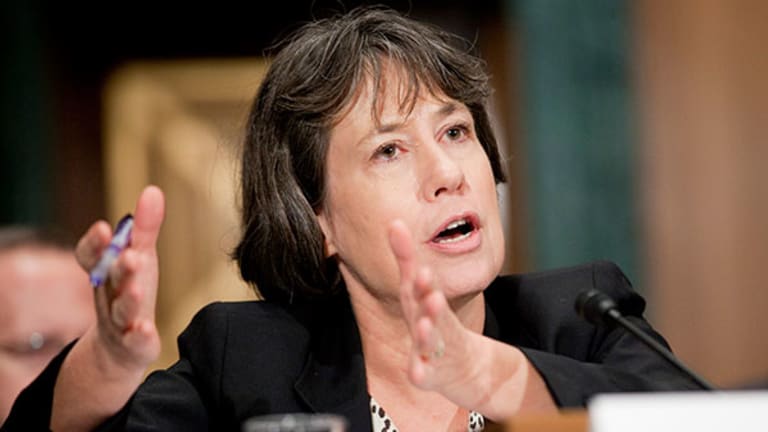 Sheila Bair to Banco Santander: Don't Fake Outrage
Sheila Bair may be able to bring very important changes to Banco Santander.
NEW YORK (TheStreet) - Sheila Bair, the former chair of the Federal Deposit Insurance Corp., will be joining the board of directors of Banco Santander (SAN) - Get Banco Santander SA Report, one of Europe's largest and worst performing financial institutions.
Whenever a high profile ex-regulator joins one of the institutions that might have fallen under their purview, it raises obvious questions about possible conflicts of interest or profiteering over a so-called "revolving door" between Washington regulatory circles and Wall Street. In fact, Bair, one of the most outspoken and independent regulatory minds through the financial crisis, has herself criticized an apparent revolving door.
And of course, one wonders whether Bair is taking a spin for herself now that she will be joining the board of Banco Santander,which has 1.2 trillion euro in assets.
I would argue that such a reaction is simplistic, including the debate among journalists and financial-sector experts on Twitter. Consider that other ex-regulators have quietly taken on board seats at prominent financial institutions, in moves that are widely seen as a positive for the health of the banking system.
TheStreetprofiled former Federal Reserve governor Susan Bies' appointment to Bank of America's (BAC) - Get Bank of America Corp Report board of directors, and there may be similar benefits to Bair's appointment at Santander. Other examples include ex-FDIC head William Isaac's crisis-time appointment to the board of Fifth Third Bancorp (FITB) - Get Fifth Third Bancorp Report.
Simply put, big banks need qualified, independent board members. No one with an understanding of Bair's career would accuse the former FDIC head as lacking either of those attributes. Banking conglomerates in Europe, meanwhile, have generally shown a need for more aggressive action in raising capital and Santander is a glaring example.
The firm, while among the strongest banks in Spain, is in a relatively weak position when compared to the restructured, but too-big-to-fail financial institutions in the U.S. that Bair once regulated. Meanwhile, the Madrid-based lender has been happy to pay one of the largest dividends of any major financial institution in the world, even as investors continue to question the firm's balance sheet and performance. 
Between 2009 and 2012, Santander paid out roughly 13.2 billion euro in dividends to its shareholders as a means of maintaining what is often a dividend yield of over 10%. The bank's payout ratio also generally has been about 50% of net income and has led Santander to build little new equity capital over the past three years.
That would be fine if Santander were as healthy as U.S.-based lenders such as Wells Fargo (WFC) - Get Wells Fargo & Company Report, which has a payout ratio less than 50%. But Santander's balance sheet  continues to show signs of deterioration.
Santander disclosed in its third quarter earnings that the firm's ratio of nonperforming loans (NPL) had risen to 5.43%, an almost unheard of level for major banks in the United States.  That figure represented a 25 basis-point increase from the prior quarter and a 109 basis-point increase from a year earlier. Santander's NPL reserve coverage ratio meanwhile has fallen from 72.4% at the beginning of 2012 to 63.9% at the end of the third quarter.
Rising NPL's and a falling coverage ratio reflect the continued issues in the Spanish banking system and other peripheral European economies. Still, the bank was able to weather a European sovereign debt crisis by spinning off some of its better assets, including Banco Santander Brasil (BSBR) - Get Banco Santander (Brasil) SA Report and more recently its Santander Consumer USA unit.
Nevertheless, there is no way the Federal Reserve would allow Santander to pay out its excessive dividend, given that more profitable lenders in the U.S. such as Bank of America and Citigroup (C) - Get Citigroup Inc. Report continue to pay dividends of a penny a quarter.
Even with a dividend payout that jumps out of stock screens, it is no surprise that Santander's shares have under-performed markets during the five years since the worst of the crisis. The bank's credit default swap spreads are among the highest in Europe and are far higher than even Goldman Sachs (GS) - Get Goldman Sachs Group, Inc. Report and Morgan Stanley (MS) - Get Morgan Stanley Report, the two largest standalone investment banks in the U.S.
Bair, as a tough-minded former FDIC head, may be able to change thinking within Santander and help the bank focus on improving its long-term financial position. It may be an important development now that European Central Bank head Mario Draghi has vowed tough stress tests across the eurozone this year, which may force some lenders to raise capital.
"Santander's Board of Directors is convinced Sheila Bair will make a significant contribution, due to her international experience and her knowledge of the U.S financial market," the bank said in a statement.
In announcing Bair's appointment, Santander noted that it has a presence in the U.S. with its soon-to-IPO Santander Consumer USA unit and its retail banking operations, which are mainly the result of a takeover of Sovereign Bank.
Other troubled banks in Europe have made changes to their boards of directors only after regulatory sanctions from U.S. lawmakers.
HSBC (HSBC) - Get HSBC Holdings Plc Report added independent board members to oversee changes to the bank's financial controls after agreeing to a deferred prosecution agreement with the U.S. Department of Justice for its role in laundering drug money and allowing payments to countries sanctioned by the U.S. government.
While HSBC's board changes were targeted at building more effective payments, anti-money-laundering and know-your-customer controls at the bank, hopefully Santander's nomination of Sheila Bair signals the bank is willing make greater efforts to bolster the long-term health of its balance sheet.
If Bair's appointment is part of a well-established revolving door among ex-regulators, it is a welcome spin.