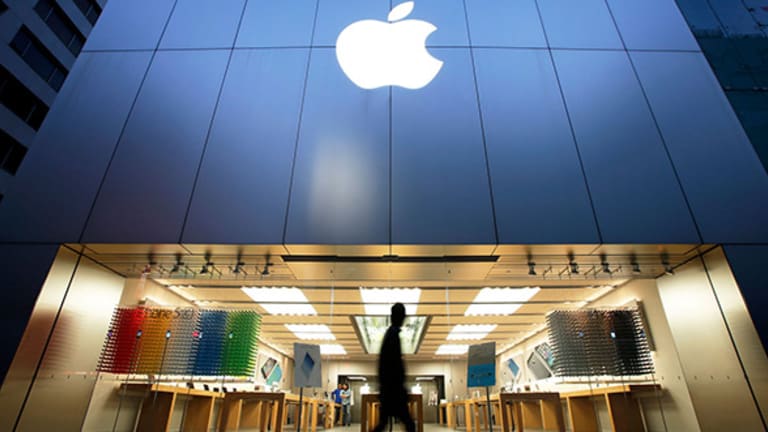 Shares of Apple Still Offer Tremendous Value
Ignore the market's short-term thinking and buy Apple stock as it continues to drop.
It wasn't long ago that people were talking about Apple (AAPL) becoming a trillion-dollar company.
The technology company's business was hitting on all cylinders, iPhone sales were off the charts and the stock had rallied from $56 to $133, a 130% gain in about two years. Needless to say, everyone wanted to be an Apple shareholder.

Chart Source: GuruFocus.com
Apple is a holding in Jim Cramer's Action Alerts PLUS Charitable Trust Portfolio. See how Cramer rates the stock here. Want to be alerted before Cramer buys or sells AAPL? Learn more now.
Fast forward about a year, and it is a much different picture.
Hardly anyone is talking about Apple becoming a trillion-dollar company, iPhone sales declined year over year for the first time and the stock has dropped from $133 down to $93, a 30% drop in about one year. Now not many people want to be an Apple shareholder. 
Chart Source: GuruFocus.com
The best way to explain the sell-off in Apple's stock is that the market is being extremely shortsighted and is worried too much about quarter to quarter numbers rather than long-term strategy. In order to meet these short-term demands by the market, many companies whose executives' pay is tied to stock performance have decided to neglect long-term strategy as well.
This type of short-term thinking is rather dangerous and unsustainable because it stops companies from making longer-term investments in areas such as research and development. Apple, on the other hand, is quietly running one of the most successful companies in history, all while blocking out the short-term noise and staying intensely focused on the long term.
Yet, because the market is too focused on short-term results and finds this long-term strategy boring, Apple's stock is being punished. Apple's management knows that the way to truly maximize value is to perfect what it already has and to selectively invest in great opportunities as they come along.
Buying wonderful businesses when things aren't looking so good and the share price is depressed has proven to be a very successful investing strategy. Below are just a few quotes from prominent investors that illustrate this message.  
"Be fearful when others are greedy, and be greedy when others are fearful." - Warren E. Buffett
"I have often stated that in order to be a great investor one needs to first have the confidence to invest without perfect information at a time when others are highly skeptical about the opportunity you are pursuing." - Bill Ackman
"Buying good businesses at bargain prices is the secret to making lots of money." - Joel Greenblatt
The point is, that one day for great companies such as Apple the tide will turn and those who bought shares when things were dark will be rewarded. The valuation is great, the brand is extremely strong and the long-term story is still very much intact.
These short-term fluctuations should be viewed as nothing more than opportunities to buy shares at a discount. 
Brent Botwin is a value investor and previous Fortress Challenge winner. He is a stock specialist who is constantly monitoring the market and uses strong fundamental and technical analysis to provide timely investment advice over a wide variety of sectors. He is long AAPL.