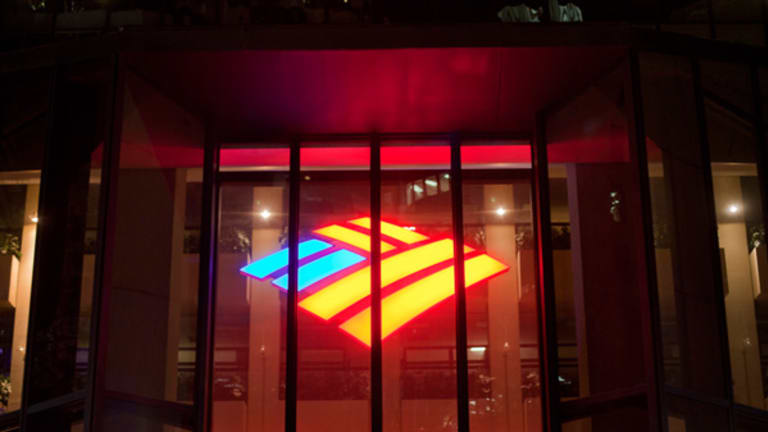 Shame on Stodgy Bank of America
BofA's ineptitude helps more innovative names such as Ford and Starbucks stand out.
NEW YORK (TheStreet) -- According to executives at Pandora (P) , the Ford (F) - Get Ford Motor Company Report teams working on in-vehicle entertainment platforms operate like mini-startups.
This is Ford. Not a Silicon Valley name. But, at least in the Sync division, it rolls like a Silicon Valley company. And it's taking names.
I experienced Sync for a couple of weeks over summer. It's strong, but has room to get better as technology catches up with aspirations.
Like
Starbucks
(SBUX) - Get Starbucks Corporation Report
, Ford, somewhat unexpectedly,
.
It's no surprise then that Ford also gets social media. The two areas flow naturally from one another.
You might recall the
General Motors (GM) - Get General Motors Company Report pulls its advertising from Facebook (FB) - Get Meta Platforms Inc. Class A Report and the Super Bowl
controversy of May 2012. The entire affair proved one thing:
Time has passed GM by
.
In the above-linked article, words from a Ford spokesman support the notion that the company gets social and digital media; GM doesn't.
To its credit, Ford allows an innovative, startup culture to not only exist, but thrive in at least parts of a heritage American institution. As bearish as I have been on the company's stock, it's tough to root against Ford. I can't help but want to see fresh, forward-looking and acting companies succeed.
That brings us to
Bank of America
(BAC) - Get Bank of America Corp Report
.
I get it. The stock is a bargain. Bank of America is getting its stuff together; it's a strong buy. I can't deny that. But that's not the point here.
The storyline behind Bank of America's recent move to "take on"
Square
with its Mobile Pay on Demand card reader underscores the brain drain that holds back loads of companies who refuse to step into the decade and eat, sleep, drink and live like a tech company.
TheStreet's
Chris Ciaccia wrote
scoffing at Bank of America's chances against Square and, more important, ridiculing its
can't
do attitude.
Chris included a quote from BAC vice president of strategy and emerging products division, Trevor Rubel, that should get him fired (not Chris, Rubel).
I hate to come out with a commodity product, but every bank should have one.
That guy should have been blown out immediately.
What a pathetic way to respond. But, as Ciaccia noted, what should we expect from a company doing nothing other than making a feeble attempt to copy Square?
How dare any company -- stodgy bank or not -- mail it in like this?
If you're going to do something digital, social, mobile -- whatever -- do it right. Put yourself into it. Take a stand. Show some fire. Disrupt a space or two. At least try for goodness sake.
And if you don't have the people in house to shake things up, hire them!
We're in an uncertain market where stock pickers prevail. BAC might be a good bet, but, over the long term, I feel more comfortable going with companies that not only see, but
write
the future.
In many ways, ineptitude from a Bank of America helps the Starbucks and Fords of the world stand out. It might time to start a mock-up visionary stock pickers mutual fund or something of the sort.
At the time of publication, the author was long FB and P
.
Rocco Pendola is
TheStreet's
Director of Social Media. Pendola's daily contributions to
TheStreet
frequently appear on
CNBC
and at various top online properties, such as
Forbes
.