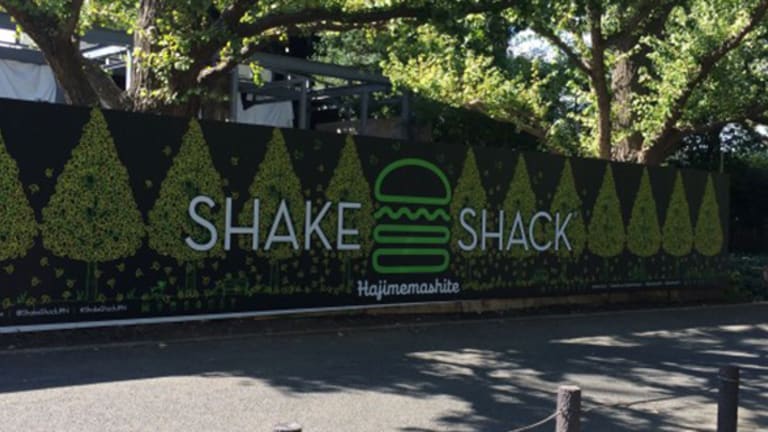 Shake Shack Is Quietly Building a Global Restaurant Empire
It's been an active year abroad for the better-burger chain, with a new location scheduled to open in Tokyo next month.
Shake Shack (SHAK) - Get Shake Shack, Inc. Class A Report may be best-known for serving fancy burgers and frozen custards to huge crowds at its locations in New York City's Madison Square Park and the New York Mets' Citi Field, but it's also quietly amassing a restaurant empire overseas.
"In the next two weeks, we will open our first restaurant in Japan, in Tokyo, with the people who originally brought Starbucks to Japan," said Shake Shack CEO Randy Garutti in an interview outside of the company's busy Madison Square Park hot-spot.
Grabbing a cheese-covered crinkle-cut French fry, Garutti added, "we will have some fun Japanese ingredients, [but] the core menu of Shake Shack remains what it is. You may see some macha [powdered green tea] in there, you may see the best chocolate you can find in Tokyo."
In December 2014, Shake Shack entered into an exclusive licensing arrangement with retail and food operator Sazaby League for the development of up to 10 new Shacks in Japan over the next five years. The first location in Tokyo will officially open its doors on Nov. 13. 
Shake Shack's initial restaurant in Japan will cap what has been an active year abroad for the better burger chain. In the second quarter, Shake Shack opened its second location in the U.K. in Westfield Stratford City following a successful launch in London in July 2013. It also debuted a third Shake Shack in Moscow, Russia.
Prior to the upcoming opening in Japan, Shake Shack had 29 locations overseas, with the most dominant markets being the United Arab Emirates and Kuwait; restaurants in those two countries represented about half of the chain's overseas spots. The company currently has 47 locations in the U.S. but has said in its IPO prospectus that it eventually plans to open more than 450 stores domestically.
Explained Garutti, "People all over the world are realizing there is a better way to eat a hamburger, and when that happens, Shake Shack has been very successful in places like the Middle East, Istanbul and London." Shake Shack remains on track to open five new international locations in 2015 primarily via a licensing model, which is more lucrative than directly operating locations in high cost international markets.
Licensees pay Shake Shack a fee to open up locations overseas, as well as a percentage of sales on an ongoing basis. Shake Shack pointed out in its prospectus, "[Licensing] historically has been a low-cost, high-return method of growing our brand awareness and provides an increasing source of cash flow."
In the second quarter, licensing revenue surged 20.1% year over year. The revenue stream has made up about 4% of the company's total revenue this year, and that number stands to grow over time as a percentage of the business as Shake Shack opens more international locations using the licensing model. 


CEO Randy Garutti expects high quality growth for investors to chew on in 2016.
Wall Street has soured on Shake Shack's stock lately despite its lucrative long-term prospects overseas and potential to operate about hundreds more U.S. locations over time. Shares of Shake Shack have fallen roughly 16% in the past three months, partly on fears that a wave of shares that could potentially be sold by insiders is a sign of concern about the company's long-term prospects.  
According to SEC documents filed on Oct. 8, early Shake Shack investors have registered to sellup to 26.16 million shares of the company "from time to time" at about $48.48 per share. Some noteworthy early investors could sell shares as part of this secondary offering, including Leonard Green Partners, which owned about 12.8% of Shake Shack as of the date of the filing and could unload about 5 million shares  Shake Shack's founder, Danny Meyer, who owned about 3.5% of Shake Shack at the time, could sell as many as 1.2 million shares.  
Investors have also grown concerned on the earnings prospects of the restaurant sector overall amid rising minimum wages and a slowing U.S. economy, which have tripped up results for high-profile names such as Dunkin' Brands (DNKN) - Get Dunkin' Brands Group, Inc. Report and Chipotle (CMG) - Get Chipotle Mexican Grill, Inc. Report .
Garutti had a succinct message for Wall Street when asked what he is most excited about for 2016 -- start paying attention again to the financials. "I think the quality of the growth you are going to see from us and the opportunity to continue our international growth," says Garutti as to what potentially is in store for next year.
But despite its ambitions to bring better burgers to the masses globally, Shake Shack hasn't forgotten its roots in New York City, which includes a busy location inside Citi Field preparing for a World Series battle between the hometown New York Mets and visiting Kansas City Royals.
When asked if Shake Shack would be creating a special burger to celebrate the Mets being in the World Series, Garutti was coy, but didn't rule it out completely. "We were talking about the Mets today, we don't know yet -- if we do something like that it needs to be appropriate, thoughtful and done really well."