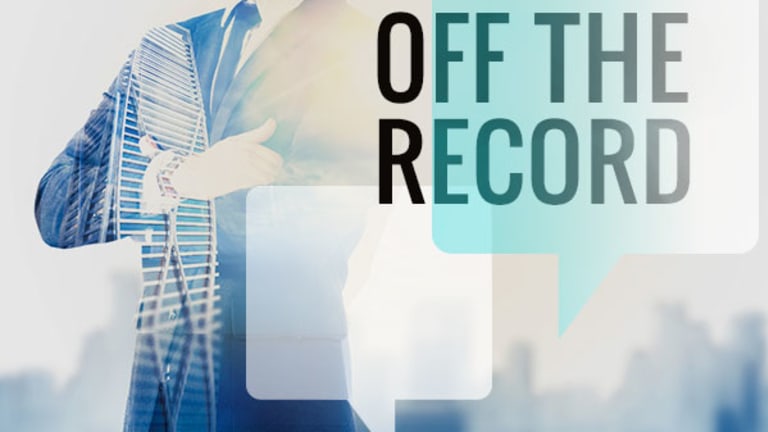 Shake Shack CEO: How I Went From Helping Run a Hot Dog Cart to Leading a Billion-Dollar Company
The rapidly-expanding better burger chain had some pretty humble beginnings, and CEO Randy Garutti has been there right from the start.
For a company that's now worth over a billion dollars, Shake Shack (SHAK) - Get Shake Shack, Inc. Class A Report had some pretty humble beginnings. 
The company began as a single hot dog cart in a park in New York City back in 2001, with the food coming from two nearby restaurants owned by noted restaurateur and Shake Shack founder Danny Meyer. After three years of serving food to increasingly long lines, Meyer hatched an idea to turn the cart into a permanent restaurant concept, sketching his idea of what it would look like on a paper napkin.
Since that first official Shake Shack opened in 2004, the company has developed a core menu of burgers, sides and frozen custards, all made with high-quality ingredients such as antibiotic-free Angus beef. More recently, Shake Shack has ventured into fried chicken with its ChickenShack sandwich, which has quickly become quickly become one of its best-selling items.
Shake Shack now has 50 restaurants across the United States and 33 licensed locations overseas in countries such as Russia, Turkey, the U.K., Japan and the Middle East (its largest international market). The company went public to great fanfare in January 2015, with shares more than doubling on their first day of trading. More recently, though, its stock has been challenged as the company struggles to meet sky-high expectations. 
Randy Garutti has Shake Shack reaching for ever-higher goals.
One thing that hasn't changed at Shake Shack since its hot dog cart beginnings, though, is the hands-on involvement of energetic CEO Randy Garutti, who helped run the cart when he was general manager for one of the nearby restaurants that supplied it with food. To say Garutti has the restaurant business in his bones might be an understatement.
At the age of 13, Garutti worked at a New Jersey bagel shop and by 17, he was waiting tables at a nearby country club. While working on getting a degree in hotel and restaurant management at Cornell, he took orders at Chili's and traveled abroad to learn about different food cultures. After college, he went off to work at a restaurant in Colorado that moved him to locations in Denver, Maui and eventually Seattle.
When he was 23, Garutti managed to secure a 45-minute meeting with the legendary Meyer, who was famous for opening up restaurants such as Union Square Cafe and racking up coveted James Beard awards. Recalls Meyer, "I saw a guy with more enthusiasm in his little finger than most people have in their entire body, and he was oozing love for the restaurant business, especially fine dining restaurants."
The rest, as they say, is history.
TheStreet talked with the 40-year-old Garutti after the opening of Shake Shack's first location in Arizona in late February. Garutti shared with us how the unique Shake Shack culture works, when he knew he and other executives knew they had something special on their hands and how he balances his hectic work schedule. What follows is a condensed and edited version of our conversation.


Garutti with TheStreet at the original Shake Shack location in New York City.
TheStreet: When you were helping make hot dogs for the cart that ultimately led to the creation of Shake Shack, did you ever think you'd one day be leading a company with a $1.25 billion market cap and close to $200 million in annual sales?
Garutti: Never. No one involved at that time ever dreamed there would be a thing called Shake Shack. And after [we opened the first location], we never dreamed there would be a second Shake Shack, which took nearly five years to happen. I honestly believe that type of humility and that organic growth is one of the major pieces for why it all actually happened.
TheStreet: When did you know you had something special on your hands?
Garutti: There were a couple of moments. The first was when we opened the Upper West Side location, which was the second Shake Shack. And we projected it as getting half of the sales of the original Madison Square Park location. And when it did more than that in sales -- at that point we said whoa, we have a responsibility to check this out further.
When we went to Miami for the fourth-ever Shake Shack, that was the first thing Danny Meyer and company had ever done outside of New York City, and it was off-the-charts busy. Then in 2011, we opened in Dubai and Kuwait, and this was a tiny little company that we did that, and it was one of the busiest launches we have ever seen. At that point, we realized wow, this is a global growth opportunity here.
TheStreet: Now you're CEO of a publiccompany worth over a billion dollars. What do you attribute this amazing progression to?
Garutti: I gave a speech to our team recently, and I said the reason that this company is what it is, is because we are all the people we were meant to be when we come to work every day. I am the exact same guy talking to you as I am talking to our team as I am talking to my kids and wife when I am at home. I think the key has been staying true to who I am every day.
TheStreet: The ChickenShack has quickly become a top-selling item on the menu since its nationwide launch in January. Take us through the development process.
Garutti: We always wanted to do something with chicken over the years, but we never really figured it out. About two years ago, we just started messing around in the test kitchen with different ways to cook chicken -- fried, griddled, grilled, etc. We kind of went back and forth, but didn't put full force behind it. And then finally, there was one tasting with a big group of people, including Danny Meyer, myself and other leaders, and we all sort of hit it and said this is it. And then it took a few months to test in Brooklyn last year, and we did that test for six months before we launched it company-wide in January. So it was a long process, with a lot of feedback from people and tweaks.


The recently-introduced ChickenShack has quickly become a best-seller.
TheStreet: You've now been a public company CEO for just over a year. How are you handling the work/life balance?
Garutti: It's hard to balance. There is no question there is a new call on my time to just be public, and that's very hard and very different. I am probably working a little more, and probably working out a lot more -- doing more SoulCycle and Vikram yoga -- that keeps my mind and body sharp.
The ultimate answer is that when I am wherever I am I have to be present. I don't believe in these things called 'work' and 'life' -- it's all life. When I am at work, I have to be focused. When I am home reading a story to my daughter at night, I have to be home.
As I am doing that, every leader around me [at Shake Shack] is getting better and better at their jobs. They are doing more, and proving they can do more. All of that is allowing me to be the public company CEO I need to be and importantly, a great husband and dad.
TheStreet: So basically, you never sleep?
Garutti: Last night I probably only slept about five-and-a-half hours because I woke up to go to a spin class this morning before the opening [of our Scottsdale, Ariz. location] because I need to be pumped up. The night before I hiked up Camelback mountain in Scottsdale, and that was pretty early.
I am a person that could exist really well on little sleep. But I am at my optimum at seven hours of sleep plus. I love waking up early -- I am usually up at 6:00 am, then go to a SoulCycle class and then am at my desk by 8:00 am.
TheStreet: As Shake Shack continues to expand quickly, you naturally need the right executives in place to make that work out successfully. What are the qualities you are looking for while growing your executive team?
Garutti: Anyone who has ever interviewed with me is told that if you choose to come work here, the ground level expectation for your day is that you will move mountains. If that's not for you, then this is not the place for you. My expectation for myself, and everyone around me, is that today we are going to move mountains. Not everyone wants that in their life -- there are a lot of easier places to go to work every day.
It's also about being yourself and bringing your best every single day. The technical stuff in some jobs is of course more important, but if you come and hang with our team we are just a bunch of good human beings that want to be with each other. And it's true whether you're an executive or a guy working the burger station.