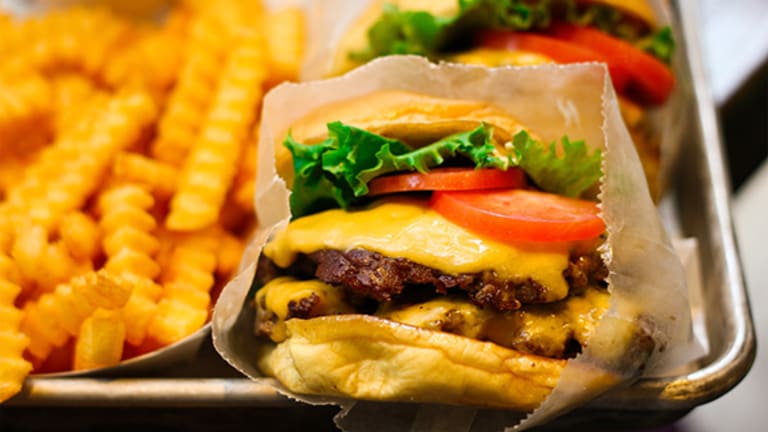 Publish date:
Shake Shack: Another Tasty Quarter on the Way?
Shake Shack is expected to report fourth-quarter earnings March 7 as McDonald's turns up the heat. Will McDonald's eat Shake Shack's lunch?
Shake Shack is expected to report fourth-quarter earnings March 7 as McDonald's turns up the heat. Will McDonald's eat Shake Shack's lunch?
Shake Shack (SHAK) - Get Report is expected to report fourth quarter fiscal 2015 on March 7. Investors are expecting another strong quarter, but McDonald's (MCD) - Get Report is turning up the heat. Will McDonald's eat Shake Shack's lunch?
While investors are excited about Shake Shack's growth prospects, McDonald's has turned up the heat. In fact, in the last year, Shake Shack's shares are down 6%, while those of McDonald's are up almost 18%. Last week, shares of Jack-in-the-Box (JACK) - Get Report fell 16% when the company said its same store sales were crushed when McDonald's launched all-day breakfast back in October. JACK's system-wide comps were a disappointing 1.4%. 
JACK isn't the only operator to blame increasing competition from McDonald's for a weak quarter. Red Robin (RRGB) - Get Report posted a decline in traffic and a 1.3% drop in same store sales along with a 4.6% decline in guest traffic. Red Robin management cited tough competition in its category and the lack of excitement in its menu line-up.
McDonald's isn't the only burger joint that's cooking. Burger King, which is now part of Restaurant Brands International (QSR) - Get Report , reported a 5.4% increase in same store sales for 2015. Wendy's (WEN) - Get Report and Sonic (SONC) just reported same store sales growth of 4.9% and 5.3%, respectively. It's a bad time to be a cow; Americans can't eat enough burgers.
With Shake Shack's reputation for high quality burgers, I think the company can stay above the fray. First, warm weather in New York City should help drive traffic and same store sales. I think fourth quarter same store sales should increase 12% and revenue will clock in at $190 million. Last quarter, same store sales were up 17.1%, which easily beat the consensus estimate. In fact, my 12% estimate could be low since comps have been accelerating all year. Second quarter same store sales were 12.9%.
Second, the company introduced a chicken sandwich during the quarter, which I think will be very popular. The new sandwich should help build traffic and add some excitement to the menu.
Third, management's 2016 revenue guidance of $237 million to $242 million looks conservative. It's hard to believe Shake Shack can only grow revenue 26% next year. SHAK is expected to grow revenue 60% in 2015. Management's guidance of 26% revenue growth is way too low.
As of January 2016, the company operated 44 domestic company-owned restaurants, had 5 domestic licensed and another 35 locations licensed overseas for a total of 84 units. SHAK should be able to add at least another 60 locations this year.
Fourth, as SHAK gains economies of scale, the company has been able to grow shack-level operating profits as well as adjusted EBITDA. In the third quarter, operating profit and adjusted EBITDA increased 440 basis points and 560 basis points, respectively.
Fifth, there is plenty of room to upgrade the stock. Of the 10 publishing analysts that follow Shake Shack, 7 of them rate the stock a "hold". Only one analyst rates the stock a "strong buy". With a strong finish to 2015 and a boost to overly conservative forward guidance, I think a number of those analysts will upgrade the stock. A bunch of upgrades will get kick the stock into high gear.
Add it all up and I think the company can post another tasty quarter.
This article is commentary by an independent contributor. At the time of publication, the author held no positions in the stocks mentioned.