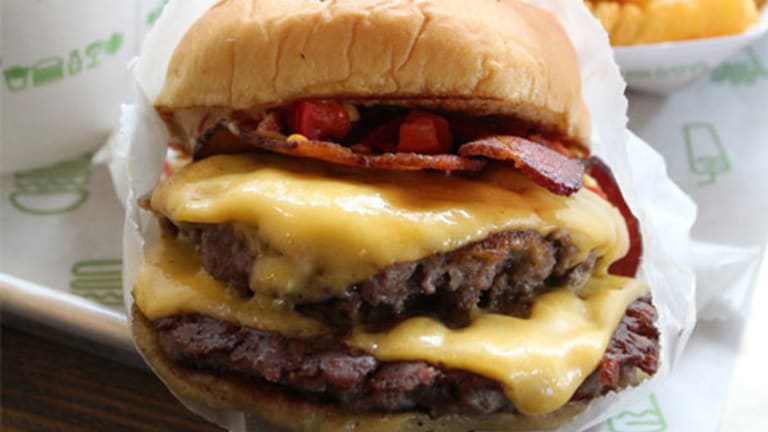 Shake Shack's IPO May Be Shakier Than a Root Beer Float
Shake Shack's IPO will pit great culture and brand against shaky numbers. The burger chain wants a $1 billion valuation. It'll take a lot of hungry liberals.
Shake Shack's pending initial public offering is a feel-good story for Christmas week: A chain selling burgers, which everyone likes, based in Manhattan, where pretty much all markets reporters work.
But as the offering moves toward completion, the company's great brand and image will be pitted against numbers that are not all quite as tasty.
Shake Shack makes a number of disclosures that would set off alarm bells in a lesser company. Profit margins came down sharply this year even at a same-store level. As the company makes clear, same-store sales growth of 3% was half its 2013 level though it did beat inflation by a narrow margin. Note to investors: this may not be a high-growth story.
Shake Shack spends about 31% of its restaurant revenues on food - well above the level spent by other well-managed chains (25% is the gold standard) like Dave & Buster's (PLAY) - Get Dave & Buster's Entertainment Inc. Report , itself a successful recent IPO, Chuy's (CHUY) - Get Chuy's Holdings Inc. Report and even Olive Garden (DRI) - Get Darden Restaurants Inc. Report . Profit before interest, taxes and non-cash items grew 12% in the first nine months of the year - less than a third of the company's 39% sales growth, excluding franchising fees for international Shake Shacks owned by other companies. The company also admits that each restaurant's sales slip in its second year of operations as the buzz wears off and local managers get down to real business.
Looking at it this soon after Monday's filing of the company's initial Securities and Exchange Commission paperwork, these issues wouldn't make investors write off the deal - but they are likely to set the agenda for when Shake Shack meets with investors before selling its $100 million in shares . It could also help determine whether it meets its reported goal of a $1 billion valuation, a steep multiple to the $83.8 million in revenue and $3.55 million in profit it reported for the first nine months of 2014.
The tension will be whether the 63-store Shake Shack can overcome these problems by pointing to its growth prospects, the power of its brand, and the quality of its management team. 
One thing that jumps out from the company's prospectus is the high quality of its financial disclosures. It would be a shock if surprises were to emerge down the road because Shake Shack is quick to reveal that its sales are boosted artificially by its seven stores in Manhattan. The company is smart to show how Manhattan stores generate $7.2 million in annual sales each, while U.S. stores off New York City's most populous borough generate a much smaller $3.8 million.
A lesser management could blend the two and tell investors it couldn't say more. But since the company's expansion will be mostly outside Manhattan, the breakout matters. Disclosing it up front builds trust.
Another is the conservatism of the company's projections. Shake Shack's prospectus says its plan is to get to 450 company-owned U.S. stores from 31 today, boosting its share of a burger-restaurant market it estimates at $72 billion. The company is only projecting $2.8 million to $3.2 million in annual sales per restaurant - a margin of error that should boost confidence in the company as it expands from top-tier markets like New York and Miami into properties that are in lesser cities or less than primo downtown districts.
The reasons for the profitability drop this year may also burnish the company's brand, helping it in the long run. Food costs rose mostly because of rising beef prices - not a surprise, since Dave & Buster's and Chipotle also saw food costs climb. Another is that Shake Shack made a conscious decision to raise wages - a popular move among city-dwelling liberals who, stereotypes sometimes being true, make up a big share of the company's audience in cities like New York, Washington and Austin. Within hours of the filing, Huffington Post (AOL) was already holding the disclosure up as proof of how it's possible to pay well and still make a profit, similar to the publicity push Costco (COST) - Get Costco Wholesale Corporation Report  has long gotten from its higher-wage policies.
The real question IPO investors will weigh is whether the company can get to 450 U.S. restaurants any time soon - the prospectus doesn't say how soon the company thinks it can do that.
The brand works - the company has never closed a store, has been named in a long list of most-popular brands lists by trade magazines, and has a chairman in Danny Meyer who's known for being community-minded and philanthropic. When a Shake Shack opens, it's usually an event, at least around New York. And a long list of cities don't have one: Los Angeles, San Francisco and Seattle to name but a few, Even the non-Manhattan stores make about 21% operating profit margins, before corporate-level expenses. 
Is $1 billion to much to pay for that?
We'll know soon enough.
Tim Mullaney doesn't own any stocks mentioned here. He writes mostly about economics, health care technology. Contact him at timothy.mullaney@thestreet.com or follow him on Twitter @timmullaney.