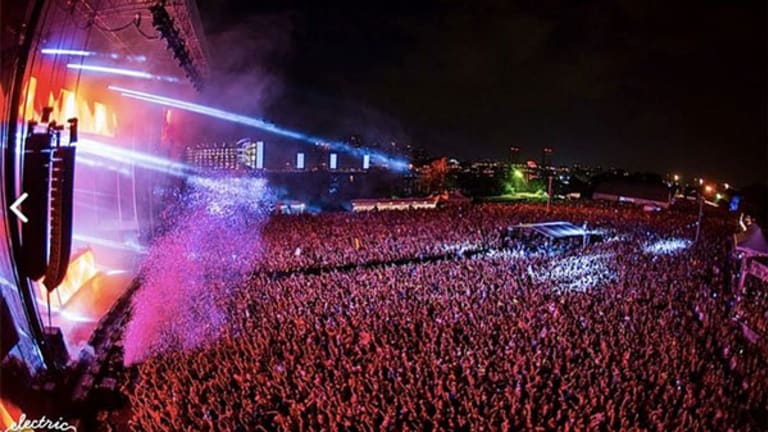 Publish date:
SFX Entertainment Unveils Earnings Minus Electric Zoo Drug Fiasco
SFX Entertainment is adjusting for many things in its first quarter of earnings.
SFX Entertainment is adjusting for many things in its first quarter of earnings.
NEW YORK (TheStreet) -- SFX Entertainment's (SFXE) first quarter of earnings as a public company show steep losses and non-GAAP earnings adjustments, which seek to minimize sales the electronic music culture, or EMC, giant lost after shuttering its Electric Zoo festival in New York City for a day after multiple attendees died from reported drug overdoses.
Nine months into the year, SFX Entertainment has reported over $211 million in revenue and a net loss of over $77 million. However, when excluding items such as interest expense, depreciation, equity-based compensation and some other items, those losses narrow to just $28 million.
On a pro-forma basis that includes acquisitions, which were contemplated in SFX's IPO documents, the company even can report total pro-forma adjusted earnings before interest, taxes, depreciation and amortization of $7.5 million.
SFX's total pro-forma adjusted EBITDA, however, hinges on downplaying $28.5 billion in so-called "other adjustments" beyond the company's reconciliation between its GAAP loss and its adjusted EBITDA.
Those adjustments include non-recurring expenses, transaction costs from its October IPO, recoupable advances and the "elimination of costs associated with cancellation of third day of Electric Zoo Festival (subject to insurance recovery)."
It is the latter that is most curious.
SFX is trying to show investors a reconciliation of its earnings that assume an insurance recovery for lost sales when Electric Zoo was shuttered for a day as a result of multiple drug overdoses at the Labor Day EMC bash in New York City. Madeevent, the Electric Zoo promoter SFX acquired, gave full rebates for the closure.
Add that to the type of earnings adjustments companies may try to squeeze into reconciliations between GAAP and non-GAAP financial results. SFX hasn't yet released its quarterly 10-Q with the Securities and Exchange Commission.
SFX Entertainment went public in a $260 million October share offering that helped the Robert FX Sillerman-founded company acquire a set of EMC festivals in Europe and the U.S. Those acquisitions included the operator of New York's Electric Zoo.
As SFX Entertainment begins to report quarterly earnings, investors should have a better sense of the company's overall earnings as acquisitions are consolidated and the company attempts to narrow its operating losses.
For now, the company's earnings betray a highly speculative financial position. Nine months into the year, the company has reported $211.5 million in sales and a net loss of $77.6 million, on a pro-forma basis to include its acquisition of the operators of prominent electric music festivals including Electric Zoo, Tomorrowland, and Nature One in Germany. SFX also makes clear in a footnote that earnings from acquired businesses are subject to change "as a result of the normal year-end closing process."
TheStreetlooked at SFX's IPO documents and many risks, including the company's high degree of leverage and interest expense relative to its operating losses and revenue. SFX disclosed that loans are guaranteed by its founder Sillerman. Finally, the company also noted that it has "material weaknesses" in its internal controls and financial reporting.
Robert FX Sillerman, however, has a significant track record in the concert and promotion industry after creating LiveNation (LYV) - Get Report, a company he sold to Clear Channel for over $4 billion dollars, and CKX, Inc., a vehicle he used to acquire rights to Elvis Presley's Graceland estate and the hit TV show American Idol. Sillerman sold CKX to Apollo Management in 2011.
A savvy operator like Sillerman and the company's entrance to public markets could also instill improved security at SFX's worldwide EMC festivals.
"SFX posted a beat for its 1st quarter as a public company, posting higher-thanexpected
revenue and EBITDA and selling 900K+ tickets to its EDM shows," Jefferies analyst Brian Pitz said in a client note reacting to earnings. 
"The beat suggests the US festival TomorrowWorld was a success, giving confidence other big SFX brands can cross the pond. SFX also took a 50% stake in Rock in Rio (undisclosed terms), which attracted 7MM people to 13 festivals (500K+ apiece) over 28 yrs," the analyst added. Jefferies, which acted as a book-runner on SFX's IPO, rates the company a 'buy' with a price target of $16 a share.
SFX shares were gaining over 7% in late Friday trading. Shares in the company have fallen over 23% since its first day of trading in October.
-- Written by Antoine Gara in New York.