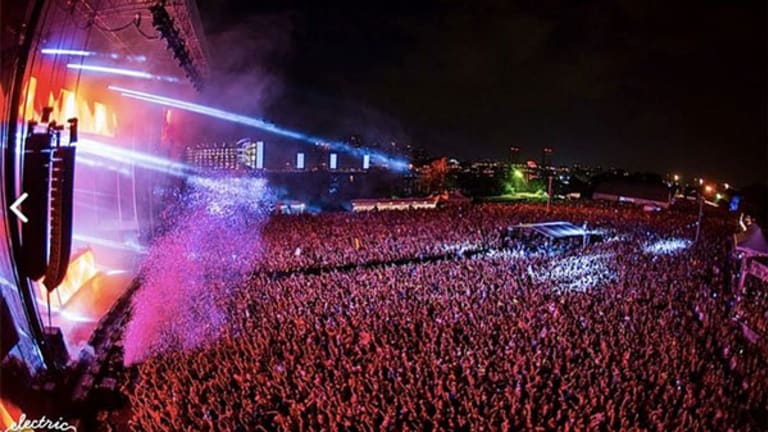 Publish date:
SFX Entertainment Is a Sleeper for 2014
SFX Entertainment may be a newly public concert promoter, but its management has decades of experience making money.
SFX Entertainment may be a newly public concert promoter, but its management has decades of experience making money.
NEW YORK (TheStreet) -- SFX Entertainment (SFXE) is the emerging leader of a trend called "electronic dance music" or "electronic dance culture."
If you don't know what EDM is, you're probably over 30. But ask anyone between 16 to 30 about EDM and you'll hear an earful. There's a reason why this is the hottest and fastest growing niche of music today.
The kids, as they say, love it.
DJs like David Guetta, Calvin Harris, deadmau5, Tiesto, Hardwell and Afrojack have emerged in recent years to become major headliners.
Dance music has been popular in Europe for more than 20 years. Remember raves and the dance culture portrayed in the '90s hit film Trainspotting? Large-scale dance festivals have also been huge moneymakers for years in Europe.
Those same trends have finally landed in a big way in North America in the past five years. Las Vegas, Miami and Toronto are now major EDM cities. Festivals have exploded in the past three years.
Millennials can't get enough of this music, it seems.
So, in the middle of all this, you have Bob Sillerman. He is the guy who assembled Live Nation. He's the guy who bought Graceland and 19 Entertainment which owned American Idol. He's produced mega-Broadway hits. In short, he's an impresario who is very good at having his finger on the pulse of what's hot and also making a lot of money from it.
Now, he's at it again with SFX.
The SFX IPO last month was a bit of a bust. Shares were priced at $13 but immediately started to drop. They bottomed out last week at around $7.
It didn't garner the same attention as the big recent tech IPOs. It's not well covered -- only three analysts have coverage of the name. It has zero attention from retail investors.
Put all this together with a story that likely doesn't seem to connect with most Wall Streeters, who have likely never heard of Avicii, and it's easy to understand why SFX's story didn't immediately grab people.However, there's a great story here, which likely will be reflected in future earnings reports:
Millenials are crazy for EDM.
EDM's long history in Europe suggest this musical niche is not a flash in the pan. Jay-Z recently said he thinks it's a style that's here to stay.
Although companies like Live Nation, which Sillerman built, exist to provide full vertical integration of the concert and music experience (with the cost savings associated with such vertical integration), they cover the entire music industry.
There was an opportunity for a player like SFX to come in a provide a similar one-stop shop focused exclusively on EDM.
SFX is doing an industry roll-up within EDM (although it likes to call it EDC because that suggests something wider than music).
SFX buys up music, DJs, clubs, festivals, etc.
As its footprint gets bigger, SFX becomes more attractive for new EDM talent. These up-and-coming DJs can be signed by SFX and promoted through the company's clubs/festivals and other more established artists.
There are ample opportunities for SFX to further expand its vertical integration: ticketing, talent management, merchandise, and, perhaps most interesting, sponsorship.
When SFX acquires these smaller clubs/festivals, typically they're acquiring them from mom-and-pop owners. A professional, large-scale operator such as SFX can find significant cost savings.
SFX just acquired a majority stake in the Rock In Rio festival, which hints that it might even expand beyond EDM in the future.
The bottom line is that Bob Sillerman and the rest of his team -- all his old compadres from past ventures -- know how to make a lot of money.
What does a 65-year-old who beat throat cancer a decade ago know about EDM? An awful lot, it turns out.
Sometimes experience matters.
With a continued roll-up of mom-and-pop festivals and clubs and a new push into sponsorship, SFX looks very capable of hitting $20 next year.
At the time of publication, Jackson had a long position in SFXE.

Follow @ericjackson
This article is commentary by an independent contributor, separate from TheStreet's regular news coverage.
Eric Jackson is founder and Managing Member of Ironfire Capital and the general partner and investment manager of Ironfire Capital US Fund LP and Ironfire Capital International Fund, Ltd. In January 2007, Jackson started the world's first Internet-based campaign to increase shareholder value at Yahoo!, leading to a change in CEOs in 2007. He also spoke out in favor of Yahoo!'s accepting Microsoft's buyout offer in 2008. Global Proxy Watch named Jackson as one of its 10 "Stars" who positively influenced international corporate governance and shareowner value in 2007.
Prior to founding Ironfire Capital, Jackson was President and CEO of Jackson Leadership Systems, Inc., a leadership, strategy, and governance consulting firm. He completed his Ph.D. in the Management Department at the Columbia University Graduate School of Business in New York, with a specialization in Strategic Management and Corporate Governance, and holds a B.A. from McGill University.
He was previously Vice President of Strategy and Business Development at VoiceGenie Technologies, a software firm now owned by Alcatel-Lucent. In 2004, Jackson founded the Young Patrons' Circle at the Royal Ontario Museum in Toronto, which is now the second-largest social and philanthropic group of its kind in North America, raising $500,000 annually for the museum. You can follow Jackson on Twitter at www.twitter.com/ericjackson or @ericjackson.
You can contact Eric by emailing him at Dr.eric.jackson@me.com.