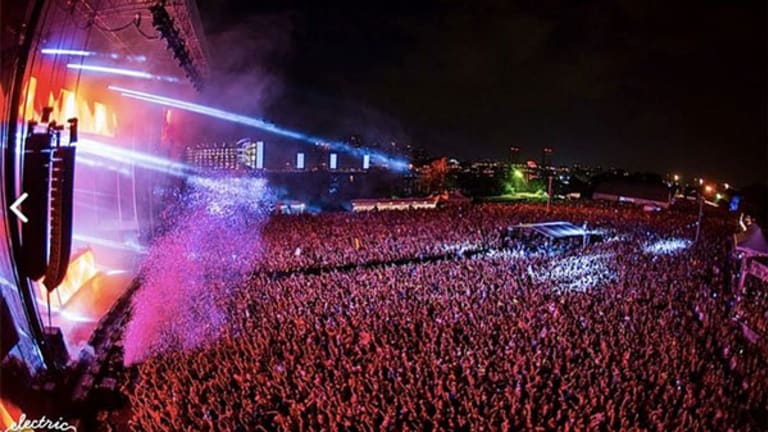 SFX Entertainment Dances to IPO Bubble Beat
SFX's risky IPO may reflect a bubble mentality in stock offerings.
NEW YORK (
) -- The
$260 million initial public offering
of electronic music festival producer
SFX Entertainment
(SFXE)
signals that not only is the music playing in IPO markets, you've got to get up and dance.
But this offering could also indicate a bubble-like mentality spreading in IPO's, as investors and bankers try to launch the next billion-dollar business on public stock markets. If the company's primary business is putting on electronic dance festivals, investors would do well to question whether they are arriving late to the party.
SFX Entertainment is a deeply unprofitable business that faces large competitive and legal risks. Nevertheless, the company is selling shares in an unusual IPO at a price that gives the firm a valuation of over $1 billion.
The company's founder Robert F.X. Sillerman, however, has a significant track record in the concert and promotion industry after creating
LiveNation
(LYV) - Get Live Nation Entertainment, Inc. (LYV) Report
, a company he sold to Clear Channel for over $4 billion dollars, and CKX, Inc., a vehicle he used to acquire rights to Elvis Presley's Graceland estate and the hit TV show
American Idol
. Sillerman sold CKX to
Apollo Management
in 2011.
With SFX Entertainment, Sillerman is seeking to grow the electronic dance music
EDM industry, what used to be known as raves, into bigger venues and new markets through an ambitious slate of acquisitions and international expansion. The company's IPO also comes at one of the busiest times for share listings since the financial crisis five years ago, and at a time when stock investors have bid up the valuations of recent high profile listings, including
Tesla
,
Zillow
(Z) - Get Zillow Group, Inc. Class C Report
,
Trulia
(TRLA)
,
Facebook
(FB) - Get Facebook, Inc. Class A Report
and
Angies List
(ANGI) - Get ANGI Homeservices Inc Class A Report
.
It may be time for some investors to slow down.
SFX Entertainment's risks include steep losses, competitive pressure, high debts and restrictive covenants, admittedly weak accounting controls and a business model that faces significant legal liability.
In its IPO documents, SFX notes that drug use at the company's electronic music festivals makes it vulnerable to litigation and injunctions from local authorities that could effectively throw a wench in its business. Two people died at Electric Zoo, a festival SFX is seeking to take control of, this past Labor Day as a result of drug overdoses.
SFX Entertainment's IPO is unusual from the start.
The business model, while already posting severe losses, is untested and will fundamentally change after the company's share offering. In addition, SFX was incorporated on June 5, 2012. Its predecessor entity was started in July of 2011, making the billion dollar company just over two years old.
SFX is planning to use over half of the proceeds of its offering to exercise previously agreed upon joint venture acquisitions, with the remainder going to working capital and other corporate purposes.
Of the $260 million SFX offered in its listing, the company will use about $150 million on acquisitions of joint venture stakes in competing concert promoters ID&T, i-Motion GmbH Events, Totem Onelove Group, Made Event and EZ Festivals, in an international expansion of its concert venues.
Those acquisitions are targeted at firms that produce some of the most prominent electric music festivals in the world, including Electric Zoo, Tomorrowland, and Nature One in Germany. While the venues may be increasingly popular and are generally growing in audience by over 20% a year, they are also going to put SFX in a very stressed financial condition.
Will Losses Dry up a Debt Punch Bowl?
On a pro forma basis including SFX's planned acquisitions, the company would post revenue of $92.3 million and negative $15 million in adjusted EBITDA, and a net loss of $71.3 million for the first six months of 2013. That contrasts with SFX's 2012 revenue of $238.6 million, adjusted EBITDA of $14.6 million, and net loss of $67.4 million.
As part of the acquisition agreements, which contained a set of stipulations that hinged on SFX's eventual IPO, the company is planning a major increase in its debt.
As of Sept. 30, SFX said its pro-forma debt would be approximately $75 million in a first lien term loan facility. According to the firm's S-1 filed with the
Securities and Exchange Commission
, the pro-forma company would have paid $19.7 million in interest expense through the first six months of 2013, or over 21% of the company's overall revenue.
SFX also has just one year to repay or refinance its term loan, a heavy task for a company that warns it will incur losses in 2013 and beyond. In fact, the firm's losses may escalate as a public company, given SFX's stated need to implement better accounting controls and financial reporting.
"We have had a history of losses, and we may be unable to achieve or sustain profitability," SFX says
The company's term loan comes due on September, 15 2014, however, it could attempt to refinance the loan, and under certain conditions, it can be extended the debt until March 13, 2015.
"We caution you that we may not have the funds necessary to pay principal and interest on our First Lien Term Loan Facility when it matures. Although we may seek to refinance this debt, we may not be able to do so on acceptable terms or at all," SFX says in its S-1 filing.
If the debt balance isn't scary enough, SFX's term facility also includes what appear to be very restrictive covenants that signal the business will be operating with a razor thin margin for error. SFX is due to make mandatory prepayments of 75% of its annual excess cash flow and has pledged 100% of the net proceeds from some asset sales, casualty events, and debt issuance to repay its existing facility.
If CEO and founder Robert F.X. Sillerman leaves the company, 30.0% of SFX's borrowings will come due in 60 days of that announcement date. Sillerman has entered into a agreement with
Barclays
, collateral agent on the loans, in which he has personally guaranteed all SFX's obligations under its first lien term loan facility.
"We will be in default of the First Lien Term Loan Facility if the Sillerman Guarantee ceases to be in full force and effect or if Mr. Sillerman breaches any material term of the Sillerman Guarantee," SFX states in its S-1.
Party till the Music Stops
The financial picture that SFX portrays in its IPO is risky, but investors will also need to worry about unforeseen problems.
SFX admits that the company has "material weaknesses" in its internal controls and financial reporting. Firms that SFX is seeking to buy also contain material weaknesses.
"We have identified material weaknesses in our internal controls over financial reporting that, if not properly remediated, could result in material misstatements in our financial statements in future periods," SFX states.
The company identifies a lack of documentation in connection with awards of stock based compensation, improperly characterizing certain acquisition transactions as having closed prior to obtaining the control necessary for such a characterization, and an unusually large amount of audit adjustments as among the firm's reporting weaknesses.
As a result, SFX treated some 2012 stock grants as having been made in 2013 for accounting purposes. Some acquisitions the company characterized as having closed never actually did so, and eventually failed. Improper purchase and accrual accounting caused SFX to fail to report some significant transactions and resulted in a restatement of the company's 2012 earnings.
"We believe that this was related, in part, to a lack of sufficient staff with appropriate training in GAAP and SEC rules and regulations with respect to financial reporting functions, as well as the lack of robust accounting systems," SFX concludes.
The firm says that it will correct those material weaknesses by adding experienced accounting and financial personnel, retaining third party consultants and improving its IT infrastructure.
"We will incur increased costs as a result of operating as a public company, particularly once we cease to be an emerging growth company, and our management will be required to devote substantial time to new compliance initiatives," SFX states.
Drugs as an Investment Risk
But financials and accounting aside, SFX faces serious legal risks that could threaten the company's ability to continue to put on high profile festivals. Injuries at festivals could subject the company to liabilities or increase its expense.
SFX also lists drug usage as a risk factor for the firm.
"Activities or conduct, such as illegal drug use, at our properties or the festivals and events we produce may expose us to liability, cause us to lose business licenses or government approvals or result in adverse publicity," the company states.
While the company doesn't list litigation surrounding Electric Zoo in its S-1, it nevertheless is a risk investors need to consider.
SFX says it has formed a Medical Procedure and Safety Committee to put together policies to ensure that its festivals and events are conducted in conformance with local, state and federal laws.
"We have a 'no tolerance' policy on illegal drug use in or around our facilities, and we continually monitor the actions of entertainers, fans and our employees to ensure that proper behavioral standards are met," SFX states. Still, the company is not able to give shareholders assurances. Violations of the law at SFX-run concerts could result in liability for the company, the loss or termination of its lease venues, permits and even lower consumer demand for its events.
Having a publicly traded entity overseeing the compliance of EDM festivals is a risk for shareholders, but it might also lead to better overall security for those who attend.
Investors for now are putting their money behind the vision of a music industry titan who is launching an ambitious but money-losing enterprise. While SFX's IPO is priced at $13 a share, the company reports its net tangible book value per share as a negative 20 cents.
SFX closed lower by 8.54% in Wednesday trading at $11.89 a share.
-- Written by Antoine Gara in New York.