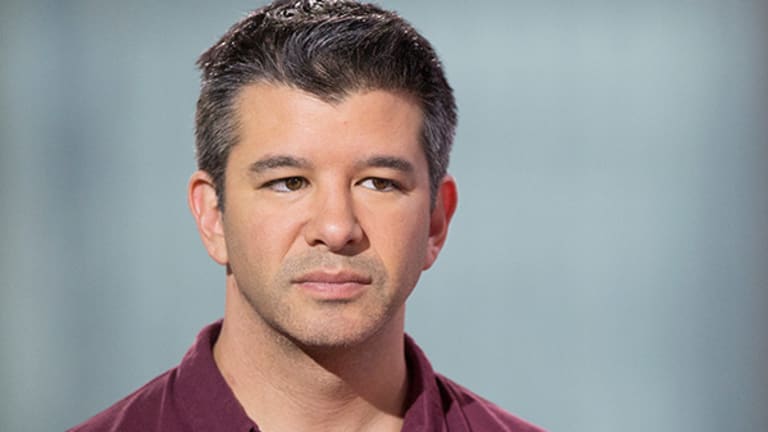 Sexual Harassment Allegations Light Fire Under Uber
Claims of sexual harassment add to several recent woes, including the potential reclassification of employee status.
Uber may end up doing Lyft a big favor if it can't effectively manage the bad press swirling around the company.
Now Uber has taken the bold step of retaining former U.S. Attorney General Eric Holder to look into allegations of discrimination and sexual harassment made over the weekend by Susan Fowler, a former engineer at the San Francisco-based company.
"It's a strange, fascinating, and slightly horrifying story that deserves to be told while it is still fresh in my mind," Fowler wrote as a prelude to her account, which includes being propositioned by her boss.
Holder's hiring was revealed to employees through an internal email from Uber CEO Travis Kalanick on Feb. 20, according to media reports.
"First, Eric Holder, former U.S. Attorney General under President Obama, and Tammy Albarran -- both partners at the leading law firm Covington & Burling -- will conduct an independent review into the specific issues relating to the workplace environment raised by Susan Fowler, as well as diversity and inclusion at Uber more broadly," Kalanick said in a copy of the email obtained by Recode, a technology news website.
Covington & Burling has been used by Uber in litigation with drivers.
Kalanick's email also said Uber board member Ariana Huffington would be involved in the review.
"Travis spoke very honestly about the mistakes he's made - and about how he wants to take the events of the last 48 hours to build a better Uber," Huffington wrote in an Uber newsroom post. "It was great to see employees holding managers accountable. I also view it as my responsibility to hold the leadership team's feet to the fire on this issue."
The move to retain Holder looks like a serious commitment to obtaining external review of Uber's corporate culture. But Holder may not be able to help with the company's other problems such as an allegedly sexist ad run in France, a prior allegation of targeting journalists for reprisal, legal wrangling that could bring costly changes to the status of independent contractors, and discontent among both passengers and drivers.
Pando Daily's Sarah Lacy posted in 2014 that she had "seen an ever-worsening frat culture (at Uber) where sexist jokes and a blind eye here-or-there have developed into a company where the worst kind of smearing and objectification of women is A-ok."
Lacy, a leading technology journalist, wrote that Uber attempted to bully her and others into silence. The company denied her allegations.
So far the privately held ride-sharing company, which has a valuation of $69 billion according to BloombergBusinessweek, has survived a variety of challenges.
"If you look at some of the controversy that has surrounded Uber recently, for example, the #DeleteUber movement has cut into Uber's business, but only temporarily," Brand Consultancy CEO and senior strategist Diane Beecher told TheStreet. "Strong and focused brands, like Uber, can survive negativity to a point -- the question is where the breaking point will be."
(The #DeleteUber movement involved the deletion of Uber accounts in protest of Kalanick's participation in President Trump's economic advisory council. Kalanick recently resigned from the council).
Beecher also put the situation in a broader perspective.
"We also have to consider that brands don't exist in a vacuum -- if someone accused of sexual harassment can be elected president, what values are important to the average person and is this average person an Uber user? Whether Uber will suffer as a brand depends on if the issues facing Uber matter to the people who like Uber," according to Beecher.
"A brand is only as good as its reputation, so if Uber becomes a brand that no longer stands for something its users believe in, then the brand will be in trouble."
Kalanick is clearly seeking to improve the company by bringing in Holder, and has already earned points with customers and employees by distancing himself from the president.
Inside Advantage PR president Jonathan Beaton told TheStreet that Uber's public relations arm has tended not to do enough to emphasize its positive achievements, like keeping potential drunk drivers from getting behind the wheel by giving them the option of an Uber ride.
Beaton also noted that the most recent bad news derives from a single individual. "It's one person with a blog," Beaton said.
Uber drivers have also been accused of sexual harassment in the past, and drivers in Pakistan were required to attend sexual harassment classes.
"In the case of Uber, there is clearly some bad news surfacing and many people seem uneasy about their working practices," RBL Brand Agency head of brand Rebecca Battman told TheStreet.
"But, and this is a big but, too many people think their service is amazing and want to back a challenger brand that they see as disrupting an entrenched and somewhat stagnant sector to begin with," Battman said. "No challenger brand is perfect and everyone will cut some slack for a risk taker ... Brands that face up to any wrongdoing and are keen to listen and learn will usually be forgiven."
Former Uber employee Fowler published her claims in a lengthy blog post on Feb. 19.
Fowler describes a corporate culture where blatant sexual harassment is widespread -- and where the human resources department and management sometimes punishes employees for reporting inappropriate behavior.
Soon after joining the company in late 2015, Fowler claims, here new boss made sexual overtures via chat.
Fowler says she spoke to other female employees who were sexually harassed and ignored or even threatened by human resources staff.
How Uber customers - and investors - react to the publicity remains to be seen.
But with no IPO on the horizon, some Uber full-time employees with itchy feet are being allowed to sell up to 10% of their stock back to the company. The offer is not available for drivers, who do not receive stock in the company.