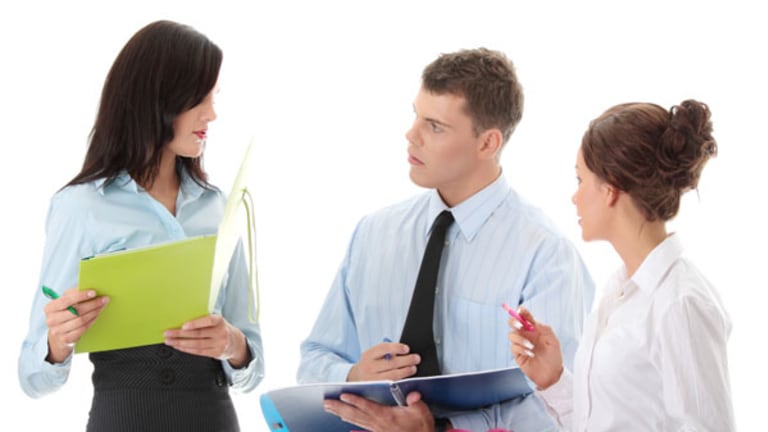 Sequestration Watch: Boeing and Lockheed
Fed contractors will feel first pinch of spending cuts.
NEW YORK (TheStreet) -- Don't get lulled into thinking that sequestration isn't grinding away against the economy with potential peril for your savings and investments.
Remember, we're talking about the federal government here. Nothing happens quickly. Think in terms of a glacier. It moves slowly, but it changes the landscape. Forever.
To understand how sequestration can affect the rest of us, I had
Bloomberg's
Pentagon reporter Tony Capaccio on my radio show last Saturday to discuss the impact on contractors and the economy at large.
There's good news and, I think, some bad news.
The good news is this: forced belt tightening is causing the kind of discipline that warms every taxpayers heart. According to Capaccio, "There's all kinds of fat in the military budget. And now with across the board cuts, contractors are first working to cut it out. At this stage of the game, you are not seeing any knee-jerk reactions, at least not among the top-tier contractors."
For instance he says the Pentagon's largest weapons program, the joint strike fighter, may see a cut in the number of planes purchased in 2013. "I am hearing that of the 19 planes the Pentagon says they want to buy in 2013, the worst case scenario is that five will be cut."
Score one for the capitalists! I think this validates my belief that that fiscal discipline, regardless of form, produces positive results. I think we all hoped this discipline would not come to something as imprecise as sequestration, but now that it's here, Capaccio reports, contractors are making smart moves. "They've seen this coming for months, and they have been ready for it, and planning ways to avoid furloughs."
I guess the Nirvana I am hoping for is a form of fiscal discipline that is less blunt and more precise.
But in terms of predicting when the impacts of sequestration are serious, and likely to have a serious impact on the economy and the markets, Carpaccio suggests keeping a close eye on mega contractors
Boeing
(BA) - Get Free Report
and
Lockheed Martin
(LMT) - Get Free Report
. "By federal law, they are required to issue warning notices 90 days in advance of any furloughs or layoffs. Once Lockheed and Boeing does it, I think you will get more interest from lawmakers over the ripple effect and rethinking whether sequestration should continue into 2014."
Parenthetically, I might add that tweets I received from a few Lockheed employees following my broadcast on Saturday said that
Bloomberg
reporter Capaccio was right on. One noted, that if furloughed, it would likely be for a day a week initially. Further he said that on his days off he would probably work at home anyway so as not to be overloaded on the other four days he was working. I would note that in a sense, this is a win for the government, since in situations such as this they would be getting free labor.
Now for the bad news, or as some might say, the really bad news. Warmer convention cities, as well as information technology contractors are likely to feel the pinch from sequestration much sooner than others. "The GSA conference scandal which came to light last summer struck a chord, and I am seeing memos cutting back on conferences to places like San Diego and New Orleans," said Capaccio.
I would add as we go into the summer conference season, this could also translate into slack business conditions in cities across the country, not just in warmer areas.
Though IT consultants are vulnerable, Capaccio suggested that companies which provide services or software that combine operations or help create efficiencies might be able to win. "You might find bases across the country looking for humane ways to cut back on personnel and they may want services to help these people make a transition."
By the way, here are three companies that match that profile. I don't own any of them and am not recommending them either, but rather suggesting they are engaged in a line of business that is interesting given the advent of sequestration.
Workday
(WDAY) - Get Free Report
offers cloud-based applications to manage human capital and financial resources.
Ultimate Software
(ULTI)
offers human resources management software.
SciQuest
(SQI)
offers cloud-based procurement management.
At the time of publication the author held no positions in any of the stocks mentioned.
Follow Steve Cordasco (@CFNPlan)
This article is commentary by an independent contributor, separate from TheStreet's regular news coverage.