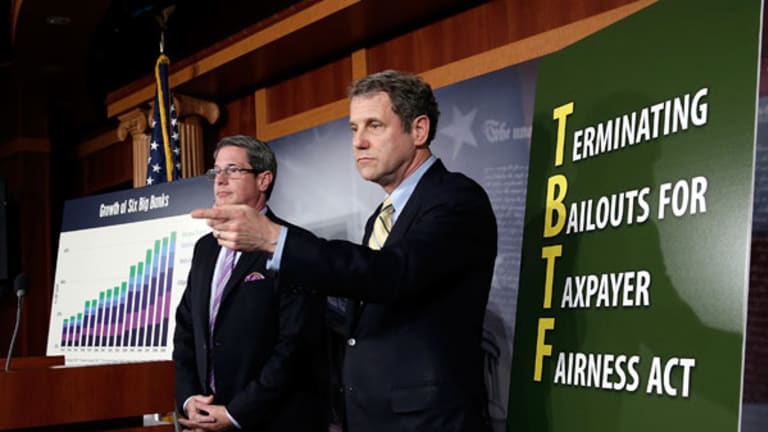 Senators Try to Gum Up Dodd-Frank (Update 1)
A bill proposing a 15% capital requirement on the largest U.S. banks confuses the massive effort to comply with Dodd-Frank and Basel III.
Updated from 6:45 a.m. ET with comment from ConnectOne Bancorp CEO Frank Sorrentino III.
NEW YORK (
) -- Senators Sherrod Brown (D., Ohio) and David Vitter (R., La.) may see individual political benefits from their proposed capital rules for U.S. banks, but their bill repeats many elements already included in previous legislation, while taking an infantile stance against the risk-weighting of banks' assets.
The senators on Wednesday proposed the Terminating Bailouts for Taxpayer Fairness Act, which would require "megabanks" with total assets of over $500 billion to raise capital levels to at least 15% of total assets. Under the proposal, "mid-sized and regional banks would be required to hold eight percent in capital to cover their assets."
In keeping with the hip Washington trend of bashing big banks, the senators took a populist tone in their three-page summary of the TBTF bill, saying the proposed capital rules would "ensure that megabanks gamble with their own funds -- not taxpayer dollars."
When referring to banks' activities as "gambling," the senators ignore banks' obvious role in providing businesses with the credit they need to expand, which means economic recovery, expansion and job creation, which every senator would certainly claim to support.
Also see: Citigroup Gets a Reprieve: Mike Mayo >>
While nearly everyone knows the U.S. government bailed out the largest U.S. banks through the Troubled Assets Relief Program, the senators conveniently left out the fact that most of the funds extended to banks though the Troubled Assets Relief Program, or TARP, have been repaid, with plenty of interest, that TARP has been profitable.
The senators said in their press releases that "five years ago, risky practices at Wall Street banks puts our economy on the brink of collapse -- and jeopardized the savings and pensions of millions of Americans. Today, the nation's four largest banks are nearly $2 trillion larger than they were then -- aided by an implicit government guarantee awarded by virtue of their 'too big to fail' status."
Also see: Soros Takes JCPenney Stake to Lead Retail Higher >>
"Our bill will ensure a level playing field for all financial institutions by ending the subsidy for Wall Street megabanks and requiring banks to have adequate capital to back up their liabilities," the senators said.
Oversimplification
The TBTF bill's capital requirements would be much more simple than the Basel III capital requirements for the largest banks, which will be fully phased in by January 2019 under the
Federal Reserve's
proposed rules. The Fed's rules would require large banks to have Tier 1 common equity ratios of 7.0%, plus additional requirements for "globally systemically important financial institutions," or GSIFIs.
The Basel III Tier 1 common equity ratio uses risk-weighted assets in the denominator, meaning that banks' capital requirements are based in part on the amount of risk they are taking. For example, cash has a zero risk-weighting, so it is not added to risk-weighted assets and it doesn't increase a bank's capital requirement. Direct obligations of the U.S. government have a 20% risk-weighting. Mortgage-backed securities with AAA or AA ratings have a 20% rating. A-rated MBS have a 50% risk-weighting, while BBB paper has a 100% risk-weighting, and BB paper has a 200% risk-weighting under Basel III, because of the higher likelihood of default.
Based on determinations by the Basel Committee, the additional capital surcharges for
Citigroup
(C)
and
JPMorgan Chase
(JPM)
are 2.5%, so each of these banks has a fully phased-in minimum Basel III Tier 1 common equity ratio requirement of 9.5%.
Also see: N.Y. Community Bancorp: Feast or Famine >>
For
Bank of America
(BAC)
and
Wells Fargo
(WFC)
, the surcharge is 1%, for fully phased in Basel III Tier 1 common equity ratio requirements of 8.0% for each company.
Senators Brown and Vitter said that under their proposal, "regulators would walk away from Basel III, and institute new capital rules that don't rely on risk weights and are simple, easy to understand, and easy to comply with." They also said in their press release that the biggest banks "will be faced with a clear choice: either become smaller or raise enough equity to ensure they can weather the next crisis without a bailout."
When the senators say their rules "don't rely on risk weights," they mean that banks will be required to set aside the same amount of capital for cash as they would for junk bonds.
Mayra Rodriguez Valladares -- managing principal of MRV Associates, a financial regulatory consultancy -- says that the simplified capital rules excluding risk-weighting would provide "perverse incentives for traders to go into riskier assets, because they wouldn't be punished from a capital requirement perspective."
Rodriguez Valladares says this phenomenon was already observed under the Basel I capital rules, which is why Basel II included risk-based capital requirements.
Kevin Petrasic -- a partner in the Global Banking and Payments Systems practice of Paul Hastings in Washington -- says "the notion of not having any sort of risk-weighting raises some concerns," adding that the straight 15% capital-to-assets requirement for the largest banks would have "economic consequences that need to be weighed carefully."
"Each dollar would be leveraged down significantly as a result of the capital requirement, requiring significant further study" of the effect on the economy, he says.
Headaches for Banks and Regulators
Senators Brown and Vitter said their new rules would "focus on common equity and other truly loss-absorbing forms of capital." While it certainly was an impressive thing for the senators to say, this has already happened under the Dodd-Frank Wall Street Reform and Consumer Protection Act, which was signed into law by President Obama in July 2010.
Also see: Verizon Vodafone Deal, Don't Get Too Excited >>
Under Dodd-Frank, most forms of trust-preferred equity are excluded from banks' regulatory Tier 1 capital. Cumulative preferred shares are also excluded, which is why the nation's large banks over the past year have been redeeming trust preferred shares and issuing noncumulative perpetual preferred shares. The latter are allowed to make up a relatively small portion of Tier 1 capital. The noncumulative preferred shares are considered a "higher quality" of capital than cumulative preferred shares, since banks are free to suspend dividend payments without having to make them up later.
Basel III takes a similar approach on the quality of regulatory capital. According to Rodriguez Valladares, "European and Japanese regulators have long advocated for different assets to be used as capital. Americans have said that retained earnings and common stock were the best forms of capital, because they have real ability to absorb losses. U.S. Regulators finally won this battle with Basel III."
Dodd-Frank has also led to a much stronger supervisory role for the Federal Reserve, including annual stress tests and reviews of banks' capital plans. This year's stress tests gauged the banks' ability to weather a "severely adverse scenario," including an increase in the U.S. unemployment rate to over 12% in the second half of 2013, with a 50% drop in equity prices and a 20% decline in real estate prices. Following the stress tests, the Fed applied the same harsh scenario to large banks' plans to deploy excess capital through dividend increases and share buybacks.
"Banks have already spent billions of dollars to upgrade their management information systems to comply with Dodd-Frank and Basel III," according to Rodriguez Valladares.
The Federal Reserve is working to finalize various regulations based on requirements of Dodd-Frank, including enhanced capital requirements and the Volcker Rule, which bans proprietary trading by banks that gather deposits insured by the Federal Deposit Insurance Corp.
"It is not the job of politicians to set capital standards. It is the job of bank regulators by law, reinforced by Dodd-Frank, to come up with the standards," Rodriguez Valladares says.
Also see: SEC Member Predicts 'Armageddon' for Municipal Bonds >>
"If the Federal Reserve wanted to, the big U.S. banks could already be holding 16% capital, half risk-weighted and half not. It is already within the power of the Fed," she says, asking "why are we having this populist tirade, when nothing new is being proposed?"
Hobbling U.S. Competitiveness
One of the best things about the enhanced capital requirements under Basel III is that all of the major economies within the G-20 are represented. This means a level playing field for trading partners and economic competitors of the U.S., including the European Union, the United Kingdom, China, Japan, Russia, South Korea, India and Brazil.
If the U.S. were to "walk away" from Basel III, and go with the straight 15% capital-to-assets favored by Senators Brown and Vitter for our largest banks, it would stifle our largest financial companies' ability to compete internationally.
"If the U.S. were to require higher capital requirements for its banks, I guarantee that China and other countries will not do the same," says Rodriguez Valladares. "They will certainly have more capital to play with."
A Potential Negotiating Position for Community Banks
Frank Mayer -- a partner in the Financial Services Practice Group of Pepper Hamilton in the Philadelphia -- says that "the genesis of this is really the regional and community banks with total assets of below $50 billion, feeling that they should not be covered by Basel III."
"The theme is that the main street banks didn't cause the crisis that precipitated Dodd-Frank, that the global regime is more suited to SIFIs and GSIFIs
Global SIFIs, and that the community banks are proportionally over-regulated," he says.
Nearly three years into the implementation of the bank reform legislation, community banks are going through a particularly tough period, with declining net interest margins, as rates stay near record-low levels, and regulatory compliance burdens, and expenses, increase.
"Dodd-Frank could certainly use some tweaking," according to Mayer, who adds that "certainly the regional and community banks might benefit from some exemptions."
Frank Sorrentino -- CEO of ConnectOne Bancorp of Englewood Cliffs, N.J., says community banks should not be subject to Basel III, and not because of the capital requirements, since most community banks already have sufficient capital levels to comply. "What is realy offensive is the amount of paperwork that has to be done to demonstrate compliance," he says.
Basel III "is going to cause a lot of expense" for community banks, according to Sorrentino, who adds that "expenses for banks actually cause capital deterioration," because banks will have lower retained earnings.
"It is a very counterintuitive measure when you look at community banks."
When discussing Dodd-Frank, Sorrentino says "the vast majority of the bill was designed around trying to eliminate a lot of the issues that led to the banking crisis, many of which the community banks didn't participate in. As we are seeing the law implemented, the playing field isn't necessarily fair in all aspects."
"Probably the answer lies in having higher cap requirements for larger institutions," he says.
-- Written by Philip van Doorn in Jupiter, Fla.
>Contact by
.
Philip W. van Doorn is a member of TheStreet's banking and finance team, commenting on industry and regulatory trends. He previously served as the senior analyst for TheStreet.com Ratings, responsible for assigning financial strength ratings to banks and savings and loan institutions. Mr. van Doorn previously served as a loan operations officer at Riverside National Bank in Fort Pierce, Fla., and as a credit analyst at the Federal Home Loan Bank of New York, where he monitored banks in New York, New Jersey and Puerto Rico. Mr. van Doorn has additional experience in the mutual fund and computer software industries. He holds a bachelor of science in business administration from Long Island University.