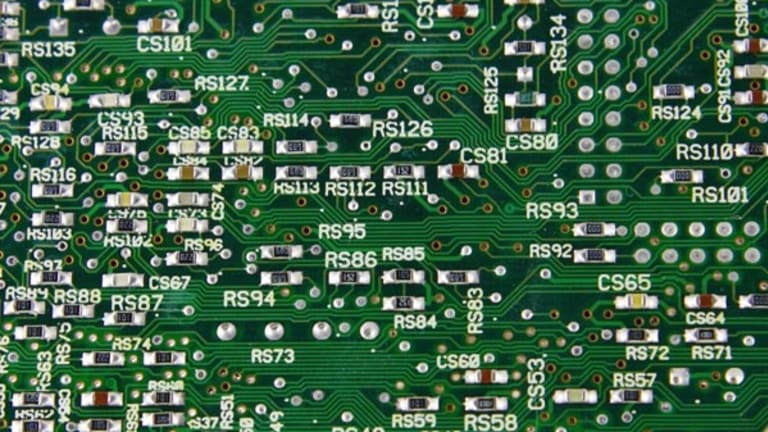 Semiconductor Stocks: A Year in Review
How will the big names in the semiconductor sector respond to a tepid 2013?
NEW YORK (TheStreet) -- Chip companies earned a putrid 4% cumulative growth in 2012. As 2013 dawned, many analysts predicted that the year that semiconductor stocks revived. Let's just say expectations fell short. 
This optimism was due in part to expectations of growth in telecom equipment. Analysts also claimed that significant gains would flow to the suppliers of parts for mobile device giants like Apple (AAPL) - Get Apple Inc. Report and Samsung (SSNLF) .
These predictions rang only partly correct. What the Street didn't expect was that the entire sector was going to be marred by weak margins due to lower average selling prices of high-end handsets.
Giants like Broadcomundefined, which also has a strong wireless and mobile business, suffered weak revenue growth. But investors always assumed that the company would overcome its struggles. Essentially, it was business as usual.
Investor optimism lasted until the second half of 2013. Then market leader Qualcomm (QCOM) - Get Qualcomm Inc Report issued weaker-than-expected guidance.
Essentially, when a company with a strong track record of beat-and-raise quarters has to lower estimates, the you-know-what has hit the fan.
Panic spread throughout the sector, suggesting that Qualcomm's reign over the chip industry was coming to an abrupt end. There were also rumblings about threats to Qualcomm's chipset margins, which had come under pressure.
But that was also the case for every other chip in the industry. Besides, unlike Broadcom, which at one point had lost close to 30% year to date, Qualcomm has managed gains of 20%; this includes the 10% summer decline after the high of $67.65 a share in April.
Despite how weak the numbers look, Qualcomm's results were always better than its closest rival.

Mobile device average selling prices are going to end the year not as stout as in years past. In fact, I think that after two years of strong growth, it was unrealistic to expect anything else from this overcrowded industry. It is clearly in period of saturation. But I wouldn't bet against either Qualcomm or Broadcom in 2014.
For chips stocks with little to no mobile or wireless exposure, like Intel (INTC) - Get Intel Corporation Report, there was an entirely different set of expectations. Not to mention that Intel lost 12% overall in 2012. Anything other than a decline would have been considered a win. Intel's year-to-date gains of over 20% exceeded everyone's expectations.
More than once I've been tagged as an Intel apologist. This is not a situation where I'm dismissing the company's failure in the mobile devices market, which allowed Qualcomm and ARM Holdings (ARMH) to put a stranglehold on device manufacturers. Nevertheless, there's a point when Intel's deficit gets beaten to death. And I believe the company's mobile advancements -- as modest as they may appear -- are steps in the right direction.
It's easy to discount Intel on the basis of the company's consecutive quarters of revenue declines. But Intel still possess distinct operational advantages over rivals like NVIDIA (NVDA) - Get NVIDIA Corporation Report and Advanced Micro Devices (AMD) - Get Advanced Micro Devices, Inc. Report. The company's world-class technological and manufacturing capabilities can be used to turn around the company's fortunes at any point.
Plus, the company is still meeting expectations on margins, which have grown for the past several quarters.
Though Intel was thoroughly downtrodden in 2012, in 2013 it is no longer the same company as it was. And unlike AMD, which can't seem to decide on a coherent identity, Intel management has laid a foundation for long-term success. That should include (among other things) pursuing growth in China and emerging markets while reinvesting cash flow back into research and development.

Given the weaker-than-expected performance of the entire sector, despite the strong optimism that began the year, I don't want to say anything to get investors' hopes up heading into 2014. We know that PC sales are going to continue their decline, adversely impacting PC-dependent chips like Intel, AMD and, to a lesser extent, NVIDIA. By contrast, I don't expect any declines in mobile/wireless devices, which should bode well for both Qualcomm and Broadcom.
The that end, investors should continue to assess these companies on the basis of their margin and free-cash-flow projections and results. These will determine how management is running the business relative to industry peers, as well as their ability to return value to shareholders.
At the time of publication, the author held no position in any of the stocks mentioned.
Follow @saintssense
This article was written by an independent contributor, separate from TheStreet's regular news coverage.
Richard Saintvilus is a co-founder of
, where he serves as CEO and editor-in-chief. After 20 years in the IT industry, including 5 years as a high school computer teacher, Saintvilus decided his second act would be as a stock analyst -- bringing logic from an investor's point of view. His goal is to remove the complicated aspect of investing and present it to readers in a way that makes sense. His background in engineering has provided him with strong analytical skills. That, along with 15 years of trading and investing, has given him the tools needed to assess equities and appraise value. Richard is a Warren Buffett disciple who bases investment decisions on the quality of a company's management, growth aspects, return on equity and price-to-earnings ratio. His work has been featured on CNBC, Yahoo! Finance, MSN Money, Forbes, Motley Fool and numerous other outlets.