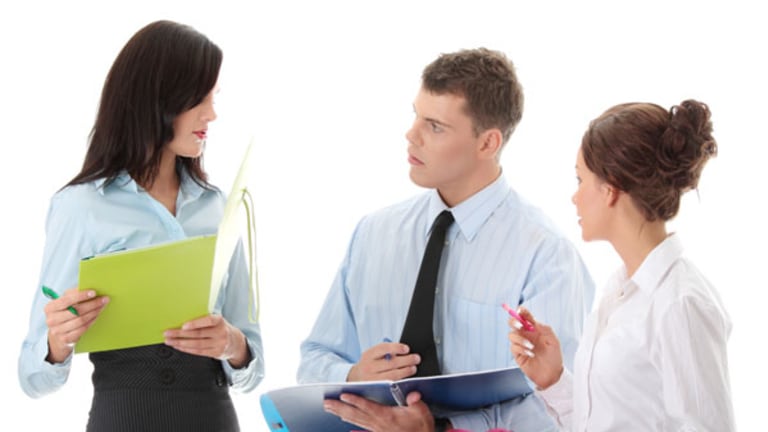 Sell the Jewelry & Fillings, The Gold Rush Is On!
Time to take inventory of the possible Fort Knox of fillings inside our mouths, tucked away in closets and stuffed in jewelry boxes -- we are in the midst of gold mania!
Time to take inventory of the possible Fort Knox of fillings inside our mouths, tucked away in closets and stuffed in jewelry boxes -- we are in the midst of gold mania!
hit a record of $1,432.50 on Dec. 7, and the result is a kind of nuttiness that has encompassed gold mining stocks, gold bullion, and generous outfits like
Goldline
that want to take your money in return for gold. There is even a
on the Discovery Channel, which claims to have hauled in 2.9 million viewers on its premier episode.
Now, I'm not foolish enough to judge whether this
gold bubble is about to burst
, or whether there is even
, as that is clearly an area in which persons of goodwill can disagree. I can only suggest, on the basis of my own scanty evidence (and sore mouth) that gold is starting to make me nervous. It's just a gut feeling:¿
Too many amateurs buying and sharp operators selling
. The 29% 2010 run up through Dec. 7 (a day with certain unpleasant connotations to begin with) reminds me of the time when I was a kid and off-track betting was beginning in New York City. I bet my lunch money on a couple of races, won, and then proceeded to lose every single race after that. You can't even get a note from somebody on Gmail, if the subject is gold, without seeing a Goldline ad. Putting aside the politically charged nature of a major sponsor of the Glenn Beck Show, there are people I respect (like
) who say the company overcharges for coins and is generally no good. (And other people I respect
saying otherwise
). Putting aside that hot potato, the potential for small investors being ripped off in this commodity, or any commodity, is just too troublesome, particularly when prices are going through the roof like this. And ask yourself this question: Are our regulatory watchdogs really up to the job of policing the gold market, when they've failed so miserably with everything else?¿
Gold is a knee-jerk contrarian's nightmare/paradise.
Yes, I realize that there are sound, fundamental reasons for gold bulls to believe that gold will continue to climb, perhaps past $1,500 or even $2,000. Central bank purchases, instability in Korea, deficits and inflationary threats, etc. etc. are all good reasons for gold to increase. But if memory serves me right, wasn't global uncertainty and inflation also a good reason to invest in real estate a few years ago? There are just too many reasons for nervous people and kneejerk contrarians to get concerned (or delighted, depending upon one's long/short exposure). Personally, I get nervous when I see the like
Gold SPDRs
(GLD) - Get Report
climb through the roof as they have on immense volume. I call that sucker bait. I get nervous when I read that
gold funds are beating the pants off the S&P
, and that some are climbing up to 66%. This means more money pouring into gold funds from the aforementioned amateurs, who love to climb in at the top, and consequently more money pouring into gold mining stocks, which are already rallying a bit too cheerfully. (I'll be coming to that in a moment.) Besides,
Goldman Sachs
(GS) - Get Report
is predicting that gold will climb to $1,690 an ounce over the next year. Gee, they wouldn't gamble against that prediction, would they? And if they did, do you think they'd get away with it? ¿
Gold mining stocks are going nuts.
Companies like
NovaGold Resources
(NG) - Get Report
, which has seen its stock go through the skylight in 2010, make me nervous when I pull their stock charts, no matter how much
may like them. That stock traded in the $6 range a year ago, and now fetches over $14. How much of that run up is from retail investors pouring their hard-earned savings into a stock that, they hope, will make them whole from all the losses they suffered in 2008? How many will cash out now, or make the same mistake as in 2008, and not cut their losses when the bubble (if any) bursts? like
Barrick Gold
(ABX)
, like
Newmont Mining
(NEM) - Get Report
Newmont Mining and like
US Gold
(UXG)
are not going nuts to quite that extent, but all are trading close to the top of their 52-week highs. How will those shares react if bullion prices begin to slide?
That brings me to the most nervous-making aspect of gold mania, which are the inklings I'm seeing see that gold is one of those markets that is on a kind of perma-rise, just as real estate was back in 2006.
"Gold Set For Fresh Highs in 2011,"
says the
Wall Street Journal
. Maybe. But somehow that has just has too much of a familiar ring to it.
So back to the point I raised at the beginning. Pulling gold caps out of your mouth may be a bit much, but this is not necessarily the worst time to sell off any extra gold that may be lying around the house. Sure, it's entirely possible that gold prices may "set fresh highs in 2011," but personally I'm taking another dive into the closet for that Phi Beta Kappa key that nobody ever believes I own.
Gary Weiss has covered Wall Street wrongdoing for almost a quarter century. His coverage of stock fraud at BusinessWeek won many awards, and included a cover story, "The Mob on Wall Street," which exposed mob infiltration of brokerages. He uncovered the Salomon Brothers bond-trading scandal, and wrote extensively on the dangers posed by hedge funds, Internet fraud and out-of-control leverage. He was a contributing editor at Conde Nast Porfolio, writing about the people most intimately involved in the financial crisis, from Timothy Geithner to Bernard Madoff. His book "Born to Steal" (Warner Books: 2003), described the Mafia's takeover of brokerage houses in the 1990s. "Wall Street Versus America" (Portfolio: 2006) was an account of investor rip-offs. He blogs at garyweiss.blogspot.com.