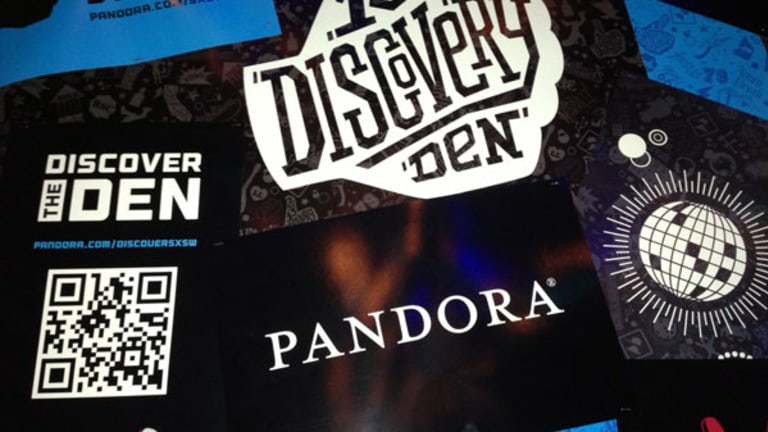 Sell Pandora: Stock Could Crash on Bad Strategic Investments
Pandora needs to move aggressively to expand its business. It's not. So the stock's a sell.
NEW YORK (TheStreet) -- I'm not sure about you, but this is pretty much useless to me:
"Those be" the contents of an email I received from Pandora (P) Thursday. The company was nice enough to remind me that I'm a diehard Bruce Springsteen fan who shares an affinity for Tom Petty.
As if the fact that I think of Springsteen and The E Street Band every morning when I wake up doesn't already do the job.
I'm not saying sell P because the company sends master of the obvious emails to its user base or appears to consider adding a recommended stations feature to its mobile application progress. I'm saying sell P because these illustrations, coupled with what the company's not doing ... scratch that ... with what the company refuses to do with any sort of urgency spells something like doom.
I have become of two minds on Pandora lately.
One mind logically tells me the company's core narrative remains intact. You can review that still relevant train of thought in Here's Why Pandora Keeps Crushing the Market.
So, with that in mind, I might be saying sell too soon. A run higher -- even much higher -- would not shock me.
However, I've been largely bullish on Pandora stock since it hit lows in the neighborhood of $7-$8 per share. To stay behind a stock -- and the company that floats it -- when there's very little beyond what brought it to the district of $35-$38 seems a bit off. Put another way, after a 400% run, there's got to be something more compelling to warrant continuation of the chase.
Right now, from what I gather, there isn't. In fact, I think Pandora is doing a horrible job, based on what it says publicly and what I think I know, of reinvesting in its business. In fact, it seems to act as if the most potentially prolific parts of its business do not even exist. 
I stress ... I can only go on what I know.
Pandora has never been a company to run its mouth. Even to me. One of its biggest supporters. But I always got the sense in my conversations with executives and such that it had its stuff together. I knew the company would climb the mountain using the means to an end nobody on Wall Street or in tech seemed to understand.
And it did.
But now I get the sense Pandora's trying to squeeze water out of a rock. It continues to expand its sales infrastructure to poach more advertising dollars from broadcast radio, however, I reckon it's about to hit a point of diminishing returns. In others words, I don't see the investment it puts into advertising generation producing the same types of returns it did in the past. A whole bunch of bodies and newer and/or bigger offices in cities across America doesn't come cheap.
On the sales front, Pandora's bark might end up being bigger than its bite.
As I have riffed over the last few weeks here, here, here and here, Pandora should be investing aggressively in areas related to, but beyond straightforward, traditional -- even if its "targeted" -- advertising. But it's not. While it should not abandon its advertising core (obviously), it's simply not going to grow the business rapidly enough or win itself any friends in the royalty fight by focusing almost solely in that area. 

To that end, the following points are things I think Pandora a) should do, b) probably isn't doing, but c) if I am wrong and they are, I will eat my words with a massive side of wasabi (I love sushi, but hate wasabi) and reassess my now decidedly bearish case:
Buy Ticketfly. I wrote about this last year. Subsequently, I met with Ticketfly and Pandora on the issue. I discovered that Ticketfly seemed more than willing to talk and that, indeed, some bankers were trying to get the two sides together. Nothing came of it that I know of. That's sad because Ticketfly/Pandora is a match made in heaven.
Aggressively move into the concert space. In one, maybe two, of the above-linked "here" articles, I get into how Apple (AAPL) - Get Free Report could snap up this space with a tiny sliver of its cash and box Pandora out. If you read my case for buying Ticketfly, it's pretty easy to connect the dots, put two and two together, pull yourself back up onto the turnip truck and see the (pardon the annoying buzzwords) synergies. Ticketfly is in the process of crushing Live Nation Entertainment's (LYV) - Get Free ReportTicketmaster. I'm not sure why Pandora would not want to be party to that action.
Use its treasure trove of data to do more than sell obvious advertising products. I don't want to poo-poo Pandora's advertising business. Because it remains prolific and better than anything broadcast radio can offer. However to almost solely focus your data efforts on a business that's likely slowing (some say it already is) makes absolutely no sense, particularly when opportunities in data abound. Again, click the "heres" for more color on this.
Be a better partner to the music industry. I soured only slightly on Pandora when it decided to fight the royalty battle in court. With its data, Pandora could win the war on content costs with sweet sugar, not what have become shallow legal motions. No, Pandora is not paying too little to license content. That's a misnomer. It's providing exposure to artists whose work never would have seen the light of day without Internet radio ...
(I had to jump from the bullet points for this ...)
That said, it owes these artists -- and the music industry as a whole -- something bigger, better and more meaningful than "exposure." The "exposure" argument gets sort of old after you have floated it in everybody's face for like 5-6 years.
DO SOMETHING WITH THE DAMN DATA OTHER THAN PUT IT INTO YOUR ADVERTISING BUSINESS!
Pardon the caps -- bold nonetheless -- but I'm past the point of infuriation on this.
Pandora should be making its data available -- for a fee -- in realtime to the music industry as well as brands who can use it to do a whole host of things.
The music industry can learn so much about who and what to sell where and when with access to the historical and in-the-moment information Pandora has, but refuses to share in any meaningful way.
Why hasn't Pandora done a deal with the major labels to give them open access to data? Why haven't we seen the company engage its haters (e.g., MusicFirst, Blake Morgan, who the heck ever) to form a union where Pandora's artist dashboard data can, finally, see grand scale dissemination.
Pandora made sure it's ability to predict your political affiliation made the rounds of regurgitating news organizations. Of course, none of the outlets that printed that story -- like it was straight from a company press release -- said, OK, so you can use your data to sell really targeted political ads (which will suck to hear as a listener), but, if you have this amazing capability to predict things about people, why aren't you putting it to work for the music industry, bands and brands beyond glorified radio spots?
We didn't see that once in the media. They just ran with the cute story -- Pandora can predict if you're a Democrat or Republican. But did it ever dawn on the media to ask Pandora some critical questions to make the story richer, a bit more informative and worth the reader's time?
I mean if Pandora can analyze its data to best target political ads on the basis of predicting listener preferences, don't you think it could provide datasets to ad agencies, individual brands and various cogs of the music industry so that they, too, can harness the power of data to make their own predictions and finally unleash the far-reaching and, to this point, stifled marketing power of music.
Bottom line -- I could go on all day about what Pandora should be doing, which doubles as what they're not, to my knowledge, doing. And I will in articles to follow this one over the next several weeks. But, at this juncture, you get the point.
Sell the stock -- or, at the very least, don't get too greedy or risky with it -- until you see signs Pandora is going to seize the massive opportunity in front of it, that it created itself. Opportunity that stems from its size, scale and, most importantly, the data other companies (such as Twitter (TWTR) - Get Free Report) would/are put/putting to much better use in the interest of the industries they purport to love and the shareholders they purport to serve.
--Written by Rocco Pendola in Santa Monica, Calif.
Disclosure: TheStreet's editorial policy prohibits staff editors, reporters and analysts from holding positions in any individual stocks. Rocco Pendola is a columnist for
TheStreet
. Whenever possible, Pendola uses hockey, Springsteen or Southern California references in his work. He lives in Santa Monica.