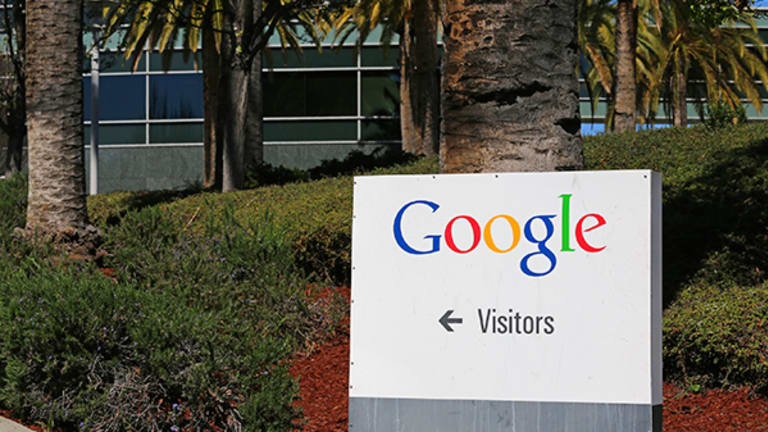 NEW YORK (TheStreet) -- Google (GOOG) - Get Alphabet Inc. Class C Report (GOOGL) - Get Alphabet Inc. Class A Report is a great company, but it's only an average stock.
Yes, despite the well-received "Alphabet" news of recent weeks that caused the stock to rally, you can probably do better.
In fact, this may be a good time to sell Google shares if you own any, as it is unlikely that the company's financial performance will catch up to its share price anytime soon.
To be clear, you can do much worse than Google. In fact, each month I release a list of the market's most unattractive stocks, and for September Google didn't make it. Nevertheless, its important to dig deeper into Google given it's popularity with individual investors.
At its recent price of $620, Google stock is valued at nearly 20 times forward earnings, and more than six times sales. That's okay for a small or mid-cap company that plays by a different set of rules, such as $2 billion SINA Corporation (SINA) - Get SINA Corp. Report . But Google's market cap of $430 billion means it must conform to conventional valuation metrics, and on that score it comes up a little short.
To be clear, Google is not grossly overpriced like online retailer Amazon.com (AMZN) - Get Amazon.com, Inc. Report , valued at $240 billion because it trades at more than 100 times forward earnings despite sporting a negative return on equity. But it's also not nearly as cheap as $650 billion Apple (AAPL) - Get Apple Inc. (AAPL) Report , priced at just 11 times forward earnings in defiance of its 41% return on equity.
Google falls somewhere in between, both in terms of absolute value and relative valuation. Of course, each of these mega-cap stocks have vastly different revenue models, which provides a convenient excuse for applying vastly different multiples to their respective financial performance. But sooner or later all of those disparate revenue models must boil down to performance, and there are three critical factors that we can look at to judge any large cap stock against another: 
1. Dividend yield. Dividend yield has historically has accounted for more than half of the stock market's total return. Dividends are usually the only form of economic benefit a shareholder derives while a stock is held, and over time can exceed the original cost basis of the stock. But Google pays no dividend at all, arguing that reinvesting that capital in the growth of the business generates a higher ROI for the company and greater share price appreciation for its stockholders.
2. Change in net operating cash flow. Change in net operating cash flow provides the fuel that energizes growth. On that metric Google scores quite well, as it has increased its NOCF by nearly 40% over the past two years. That means it has plenty of money to invest in capex, hire more people, and acquire outside resources. In addition, the company can buy back its own shares whenever it feels they have become oversold, something it has been reluctant to do in the past.
But having the money to do those things, and doing them productively are two entirely different things. That's where our third factor comes into play.... 
3. Return on equity. While Google's ROE of 14% is respectable, it's considerably less than that of its less-regarded rival Yahoo (YHOO) sporting an ROE of 30%, or former Yahoo subsidiary Alibaba Group (BABA) - Get Alibaba Group Holding Ltd. Sponsored ADR Report at nearly 27%. So, to buy Google at current prices means you believe that a name change -- and accompanying shift in strategic focus -- will result in a substantially more efficient enterprise in the not-too-distant future.
That's not going to happen, and here's why: Like many tech stocks, Google has become the personification of its two visionary founders, Sergey Bryn and Larry Page. They built a wonderful company that has produced several leading edge products. But it has also become a bloated bureaucracy, with thousands of employees working on dozens of projects that have never made money. Bryn has vowed to make Google a much leaner enterprise going forward by eliminating all but its most profitable business units.
That is exactly what Google needs to do to earn its very high valuation, but in order to do so the corporate culture would need to change to a degree that it cannot. The sense of entitlement among its management team, combined with its lack of experience in focusing on efficiency, will add years to this process.
Buying or owning undervalued stocks is probably the most common way investors sabotage their portfolio. And while Google didn't make my list of the 29 most overvalued stocks, if you own Google stock, now is a good time to sell it. And if you don't own Google, there are better bargains to be found in the tech space that don't require a leap of faith to justify their current valuations. 
This article is commentary by an independent contributor. At the time of publication, the author held AAPL.