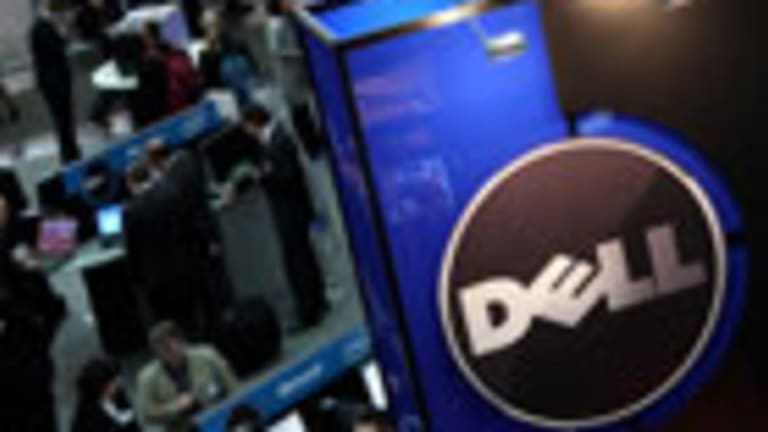 Sell Dell, Buy Apple (Update 3)
Investors playing Dell's shares on the hope of a takeout bid trumping Michael Dell's offer are risking plenty with little reward.
Updated from 12.22 a.m. ET with Dell's announcement about the two new offers, details on the offers, market close information and a contrasting viewpoint from Topeka Capital Markets analyst Brian White.
NEW YORK (
) -- Investors playing shares of
Dell
(DELL) - Get Free Report
in hope that a rival takeout bid will trump the bid by Dell founder and CEO Michael Dell and
Silver Lake Partners
are taking plenty of risk for relatively little potential reward.
By comparison,
Apple
(AAPL) - Get Free Report
offers investors a much greater potential, with far less risk.
Dell's shares closed at $14.14 Friday, exceeding the offer of $13.65 a share Michael Dell and Silver Lake Partners, that the company's board of directors agreed to on Feb. 5.
Michael Dell's takeout deal is subject to a vote by shareholders and was originally subject to a 45-day "go shop" period, under which the board of directors committee that approved the takeout agreement were free to negotiate an alternate deal with other bidders. Just before the "go shop" period ended on Friday, Carl Icahn and
Blackstone
(BX) - Get Free Report
each told Dell's board they were planning to make competing offers for the company, buying them four more days to negotiate a new takeout agreement, according to the
Wall Street Journal
.
With Dell's shares exceeding the original takeout offer by 4% at Friday's close, investors were obviously expecting either Michael Dell's bid to be increased or for a rival bid to prevail. But the two new offers offer little additional upside for the shares.
Dell early on Monday
in a press release that included the Friday letters from Icahn and Blackstone.
Icahn's merger offer includes "an aggregate $5 billion equity commitment," including the purchase of $2 billion worth of the "surviving company's" shares at a price of $15.00. Icahn said in the offer his proposed deal for Dell "contemplates less total leverage on the Surviving Company than under the February 5 Merger Agreement."
TheStreet's
Antoine Gara on Monday argued that Icahn's offer was
the best bargain for investors
, making the most use of Dell's excess cash.
Blackstone said it was "prepared" to acquire Dell for $14.25 a share in cash and stock, "subject to a cap" on the cash portion.
Sell Dell
It's clearly time to sell Dell's shares, as even a full takeout offer for $15 a share -- which exceeds what Icahn and Blackstone have offered -- would be a gain of just 6% from Friday's close, while the shares have already risen 39% year-to-date. Another reason to bail at this point is that the initial bid of $13.65 a share could still prevail, which would be a 3% loss from Friday's close. Even worse, it's possible that Dell will remain publicly traded, in which case the shares could slide right back to their year-end trading range of around $10.00.
Dell's fiscal 2013 ended on Feb. 1. For fiscal 2013, the company reported operating earnings of $3.973 billion, or $1.72 a share, declining from $5.135 billion, or $2.13 a share, in fiscal 2012. Net revenue for fiscal 2013 was $56.94 billion, declining from $62.071 billion the previous year.
Dell's consumer business contributed 19% of net revenue during fiscal 2013, but the unit posted an operating net loss of $11 million for the year, reflecting the continuing pressure on the company's PC business. A bright spot for Dell was that its revenue from services and software increased slightly, to $12.196 billion in fiscal 2013, from $12.165 billion in fiscal 2012.
The overall pressure on Dell's income and earnings is reflected in a relatively low valuation for the shares, despite the run-up this year. At Friday's close, the shares traded for 8.3 times the consensus fiscal 2015 earnings estimate of $1.71 a share, among analysts polled by
Thomson Reuters
.
With what appears to be weak prospects for earnings growth over the next couple of years, Dell's shares aren't compelling for long-term investors expecting the company to go on operating as a public entity. For those playing the take-out, it would appear that the gains are already baked-in.
Topeka Capital Markets analyst Brian White has a different opinion on Dell's takeout prospects, saying in a report on Monday that "a higher buyout bid is in the cards and we continue to believe that an $18.00 buyout price for Dell makes sense." The analyst rates Dell a "buy" with a price target for the shares of $18, matching what he believes the potential purchase price to be.
When considering Icahn's offer, White wrote that "the opportunity to maintain a stake in Dell could be welcomed by investors that want to participate in the turnaround at the Company."
While saying that a bid of $18 a share would "make sense," White said that "it is unlikely that this price level will occur in the first round of bidding."
Buy Apple
Apple's shares are down 34% from their closing peak of $702.10 on Sept. 19, through Friday's closing price of $461.91.
There have been endless reports saying that Apple is likely to lose smartphone market share as various manufactures of phones running
Google's
(GOOG) - Get Free Report
Android operating system grab the hype by releasing new products on a seemingly weekly basis, while Apple's iPhone 5 is already "ancient," with six months under its belt.
But Apple is a content revenue monster and its shares are dirt cheap, trading for 9.3 times the consensus 2014 EPS estimate of $49.75. We're using fiscal 2014 for the forward price-to-earnings estimate, because Apple's fiscal 2013 will end on Sept. 30.
For its fiscal first quarter ended Dec. 29, Apple reported a net profit of $13.078 billion, or $13.81 a share, compared to $13.064 billion, or $13.87 a share, a year earlier. Fiscal first-quarter net sales were $54.512 billion, growing from $46.333 billion, a year earlier.
Investors were obviously not pleased to see the company's gross margin decline to 38.6% in the fiscal first quarter from 44.7% a year earlier; the company's guidance for the fiscal second quarter was for the margin to range from 37.5% to 38.5%.
But the declining margin is probably already baked into the share price.
It's not really fair to compare Apple and Dell, because while Dell is struggling to come up with strong revenue growth in consulting and software services, Apple already has plenty of non-hardware revenue, and it is growing by leaps and bounds. For the fiscal first quarter, Apple's revenue from iTunes, software and services totaled $3.687 billion, growing by 22% from $3.02 billion in the first quarter of fiscal 2012. While iPad revenue grew at the same pace and iPhone revenue grew even faster, the significant revenue contribution and very strong growth-rate for non-hardware products is nothing to sneeze at.
Yes, Apple may see a drop in market share for the iPhone, but the iPhone and iPad are wonderful content distribution devices, and there's no reason to expect that revenue to stop growing. Even beyond music, the devices are compelling for content.
Using iBooks, users can purchase books and periodicals from Apple, but they can also purchase books from other providers, such as
, to name just one example. Books purchased from other providers are DRM-free and render beautifully within iBooks, with no worries over whether the files are in the Mobi format for
Amazon's
(AMZN) - Get Free Report
Kindle, or in the E-Pub format, for
Barnes and Noble's
(BKS) - Get Free Report
Nook.
And using iBooks keeps the reader from being "locked in" to the Kindle or Nook ecosystems.
The point is not to direct your attention to which book reader you should be using, but to point out that Apple is so much more than a seller of hardware, and its non-hardware sales growth is amazingly strong.
That, together with the epic pullback of the stock price and the low valuation to earnings, is why Apple's shares are a far better play than speculating on Dell's take-out.
Apple's shares rose slightly on Monday to close at $463.58. Dell's shares were up 3% to close at $14.51.
-- Written by Philip van Doorn in Jupiter, Fla.
>Contact by
.
Philip W. van Doorn is a member of TheStreet's banking and finance team, commenting on industry and regulatory trends. He previously served as the senior analyst for TheStreet.com Ratings, responsible for assigning financial strength ratings to banks and savings and loan institutions. Mr. van Doorn previously served as a loan operations officer at Riverside National Bank in Fort Pierce, Fla., and as a credit analyst at the Federal Home Loan Bank of New York, where he monitored banks in New York, New Jersey and Puerto Rico. Mr. van Doorn has additional experience in the mutual fund and computer software industries. He holds a bachelor of science in business administration from Long Island University.