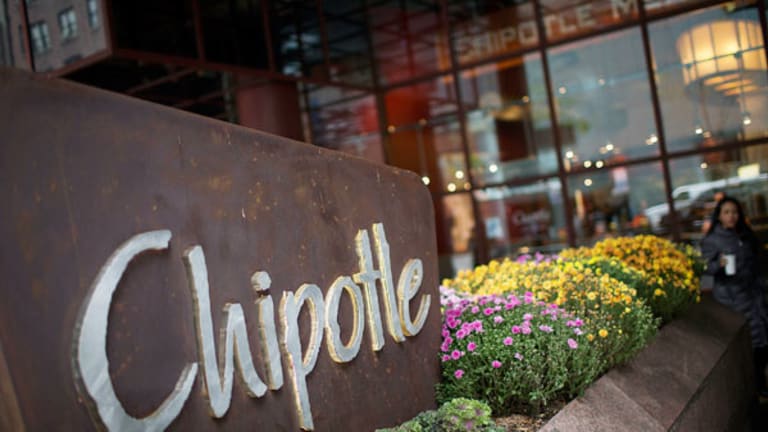 Sell Chipotle Ahead of Earnings
Chipotle has very little room for error.
NEW YORK (TheStreet) -- A friend of mine once told me, "Never underestimate the power of great burrito." He said this jokingly because I loathed the idea of overspending for a meal I believed was worth half the price.
There's a correlation here with
Chipotle Mexican Grill
(CMG) - Get Chipotle Mexican Grill, Inc. Report
, whose stock I've always thought was expensive.
I won't disagree that Chipotle makes a "powerful" burrito. But I continue to worry investors are too willing to give Chipotle the benefit of the doubt as the company's operational performance has not been up to par when compared to
Yum! Brands
(YUM) - Get Yum! Brands, Inc. Report
and
McDonald's
(MCD) - Get McDonald's Corporation Report
.
Remarkably, as Chipotle's margins are compressing and same-store sales are weakening, the stock is up an impressive 30% year-to-date. With second-quarter earnings due out Thursday, I can't stomach holding this stock, especially since the April quarter raised several red flags.
For instance, even though first-quarter revenue were up 13% year over year, it was also clear the rising costs of protein had taken a toll on the company's margins. That food costs were 33% of Chipotle's revenue is cause for indigestion. The way I see it, as long as food costs remain at such a high percentage of revenue, this will continue to add pressure on management to raise prices - there's no way around it. And investors will demand it.
Read: Cash Sales, Driver of the Housing Recovery, Starting to Wane
But here's the thing: I don't think that management can justify raising prices, while at the same time risking an already dire comps situation. Comps -- another way to say same-store sales -- is the metric that tracks the performance of restaurants opened at least one year. Unfortunately for Chipotle, the company has been underperforming in that area, which suggests that its stores are seeing a decrease in customer traffic.
More than anything this has been my biggest source of concern with this company. Since comps reached a peak at 11.1% more than two years ago, the company has suffered declines each quarter since then, culminating in 1% comp growth in the April quarter. Yet, these shares have soared more than 60% since bottoming out at $236.24 last October.
Not only are investors dismissing Chipotle's dismal comp situation, but the Street is also ignoring weakening profitability. Investors are discounting that restaurant level operating margin was 26.3%, falling 110 basis points year over year. Here again, this is where the rising costs of beef and chicken has begun to take its toll.
Plus, this was the second consecutive quarter of margin erosion, following a 150-basis-point decline in the fourth quarter. With food costs still on the rise, I don't believe management can avoid raising prices, even though I don't believe they should until the comp situation levels off. The Street is also forgetting the company plans to open 165 to 180 new restaurants this year.
Something's not adding up -- food costs are on the rise, same-store sales are decreasing, margins are under pressure, yet management believes it's in the company's best interest to take on additional capital expenditures to open as much as 180 new stores. It would seem to make more sense to first bring the current locations up to operational standards. I think I'm missing something.
Read: Analyze Your Debt to Credit Limit Ratio
I don't believe this is going to work well. Opening more stores is management's response to investors' plea for more growth. But I also believe expansion amid declining comps is too aggressive. The best play here would be to slowdown, especially since there are no signs that the rising cost of protein is going to taper off.
Thursday's report will be critical in determining the stock's near-term direction. The Street will be looking for earnings per share of $2.81 on revenue of $803 million, which would represent year-over-year sales growth of more than 16%. While Chipotle may meet its sales targets, I believe that the two main ingredients of its success will be margins and comps.
If management is able to reverse both trends, I think the selloff I'm expecting will be averted. But as it stands this is also a story about valuation and a company that carries a price-to-earnings ratio that is more than twice that of McDonald's and is 16 points higher than Yum! Brands.
What this means is that Chipotle has very little room for error. As a value investor, I much rather err on the side of caution.
At the time of publication, the author held no position in any of the stocks mentioned
.
Follow @saintssense
This article was written by an independent contributor, separate from TheStreet's regular news coverage.
Richard Saintvilus is a private investor with an information technology and engineering background and the founder and producer of the investor Web site
. He has been investing and trading for over 15 years. He employs conservative strategies in assessing equities and appraising value while minimizing downside risk. His decisions are based in part on management, growth prospects, return on equity and price-to-earnings as well as macroeconomic factors. He is an investor who seeks opportunities whether on the long or short side and believes in changing positions as information changes.