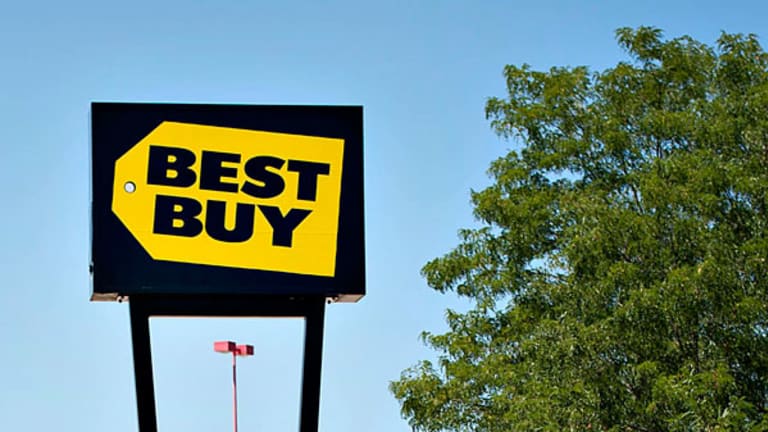 Sell Best Buy, It Has No Pulse
Best Buy refuses to leave its comfort zone. That makes it a long-term sell.
NEW YORK (TheStreet) -- Take the mixed message from Best Buy (BBY) - Get Best Buy Co., Inc. Report as a warning to make like a tree and get the heck out of the company's stock.
The cocktail of
a stable and, in some areas, improved quarter, year-over-year, mixed with Q4 concern
has a Hubert Joly-style mickey slipped in. It's the one I've been red-flagging about all year long even as BBY stock flew in the face of reality.
This is what happens when you put MBA types or retail lifers in charge of a situation that requires dynamic wholesale transformation.
Managers can be fantastic at cleaning up near-term messes by cutting prices, realigning "teams" and slashing expenses. However, cats of this ilk tend not to be the best visionaries. The very thing physical retailers need, they lack and, worse yet,
.
Don't scoff at the
Intel
(INTC) - Get Intel Corporation Report
mention in the video. They'll likely do a better job at pop-up stores this holiday season than
Microsoft
(MSFT) - Get Microsoft Corporation Report
did last year.
From our friends at
:
Intel claims it's "redefining retail" with free coffee each day, free movies on Fridays, and a showcase of PCs, tablets, and other Intel-powered devices at the stores.
The pop-up stores will change physically three times daily, and it appears that Intel has built a dynamic layout to help shift products around in its retail locations. Visitors will also be able to test-drive Intel products at home or recycle used electronics. Visitors won't be able to purchase products in the stores, unlike traditional retailers, as the pop-up stores are being largely used to push Intel's brand.
There's so much here that makes sense that it's best treated in a separate article. But, in short, I think I'd rather have the minds at Intel on my side if I was part of a physical retail operation that has had its head handed to it and, as far as we can tell, will continue to have its head handed to it, by
Amazon.com
(AMZN) - Get Amazon.com, Inc. Report
.
I mean the idea of
not selling anything
at a retail location sounds so crazy and unorthodox that it might actually work!
But, because it sounds so absurd, it most likely would -- instantly -- get thrown into the bad idea bin by Best Buy management and its board of directors. That's exactly what happened when
some Best Buy employees urged the company to consider seeking partnership with Amazon
. The powers that be scoffed.
We'll flesh this BBY-INTC-AMZN retail storyline out over the next few days, weeks and months.
You can find
a list of my most recent articles at this link
and follow and/or subscribe to my
YouTube
Channel
HERE
.
--
Written by Rocco Pendola in Santa Monica, Calif.
Rocco Pendola is a columnist and
TheStreet's
Director of Social Media. Pendola makes frequent appearances on national television networks such as
CNN
and
CNBC
as well as
TheStreet TV
. Whenever possible, Pendola uses hockey, Springsteen or Southern California references in his work. He lives in Santa Monica.